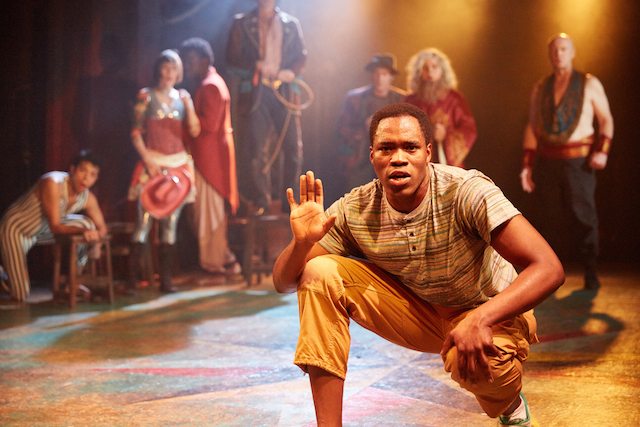 Since 1983, the Olivier Award-winning Complicite theater company has been building a reputation for creating theater that pushes boundaries and challenges audiences to examine their world and perceptions. To date their work has been geared toward adult audiences but their new production, Lionboy, brings their special brand of theatrics to the youth audience.
Lionboy is currently performing at the New Victory Theater until February first. Director and performer Clive Mendus took a moment from his busy schedule to share his insights on Complicite and Lionboy.
Complicite is a company that has been creating award-winning theater for many years. How did the company start and do you have a particular "mission"?

Complicite was founded in 1983 by three graduates of the Lecoq School in Paris and another from Cambridge University. The company took its name from a comment by the renowned theater and clown teacher Philippe Gaulier, who many of us studied with. He always said, "There must be complicity between you and the audience, and between you and your fellow actor, a three way relationship that is shared." The company has no "mission" as such other than to create vital and entertaining theater. However, Jacques Lecoq always used to say "the gesture precedes the word". Consequently the ability of the actor to express feeling and meaning through movement has always been a significant element in our work, not at the expense of language and text but in addition to, and sometimes in place of, those things.
Is this Complicite's first time performing in the United States?
Complicite has performed in the U.S. many times, firstly with Durrenmatt's The Visit at the Spoleto festival in Charleston, South Carolina and subsequently in New York with The Three Lives of Lucie Cabrol (Lincoln Center Festival) and then The Street of Crocodiles, Mnemonic, The Chairs, The Elephant Vanishes, A Disappearing Number and Shun-kin.
Your company has created many works for adult audiences. What prompted your company to create a show for families?
Lionboy was written by a mother and daughter Isabel Ademakoh-Young and Louisa Young. Louisa is an old school friend of Annabel Arden (the original director of Lionboy) who was one of the founder members of the company. When Louisa sold the film rights briefly to Steven Spielberg she kept the stage rights so Annabel could direct it. At the time she had young boys who loved the book so it had a very personal connection for Annabel.
What was it about this particular book that called out to be adapted for the stage?
The book is a thrilling fantasy about a young boy's rite of passage towards manhood. Learning through force of circumstance to take responsibility for himself and be brave in the scary world of adults. It is also fantastic fun with its many diverse characters and twists and turns of narrative. It's not everyday you have a hero who can talk to lions!
Were there any particular challenges bringing the book to the stage and how did you overcome them?
Annabel spent five years or so doing research workshops looking at ways of telling the story. A crucial factor of the narrative is that Charlie is always on the move, then you have to stage him talking with lions, traveling on a train, a ship, a hot air balloon. How do we represent lions when we have only our bodies? Our legs are jointed differently and an actor on all fours pretending to be a lion just looks ridiculous. Then there was the question of how to adapt the trilogy of books and condense them into an hour and forty of stage time. With Complicite we have devised shows from many literary sources over the years and what is clear is that you have to translate one art form into another. All attempts at a scene-by-scene literal adaptation are doomed to failure - it would last a week. We hit on the idea of storytelling as the most efficient way of moving the narrative where we wanted it to go. You can transport your audience in a single sentence from London to Morocco. Working with the writer Marcelo dos Santos we came up with a version which allowed us to mix styles - some storytelling, some acting out of scenes, and we added into the mix some shadow work and a dollop of circus as well as having the actors play lions in a minimal way. The result seems to do what all our theater does - work on the imaginary forces of the audience.