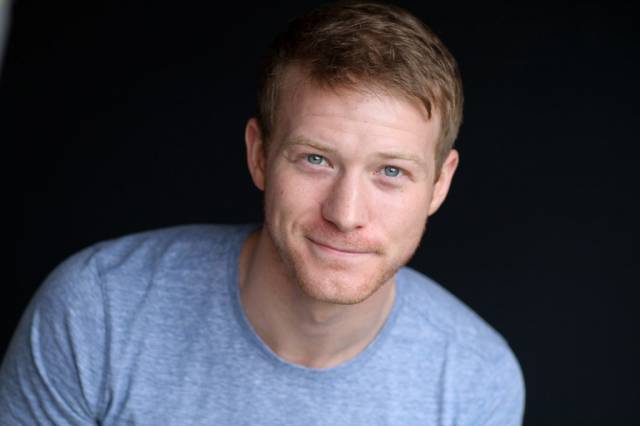 When the curtain rises on January 20th at the Walter Kerr Theater, A Gentleman's Guide to Love and Murder will have a new Monty Navarro. Jeff Kready will take over for the exiting Bryce Pinkham who leaves the production to join the upcoming production of The Heidi Chronicles.
Kready, a Broadway veteran, has been an originating company member in four highly successful musicals: Les Miserables (2006 revival), Sunday in the Park with George, Billy Elliott and A Gentleman's Guide to Love and Murder. At GGLM he began his journey as an ensemble member and Monty understudy with occasional opportunities to step into the role in Pinkham's absence.
There is something uniquely exciting when a member of a Broadway show family is "bumped up" into a principal role. Kready is by no means a unicorn in this but producers often choose to cast outside of the company with a star name or fresh face. And, when the training of a replacement ensemble member/understudy is time and resource intensive it is even more remarkable to see a deserving journeyman actor get a shot at the lead role.
I was so happy to have a chance to chat with Jeff agreed about his upcoming transition at A Gentleman's Guide to Love and Murder.
Jeff where are you from?
Topeka, Kansas.
And where did you get your training?

The School of Hard Knocks. Kind of. Not really. I went to Washburn University for a degree in music to teach choral music. I took dance starting in 5th grade at The Dorothy Thomas School of Dance in Topeka. And any acting training has mostly been on the job learning, by watching Tony award winning performances from coworkers. And a great acting coach, David Hibbard. Had I known this was going to be my career, I might have tried to go through a conservatory program.
When did you move to NYC and what brought you here?
I moved to New York on September 11th, 2006, one week before starting rehearsals for the 2006 Broadway revival of Les Miserables.
You will be assuming the role of Monty Navarro on January 20, a role that you currently understudy? Have you had the opportunity to "go on" much?
Correct! And very excited to be doing so!
I have been on a couple dozen times over the last year, mostly when Bryce (Pinkham) went on vacation. But he is Iron Man and doesn't call out very often otherwise, which is shocking considering the size of the role.
Is there something you find particularly rewarding about performing the role of Monty Navarro?
I have never had more fun performing before. Monty is a dream role because he has a wonderful character arc, and changes so dramatically over the course of the show. It's so rare to get to do something like that. Also, Monty is only off stage for a total of 3 minutes and 20 seconds the entire show, so it's a beast. At the end of the first act I'm sweating so much it looks as if I've jumped into a bathtub with all my clothes on. So when the curtain comes down at the end of the night, you feel like you've earned your paycheck.
What was the process for taking over the role? Did you have extra rehearsal, a special put-in?
Ha! Nope, nothing special at all. I'm just going to show up on Tuesday like it was any other night, except I'll be in a different dressing room. We're having a put-in for my ensemble track replacement, but that's about it. Business as usual. Otherwise, not too glamorous.
Do you have any pre-show rituals?
I don't really. I'm not a very ritualistic person. I just have to eat exactly two hours before half-hour, do my warm up 45 minutes before show-time, and put my makeup and costume on in exactly the same way every time. And say the Pledge of Allegiance while gargling salt water, sing along with Whitney on "I Wanna Dance with Somebody", and pray the Rosary. But no rituals, no.

Have you been a "replacement" for a principal role on Broadway before?
Yes, Tony in Billy Elliot is my only previous experience in a principle role, and that was a much smaller part, so this my biggest break to date!

What is the most challenging thing about taking over a role on Broadway that was originated by another actor?
Finding the balance of making the role your own, but still giving your coworkers what they need for the way they have already crafted their show, based on your predecessor.

You've been in four Broadway shows; all are so very different in their feel and style. Is there some common theme that you see in them that says this is a Jeff Kready "style" show?
I do feel very fortunate to have gotten to do a wide range of shows on Broadway. Before GGLAM I would have said the common theme was "Shows that make my mom cry." But I'm doing comedy now, so I guess that's been foiled. Oh who am I kidding, my mom will definitely cry when she sees me go on as Monty for the first time, so it's still valid.

Do you have a dream role you are dying to play?
A role that I create or is created for me. I used to have dream roles like Chris in Miss Saigon or Tony in West Side Story, but now I think the real dream is to do something that no one else has ever done before.

If you weren't a performer what would you be doing?
What I had hoped to be (before kind of lucking into theater) was a high school music teacher. If theater hadn't worked out, I have no doubt that I'd happily be a choir teacher back home in Kansas.
Jeff, thank you for sharing your experience with StageBuddy.com and break a leg!