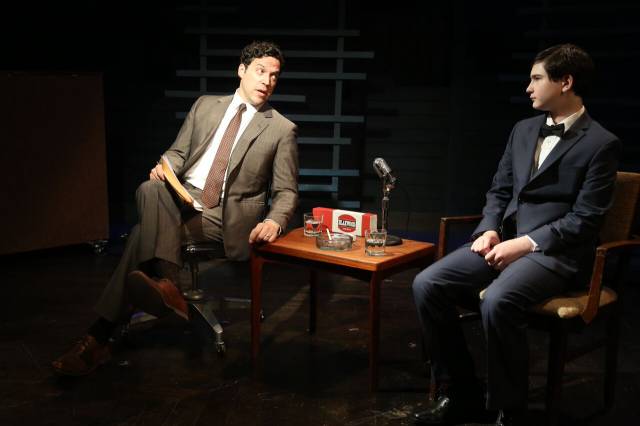 Ensemble Studio Theatre is kicking off its 35th Marathon of One-Act Plays this week with Series A. The Hell's Kitchen hub is, as always, chock-a-block with emerging and established talent. I met with the six writers of the first leg right on the cusp of opening night to talk a bit about child prodigies, Rockettes, East Africa, gunshot sound waves and the perils of being a bit too honest when splitting cab fare. Sound that starting pistol, the first round of the Marathon Interviews is a go!
Playwrights Anna Ziegler and Matt Schatz are introducing something new to the Marathon: a one-act musical called I Battled Lenny Ross.
"I think there haven't been many musicals in the marathon before. Or maybe none," says Schatz, who wrote the music and lyrics to the play, which examines Mike Wallace's interview of twelve-year old boy who hit six figure prize money on a number of quiz shows in the mid-1950s. Think Frost/Nixon with Nixon being Seymour Glass or, more on point, Schatz's elevator pitch: "I live in LA so if I was pitching this I would say Quiz Show meets Amadeus with the Mountain Goats writing the music."
To Ziegler, who wrote the book and whose prose informed the lyrics, the appeal was personal. "This was an idea I had in the back of my mind for a while. The idea about Lenny Ross whom I knew about through a friend of mine who wrote a piece about him in the Daily Beast. [She's also] his God Daughter. I was so taken by it and it included a clip of the interview with Mike Wallace that became the centerpiece of our show. And I sent the article to [Matt] and he was really jazzed about it and it seemed like a good place to start."
Schatz and Ziegler met only this summer at the Ryder Farm writer's retreat for Ensemble Studio Theatre's science-themed Sloane commissions. "We had different pieces there and I was working on another musical and she was working on her great play boy and we became fans of each other's work," says Schatz, who suspects he might have a little bit of Lenny in him: "I've always been obsessed with child prodigies. I think maybe  I was an undiagnosed child prodigy," he laughs. Though picking their own prodigy proved tricky.
According to Ziegler "It took us a long time to cast our lead. We saw a lot of kids all of whom were incredibly brave and sophisticated but it occurred to me how hard it was to cast a role that is as unique as this."
"You'll never regret your career more than when you're watching ten-year old kids audition for you," says Schatz. "It's heartbreaking. You hate to be watching them, you're judging them—they have to be judged all these children. But we did. And Jake [Kitchin, who booked the part] has been great."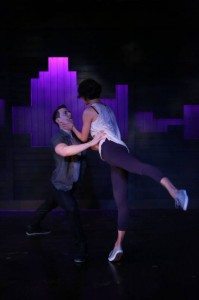 Like Schatz and Ziegler's play, Mariah MacCarthy's dance-duet monologue Until She Claws Her Way Out is no stranger to difficult casting.
"I really wanted good dancers and I'm fortunate enough to know my really brilliant director-choreographor, Sidney Erik Wright. He found the dancers. We scared off I think six different actors for this role," MacCarthy reports, "but we finally landed on someone. She had to learn what by then I had cut to a four and a half page monologue but also this very technically demanding dance duet and hit it out of the park, drop the mic. It was awesome. Her name is Naomi Kakuk. She is a star...I invited her to work on something else earlier this year and she said 'Oh my God, I would love to so much but I can't because I'm  being a Rockette right now.' I said 'All right, that's fair. I can't argue with that.'"
They can kick pretty high, I note.
The play, about a ballerina who finds herself in what MacCarthy hints is a "we'll say tumultuous relationship" with another member of her dance company, found a home in a one-act after not quite fitting the piece it was written for.  "I actually originally had this idea in connection with a full-length. I wanted it to end, after no direct address, my character turns to the audience and tells us 'I'm still totally in love with him'" (the 'him' here being the rapist priest of a church choir director), "and it would end in this dance duet. But I thought that it wouldn't really fit with the play I was writing."
Inspiration came almost a year ago exactly with a side of waffles. Mariah rejiggered the monologue for a themed Brunch of short plays presented monthly at EST. "Youngblood was doing 'So You Think You can Brunch,' the dance Brunch. I'd had that idea lodged in my head and I thought I'll just make it a dancer and make it it's own thing."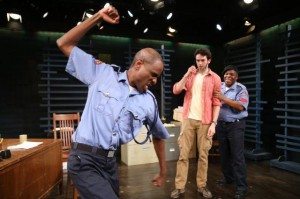 Will Snider's play, The Big Man, has been following him for some time too, inspired by his time working abroad.
"I worked for a while in East Africa in Kenya and Tanzania and I was in a similar situation to what happens in this play," says Snider. "It's about a young, White American male, who works selling solar lights to farmers and his truck has been chained up by Kenyan police--specifically the Luo police of the Luo tribe in Kisumu, sort of in Western Kenya on Lake Victoria--and then what happens when he goes to the police camp and tries to get his truck back and offers a bribe and then they tell him he has to come back in the morning. [The play's] personal for me in that sense but I'm [also] interested in the Post-Election election violence in 2007/2008 in Kenya. Because I lived outside Kisumu for a number of years I'm really fascinated  in the impact that violence has had on that community and also what my assumptions as a foreigner who just  learned about the stuff in a short span of time, and how I brought those assumptions about tribal and political tension into Kenya."
When I say it sounds tense, though, Snider assures me I'm in for a good time.
"The actors are tremendous  and they bring so much life and joy into it. I definitely want it to be thrilling and exciting and all that but I think that they make it a pleasure to see them bring it to life." There's some levity, he notes: "The thing about the humor in it is, I feel in cross-cultural interactions humor is deployed tactically. I'm interested in  that as well. The way in which when we're speaking across a culture our default is to do it with a smile on our face--even if it's menacing."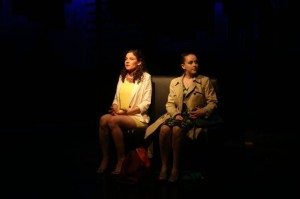 While Snider's play deals with the impound lot, Chiara Atik's play 52nd to Bowery to Cobble Hill, in Brooklyn has its own kind of car trouble.
"It's about two acquaintances who share a taxi home one weekend night and are sort of forced to confront their relationship and their feelings towards each other," she says.
Atik has made a name for herself with hits like the Girls/Little Women mashup Women and the sex-romp through time 5 Times in One Night which just wrapped a critically-acclaimed run at EST's sixth floor space. Eager for more, I ask if we could expect some period elements to be thrown into the mix.
"Not in this one. I do love that. If I could make everything I write set in some different century I definitely would be tempted to do so. But this one is squarely 2000 Teens." And though she does agree the Frienemies on display here may well be as old as time, "the dynamic's not new. The word might be."
But for Atik, and all of the first-timers interviewed, being in the Marathon is new. And it's a kind of brass ring.
"It's very exciting to be part of the Marathon," says Atik, "I think anybody who's come up through Youngblood has held this in very high esteem so it's exciting to be on the bill."
Everyone on the bill for Series A (with the exception of Miss Ziegler) is a current or former member of Youngblood, Ensemble Studio Theatre's collective of playwright's under 30.  Amy Fox is an alumnus.
"It's great [to be back]" she says, "it's weird because it feels to me like I was in Youngblood last year when it's really been a while. And there's been many generations of Youngblood since. That is a little painful almost because I miss my version of it and it's weird to not know all the people in it now. But every time I meet the people it's basically the same vibe which I ascribe to Graeme and RJ [co-artistic directors] carrying the torch. It's great. I love being in good company."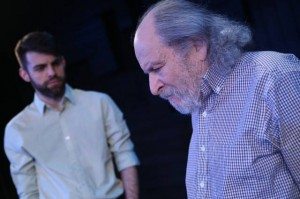 Fittingly enough, Fox's play Silver Men is also about legacy.
"The structure of the play is monologues with a scene in the middle. The characters are a kid who's about twenty-two and the grandfather who's in his 70s and the generation between them—the father—has died recently. And so it's a little bit of a puzzle where the son and grandfather are trying to piece together their memories to make sense of who the father was... And then at the end of the piece the wife of the father comes out and adds contributes piece to that puzzle."
A large part of the puzzle is the question of masculinity.
"I'm exploring what's in our culture about what it means to be a man...Color is very important in the piece. There's this central mystery around the father in that just before he died he became obsessed with pink things so they're trying to figure out what that was. And then the color silver becomes very important in the last few moments of the play. The title, "Silver Men", comes from that."
Some of the play, in fact, comes from the men in Fox's own life.
"My  grandfather had been in World War II and had writing these letters that I was reading at the time [I was writing]. There are some quotes from those letters in the play. And the dominant image from the play comes from the letter which is something he learned about bullets and how bullets travel faster than sound waves so you actually hear the sound of the bullets out of order and that [became] the dominant image because the father dying happened out of order. You expect the oldest generation to die first. So I've always been interested in what happens when the person you expect to die first is not the one and how you grapple with that."
I ask the group if there were any dominant themes that shined through in Series A. MacCarthy (who had the advantage of seeing the dress rehearsal the day before) posits: "Fraught relationships, but that's drama in general."
"Conflict is our theme!" Snider replies with a laugh.
Refining a bit MacCarthy ties the night up nicely. "There are people missing each other in all these pieces," she says, "they're really strugglling to reach each other."
I suggested Missed Connections as an alternate title for the evening.
"But not in the way you would think of that," MacCarthy clarifies.
This is the first of three, Group Interviews covering EST's Marathon of One-Acts.  Series A runs through June 7th and you can buy tickets and learn more about the playwrights here. Series B and C will have their time to shine some time in the coming month. Look out for those and the reviews right here on StageBuddy.