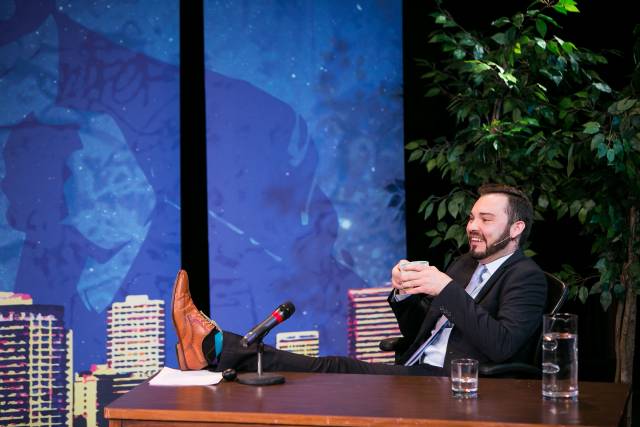 The New York International Fringe Festival will bring 200 shows to NYC from August 12-28. We spoke with writer Patrick Burns about his musical From Foster Care to Fabulous.

What was the first musical that made you want to make musicals?
The Deaf West production of Big River! I saw this show on tour in San Francisco a week before I graduated high school. I was so moved by the production, I realized I wanted to create something that would move people in the same way.
Tell us about your show in 3 sentences or less.
I grew up in foster care and decided that talking about the experience could help raise awareness. Talking about it while singing, dancing and telling jokes would be social justice that people would actually enjoy!
Describe the sound of your musical, it's like _______ meets _________
The sound is like Cole Porter meets 2pac.
Who is your favorite classic musical theater composer? And your favorite composer working today?
My favorite classic musical theatre composer?! This is Sophie's Choice! Speaking of, they should totes make a musical of Sophie's Choice and get Kurt Weil to pen the score.
Why is it important to bring your show to Fringe?
I've been doing From Foster Care to Fabulous all over the country for five years now and have been tinkering with the script and rewriting songs the entire time. I really wanted to solidify the best version of the show possible and showcase it as part of an event. Fringe is such an incredibly diverse, stimulating and artistically viable event that it seemed like the perfect choice and time.
What's next for the show?
There's some exciting new collaboration happening on the Fringe production of the show. I've been working with our wonderful director, Richard Israel, to focus and refine the script and score. I'm pumped to share this story with our audiences at Fringe. Let's hope that what's next for the show is a successful run at Fringe that you simply wont want to miss!