Interview: Ana Nogueira and Adrienne Campbell-Holt on Miracle Drugs, Relationships, and Colt Coeur's New Play "Empathitrax"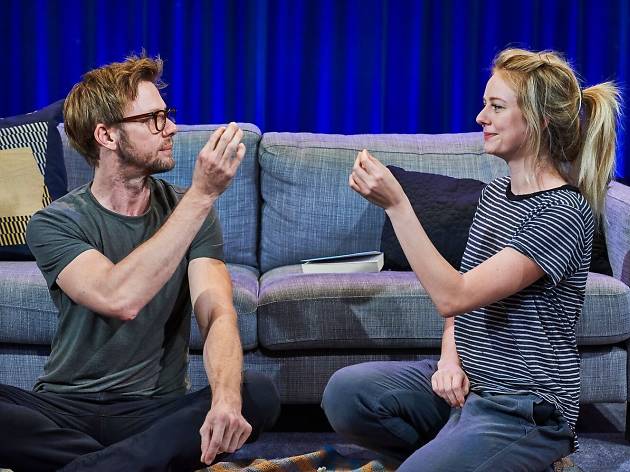 If there were a magic pill you could take to fix your relationship, would you take it?
Ana Nogueira's new play, Empathitrax, directed by Adrienne Campbell-Holt, explores the most complex elements of human relationships. This talented dream team holds nothing back as emotions are tested, vulnerabilities are uncovered, and the meaning of what it is to be human comes to the surface through the experience of a young couple.
StageBuddy had the chance to speak with Nogueira and Campbell-Colt about their provocative new play, the human experience, and the power of the female voice.
Tell me about the inspiration behind Empathitrax. Is it based on a real-life couple or a combination of today's relationship topics?
Ana Nogueira: It is definitely a composite of many different couples. People I have known for most of my life, people I have observed from afar, people I have heard stories about. I am married and have a very adorable but very difficult dog, so I think that the assumption is that this play is about my marriage. It's not. Of course it is autobiographical the way that all writing is autobiographical, but I actually made sure to make the conflicts in this relationship ones that were not in my marriage. My hope is that everyone can see elements of their relationship or relationships in the couple and that it rings true to them.
In today's fast-paced world, we tend to seek out the quick fix. Through the lens of this production, what are some of the drawbacks to that choice?
AN: I think it's only natural to crave a quick fix. The laws of the universe can be so endlessly frustrating but I think they are there for a reason. That's something that I love about science fiction - it allows us to go on a wish fulfillment journey, only to realize that, though painful, the laws of the natural world are superior to the laws of our imaginations. Eternal Sunshine of the Spotless Mind is probably the best example of this. We've all wished we could just forget the person who broke our hearts. But the pain of regret makes our lives richer. We chase happiness but happiness isn't the point of life. In this play, the characters are searching for intimacy, for recognition. But intimacy without the work, without the blood, sweat and tears, is paper thin and easily destructible. I do think these characters achieve intimacy and recognition at the end of the play, but it comes with a lot of pain and a lot of scars. Without those things it wouldn't be the same. When you go for a quick fix, you often bypass the whole point.
Are there certain themes that Empathitrax explores within the context of relationships as well as specific blocks to emotional intimacy that are highlighted?
Adrienne Campbell-Holt: In my experience the foundation of every relationship -- romantic or otherwise -- is communication. Empathitrax explores our inability or reticence to share the sometimes dark, messy, ugly parts of our selves -- and also what we might be looking for from our partners/friends in our desire to share those parts. Why is it easier to articulate a feeling or a struggle to a friend or a stranger sometimes? It asks what it means to be fully seen, and fully accepted and embraced. When we love someone we don't get to choose certain parts of them -- we must love the whole of them. It also looks at how differences in the way love is expressed may or may not reflect deficits in the love itself -- how instead these differences may just be a function of our unique ways of expressing ourselves.
Can you describe the most fascinating element of introducing the world of science to human relationships?
AN: It's always fun for me to watch people take sides. It was really important to me while writing the play that both characters have a legitimate point of view throughout. Every time they have an argument, I think they are both right. That's why relationships are hard: two conflicting points of view can have validity. Who is going to surrender? Whose side of the argument wins this time? After the play ends I love hearing people discuss, with great intensity, how totally right one of the characters was. I've heard people say "I can't imagine anything more painful than showing someone your truest self and having them reject it." And after the exact same performance another person will say "Is there a greater betrayal than going off of your medication without telling your partner?" Everyone is so sure that they are correct. That they sided with the "right" character. But for me, neither one is right. That feels true. That feels like the truth of most relationships. And I love watching people struggle with that ambiguity after this play.
What would you like audiences to take away from the story?
ACH: There are three moments in the play that give me goosebumps or chin quivers every night and all three are about the miracle of letting someone in and trusting them and sharing your whole being with them... And remembering, especially in moments of conflict, that we were all innocent children once and there is probably a misunderstanding at work, or ego, or insecurity. In order words, I'd love to inspire people to practice empathy. And also to share their weird, wild imaginations more! The writer Amber Brooks wrote recently about how "love is largely an act of imagination, of creation, of building meaning" -- I love that and feel like it's very true and reflects the experience of this play.
Is there a certain type of work you'd love to be more involved with in the future?
AN: I love making stories about women: complicated, unlikable, real women. It's hilarious to even say this because it's not revolutionary or daring at all. It's just me writing about the only thing I know how to write about. I am so inspired by all of the female artists making plays right now. It's a very exciting time. They blow me away. I love seeing something on stage and being able to recognize myself and my own experience in it. That's why we go to the theater. And for too long, women have had to see themselves as secondary characters. I just hope that the female characters that I write or portray as an actress are as rich as the ones I see other women writing and portraying, and that my work can make other women feel seen and accurately reflected on stage and screen.
ACH: I'd like to be involved with more plays by Ana Nogueira.
Empathitrax runs through October 1 at HERE.