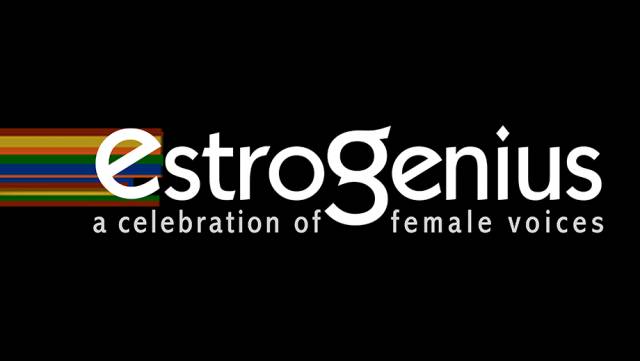 Part of the thrill of interviewing people involved with the theater is getting an insider's glimpse into the hectic day to day of life on and around the stage. I caught up with producer Andi Cohen on Monday night after I saw the aptly titled "Andi's Program," which she produced as one of three short play programs featured in this year's EstroGenius Festival, a NYC theater institution now in its fifteenth year. The performance took place in the East Village's Fourth Street Theater, and as I loitered in the lobby Andi flitted around, answering questions, collecting ballots for favorite performances, even pausing her work to let in a harried actress who had forgotten her keys in the lighting booth. "None of this was in my job description," she told me with a chuckle. She's delightfully modest, but I suspect that's all in a day's work for her. So when she could finally catch her breath, we chatted about EstroGenius, theater for and about women, and all of the work that goes into pulling off a month-long festival in NYC.
Why don't you start out by telling us a little bit about EstroGenius and how you got involved with the Festival?
Sure. EstroGenius has been around for a while -- it's our fifteenth year. It is billed as a celebration of female artistic voices, so in addition to what you saw tonight, there are two other short play programs, there's a dance program, there's a solo program, there's Girl Be Heard, which is actually internationally acclaimed at this point, but it was born the year that I started working with the festival about five years ago. That's kind of the overview of it.
I actually got started because I'm a director. My first year, I directed a play called Overnight for the festival, which is actually one of the shows that we decided to encore this year as part of the celebration of 15 years of the festival.
But you're not stepping back in as a director?
Not this year. I've directed twice? Yeah twice, that sounds right. And I've produced four times. There was actually a year that I was producing and directing at the same time. It's hard.
So you have many hats! This year, as a producer, is one of your main roles curating the program? I wonder if you could talk a little bit about that, about how you ended up with the five short plays we see?
I'm actually gonna talk about it as 15 short plays, even though it's split into three programs. The producorial team all sort of contributes to picking all fifteen of them. The process that we put in place the year I started working with the festival is we have all of these plays that are submitted, and then we have teams of readers. So we split up the plays and give them to the readers -- and we're talking 200-300 plays that are submitted. The readers have sheets to score the plays that they read based on different criteria: does it have a beginning middle and end, does it feature a strong, female character—that's vital to our festival. There are plays written by men, but they feature a strong female character, so they fit in with the idea of our festival. And there's a couple of other things in there. But basically, there can't be people repelling from the ceiling. It has to be producible. The readers sit down with their fifty or so plays depending on the year. And they hash out what their top favorite picks were from the group of plays that they read. There's no limit on their favorites, but we hope that they'll take the point system and contribute their own personal opinion. So naturally you have some plays that float to the top, and some that sink to the bottom. I'm sorry, this is a long process!
No, I'm interested, continue!
[Laughter] Okay, I will. So then the producers have a day when they sit in a room, and we have what are called reader panels, so each of the readers comes in and explains what their favorites were. Sometimes there's contention between a couple of readers, where they go "well I didn't like that play." Or two people are really excited and the other doesn't feel it. What they end up presenting is usually about three to seven of their favorite plays. And then we have honorable mentions -- what did you wish you could slip in there, but didn't quite make the cut? So when all of that is said and done, the producers get a file of all of the top plays. So you're narrowing it down from 300 to the top 50-60. Depending on how organized we are, this usually happens around April, May, June. Then the producers all get together three, four weeks later and we talk about which ones we ultimately want to produce. And sometimes what will happen is, "I really like this play, but it doesn't fit in with what I want the overall feel of my program to be." Or you realize that one producer has four really depressing plays, and only one that would lighten the mood. So you say, "take my comedy, and I'll take one of your serious plays." We try to balance it out so there's a nice overall feel.
So it's a really collaborative process.
Oh yeah, and what ends up happening, this year, there was one that another producer wanted, and I just did not understand why they were interested. But now it's turned out to be a really beautiful piece. So we fight for what we want, or we talk each other into plays or out of plays. That's the typical process. But in addition, what we did this year, was we added another layer of bringing back old plays that we wanted to revive. We reached out to anyone who ever produced a short play for Estro, and asked them to tell us what their favorite shows were. What came out as the cream of the crop, and what they thought deserved another run. So we incorporated those into the reader panels at the top, so when they came to us, they were actually coming to us with the old plays too. And it's a blind reader, so you don't know who the playwright is, if it's a man or a woman, if it's old or new, if it's been produced before or not. This could be your best friend's play and you wouldn't know.
Are there any older ones in your play program?
Yeah, Glutton for Punishment, Invasion, and I Have it were all produced before.
Oh, so a big chunk of your program! Now you talked a little bit about tone, and it seems to me that you have a really curious mix of very real plays, real people in real situations, and then completely off the wall fantastical situations. Was that a conscious choice to put those in contrast like that, or did it just happen?
It kind of happened… what we've found out is that whether you think about it or not, by the time you hit tech and your plays are 95% realized -- cause there's always that 5% that happens when you add the audience -- you look at it and you realize that you have a theme to your night whether you made it or not.
And then the critics come in and make you sound like you planned it?
[laughter]  Right? They make you sound smarter. What we kind of realized is my night happens to all be about invasion -- invasion of privacy, invasion of space, in some kind of capacity somebody is invading somebody else. So that was interesting.
Hats off even if that was an accident. For a far more esoteric question, as far as the EstroGenius Festival has a goal of promoting women artists, I'm curious what you think is important for people to know about women in the performing arts, and how you think theater works as a space to bring up gender issues?
So the reason that EstroGenius was started in the first place, is if you go into the world of theater, and you track back about seven or eight years and start looking at the major theatrical works that people know, the female characters are just... terrible. [laughter]
You know? You have exceptions, but those are exceptions, those are not the rule. You have... the secretary. And I think creating a festival that specifically addressed the needs of women to be able to tap into their emotions and create dimensional, full characters, more than just "mom," "waitress," "daughter." You know, it's so much more than that. You're a mom who is raised in this society, and is raising her son, and has to deal with this, that, and the other. And I think crafting a festival around that conversation brings up things that women don't often talk about in the arts. We have I Have It, which is all about STDs. How often do you see a woman, on stage, talking about, "I have this incurable disease that now I have to deal with for the rest of my life." I think as much as television and film removes you from the actual issue at hand, theater makes you confront it. What would you do if you were in that situation? If it was the zombie apocalypse would you be Rapunzel kicking everyone's butt, or would you be poor Snow White who can't even handle an axe?
So to finish up, is there anything else you'd like our readers to know about your program or about EstroGenius?
I think it's important that all of the dimensions of this particular festival are noted. So it's not just the short plays, which tend to get the most attention, but we do have the solo plays, which are phenomenal -- all female, solo plays. We have the visual art that's up in midtown, which is all female artists. I have an artist friend in Wisconsin who's having her work shown for the very first time here. It's about creating that opportunity. And Girl Be Heard is phenomenal, please mention that! If you want to talk about women getting real in theater and women's issues, the things that young women say when you give them a voice will blow your mind.
That EstroGenius has been fighting so hard for so long to create a platform for women's voices? I think that's pretty mind blowing too.  Find out more about the festival at https://estrogenius.org/