The Millennium (And Millennials) Are Here. Is 'Angels in America' Still Relevant?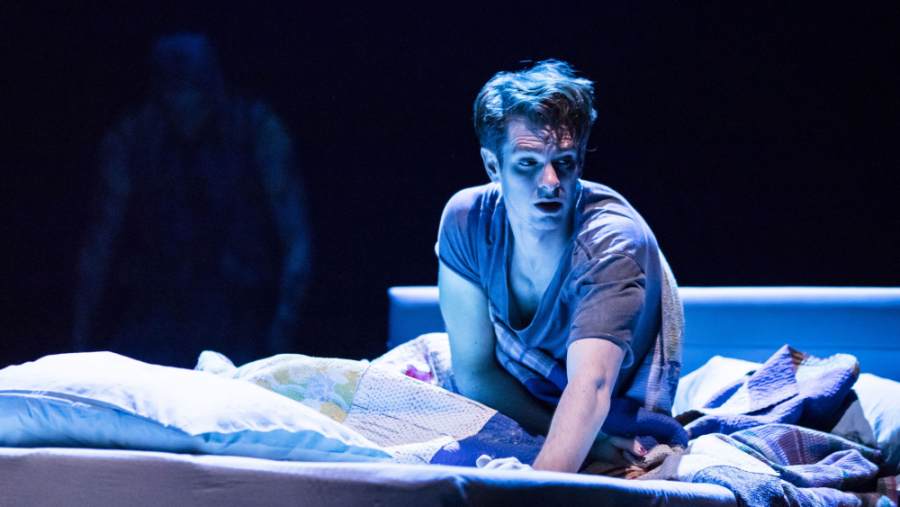 Tony Kushner's two-part, Pulitzer Prize and Tony Award winning Angels in America: A Gay Fantasia on National Themes is an ordeal. A play to be wrestled with. It is funny, disturbing, thrilling, intellectual, guttural, erotic, angry, despairing, hopeful. It is overwhelming. It is eight hours long. Now, it's back on Broadway for the first time since it debuted in 1993, arriving for a limited run at Broadway's Neil Simon Theatre almost fully intact from London's National Theatre, where it was mounted last summer.
As I continue to paw and puzzle over director Marianne Elliott and co.'s dazzling production of Kushner's work, which I had the odd luck of seeing in one long stretch, a "two-play day," in the midst of a late-March snowstorm, I kept coming back to the inconceivability that something should be so spectacular, entertaining and mainstream, while also so incisively highbrow, lofty, and academic. Ironically, considering the team of Brits that brought this Angel to life, it is also distinctly American: a great cobbling of the political and historical, with some camp thrown in for fun, peppered with references to Tennessee Williams and Tallulah Bankhead, Shakespeare and the Bible.
Defining "fantasia" in a piece on ClassicalMusic.com, Stephen Johnson writes that as "musical structures began to define themselves... the fantasia retained its importance as a kind of imaginative counterbalance... Creativity is released explosively, then grounded, brought exquisitely into line." There's no more eloquent way to capture the spirit of Angels, a postmodern pastiche of epic proportions. Set primarily during the months of October 1985 to January 1986, it weaves together the stories of several characters living in New York City: Prior Walter, a young man dying of AIDS and the last in a long line of Prior Walters; his boyfriend Louis Ironson, a didactic word processor struggling to cope with his lover's disease; Belize, Prior's best friend and nurse to Roy Cohn; Cohn, based on the real life conservative lawyer who cut his teeth during Senator Joe McCarthy's red scare and vehemently rejected the implications of his AIDS diagnosis; Joe Pitt, a closeted gay Mormon, a clerk in the court of appeals, and Cohn's unlikely mentee; and Joe's wife Harper, who spends her days lost in valium-induced hallucinations, fretting over public radio broadcasts about the disappearing ozone layer.
Director Elliott conducts the piece in grand style, sparing no theatrical possibilities, from acts of illusion to flames to snow. Adrian Sutton provides a sweeping, cinematic score to complement Ian MacNeil's set design, which, in part one, "Millennium Approaches," is a jigsaw puzzle of boxes, outlined with stripes of neon, that lock and unlock in an intricate waltz. In part two, "Perestroika," the stage is significantly pared down, emphasizing the looming blackness without. MacNeil, Elliott and the cast make remarkable of the stage, with keen attention to the possibilities of depth, height, length and width to delight, fright, or simply surprise.
The performances are strong across the board, each fully realized and uniquely physical. Andrew Garfield is particularly fearless in the infamously demanding role of Prior Walter, capturing the character's struggle to find grace and humor amidst the terror and siege of his own body. Denise Gough stands out as Harper, a kind of modern Cassandra, with equal parts quirky charm and distressing restlessness. Though Lee Pace, who steps in for Russell Tovey as Harper's husband, Joe Pitt, towers over the rest of the cast at 6'5'', he does a remarkable job of conveying vulnerability and naivete, trying to grapple with his Reagan-era conservative beliefs and his own latent homosexuality. His twisted, Freudian relationship with Cohn is at turns amusing and devastating, as Nathan Lane draws out both the evil and humanity of the complex figure. Susan Brown is also formidable as the ghost of Ethel Rosenberg, who haunts Cohn's deathbed, as well as Joe's mother and Rabbi Isidor Chemelwitz, the vision of the old world that opens the show.
If any generation is primed for Angels, it's the one that's come of age since Kushner wrote and rewrote the work in the first years of the 1990s; eight hours is a breeze to us who invented binge-watching. But if Kushner is prescient, he has also foretold the speed of his own demise: millennials approach.
I was shocked to hear a peer's review, simply stated: "meh." This may be an outlier, or perhaps might speak to a work that gets lost between those who were there and still feel that history and those who don't get the '80s references and don't feel the play translates to the specific urgency of the present. In the age of smartphones and fake news, the path forward — and the balance between collective action and identity politics — seems as muddled as ever. But if the play can translate loudest to our time, it is to say that our need for connection and compassion can and must transcend the deepest of divides, such as those between a gay black man and a conservative lawyer, or a drag queen with AIDS and a Mormon widow.
Time will tell if new audiences can slow down enough to be moved by the monumental, and connect with the ever-relevant themes — the complexities of love, both for ourselves and for others, the fragmentation and formation of identity, the fine balance of chaos and progress  — while we wait and hope that a voice like Kushner's emerges from our ranks to prepare the way forward.