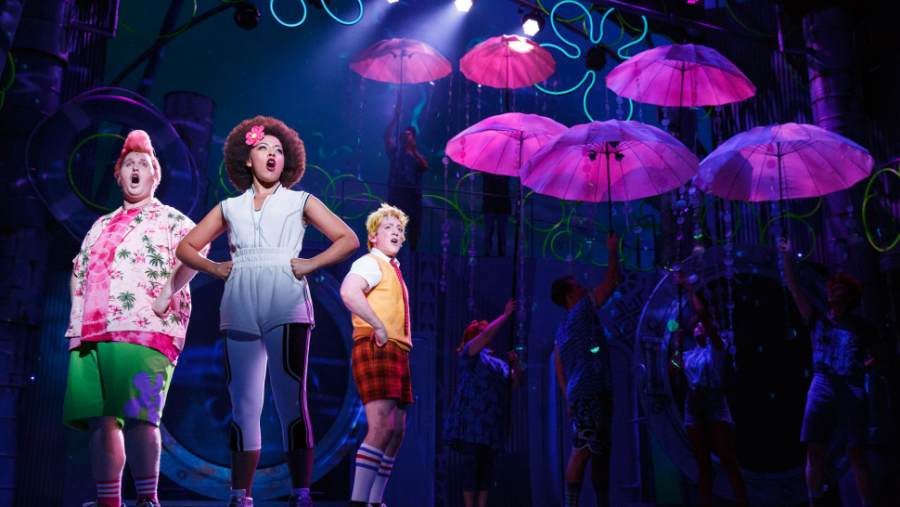 Before we begin our scheduled programming — a review of SpongeBob Squarepants The Musical, now onstage at Broadway's Palace Theatre for its New York City premiere — pardon me a very brief pop-academic lecture (that I am qualified to give because of a Bachelor's degree in the liberal arts and many hours logged on fake news websites).
Ahem. An inherent problem with "escapism," a concept touted frequently these days as a salve for political upheaval, is that it is often synonymous with privilege. It is a privilege to be able to shut out or turn your back on the problems of the world because it means these problems — of race, class, gender identity, or beyond — don't seep into your day to day existence in inextricable ways.  
Enter, of all things, a singing sponge. I think SpongeBob Squarepants the Musical is one of the most transgressive musicals on Broadway today, one that lays the foundation for a kind of enlightened escapism that could lead us through this strange era by offering a vision of the best we can be — and pulls it off with bubblegum, shoestring, kazoos, and a whole heap of bubbles.  
To create the musical, which premiered the summer of 2016 in Chicago, director Tina Landau extracted the essence of Stephen Hillenburg's 17-year-running cartoon about a cast of creatures — featuring, besides the titular sponge, a lazy starfish, a brainy squirrel, a grumpy squid, a nefarious plankton, and a greedy crab — who live under the sea in a town called Bikini Bottom. It's a cartoon which has spawned toys, clothes, amusement park rides and movies (in 2, 3, and 4D); earned Nickelodeon billions; and, perhaps most importantly, served, for both those who've grown with the show and those who are just now discovering it, as a kind of lingua franca, common comedy ground between shy kids and popular kids, nerds and jocks, bullies and the bullied alike.
Or at least that's how my friend put it, as we joined a hoard of Broadway-goers of all ages walking, wheeling and shuffling into a theatre decked out in neon pineapples and tropical prints. The book, penned by Kyle Jarrow, tells a (sponge) hero's journey; when a volcano appears poised to erupt and destroy Bikini Bottom, the town devolves in chaos as citizens try to decide whether to stay or go — and who's to blame. SpongeBob teams up with his bff, Patrick Star (a goofy Danny Skinner), and his Texan squirrel friend, Sandy Cheeks (an upbeat Lilli Cooper), to save the town.
The lovingly archetypal tale (which literally culminates in SpongeBob climbing Mount Humungous) is indeed saturated with humor for every comedy palate. There's slapstick, word play, and even a few (subtle) dirty jokes for good measure. The irreverent tone of the 'toon shines through, and Ethan Slater pulls off the lead role with uncanny, squelching panache and remarkable athleticism.
Landau's offbeat ambition for the show shines through in the soundtrack, which features original songs penned by an impressive list of contributors to fit with specific moments in the plot. Though music supervisor Tom Kitt added his Broadway touch, the genre-hopping drives the plot forward and adds to the something-for-everyone aesthetic.
Scheming Sheldon Plankton (Wes Taylor) raps along to T.I.'s "When the Going Gets Tough" to lure townspeople into an escape pod (where he can hypnotize them into loving chum burgers, of course); Kelvin Moon Loh brings the bass as an increasingly frazzled newscaster on a David Bowie and Brian Eno's "No Control"; a school of sardines elect Patrick their spiritual guide in Yolanda Adams's gospel barn-burner, "Super Sea Star Savior"; in "Daddy Knows Best" by Alex Ebert of Edward Sharpe and the Magnetic Zeros, Jai'len Christine Li puts her powerful pipes to work as Pearl, a teenage whale who just wants her dad, Eugene Krabs, to love her as much as he loves his money.
The harmonious hodgepodge is pulled off in colorful, carnivalesque costumes (courtesy of David Zinn) by a cast that's racially diverse and features fuller-bodied actors (plus a touch of gender-bending, as bearded men high kick in the chorus line for Squidward's (Gavin Lee) show-stopping They Might Be Giants tune, "I'm Not a Loser"), which means most kids, or adults for that matter, will see a person on the stage that looks like them.  
This is underscored the show's celebration of imagination. Not only can cardboard boxes and ladders become volcanoes, pool noodles become sea anemones, and exercise balls become boulders, the show shouts from below the depths: no one can limit your potential, whether you're a squirrel who wants to be a scientist, a squid who wants to play the clarinet, or a sponge who wants to figure out what he has to offer… and be a Krusty Krab manager.
When the town comes together at the end, facing certain doom, the discrimination, fear, and finger-pointing fade away as the sea-folk realize they're better, and stronger, when they're together.
We all need to escape every once in awhile — from the state of the nation, the stress of work or school, heck, even from the cold. But SpongeBob the Musical proves that escapism can be intelligent. That we can escape to a vision of the world as it could and should be — one where unity wins out over division, where comedy easily transcends the crutches of stereotyping and race and gender and sex, where uniqueness and creativity are valued, and where every day just might be the best day ever.