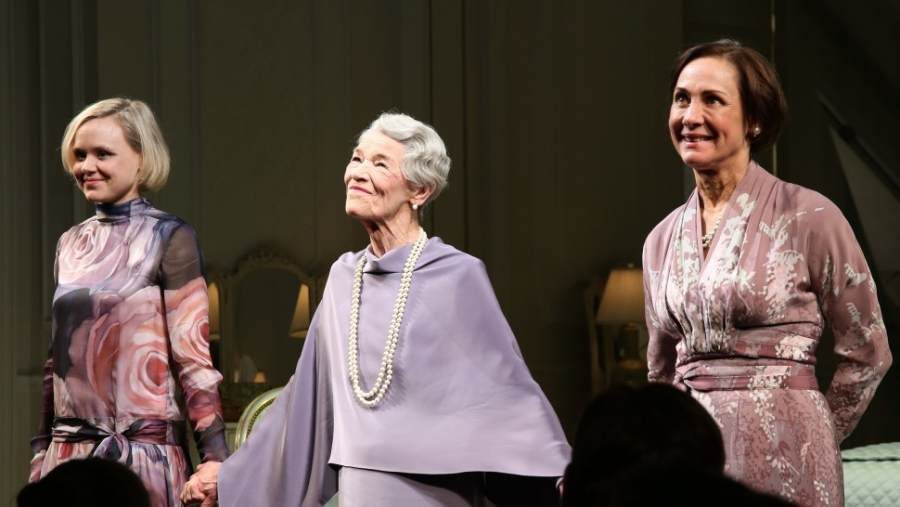 Long before Nas rapped the line, "Life's a bitch and then you die," Edward Albee percolated on similar sentiments, resulting in his Pulitzer Prize winning work Three Tall Women, which was first staged in New York in 1994. The, dare I describe it, towering work is back on stage at Broadway's John Golden theatre, directed by Joe Mantello and featuring electric performances from Glenda Jackson, Laurie Metcalf (if you don't believe me, believe the Tony nominating committee, who recently gave best actress nods to both women) and Alison Pill.  
Right, so in case I wasn't clear, Albee's work is not quite light fare, though it does, of course, feature a heavy helping of the playwright's masterful, spiky wit. Divided in two parts but performed without an intermission, it tells the story of a 92 year old woman — played by Glenda Jackson and listed in the program only as "A" — who is largely confined to her ornate bedroom, centered around a great, big bed, where she swims in a repetitive, confused monologue of fractured memory and barks mercurial orders — help me, don't touch me — at her professionally patient but genuinely empathetic nurse, "B,"  played by Laurie Metcalf. Alison Pill's character, "C," is a young, impatient representative of A's law firm, sent to inquire about stacks of neglected bills and checks gone unsigned. ("They're all robbing me blind," Jackson insists and insists to and about anyone and everyone, and we're not sure whether it's paranoid or plausible.)
In the second half, Pill and Metcalf transform, with sartorial help from Ann Roth, into refractions of Jackson, the woman's younger selves, in her twenties and fifties — who grapple with horror, disbelief and some amusement at why and how they are to become, well, themselves. The set masterfully mimics the play's multitudes, credit to scenic designer Miriam Buether, as a two way mirror reflects the audience back at itself in the second half of the play.
The set itself, like Roth's costumes, is delicate and sumptuous, awash in lavender, mint, cream and gold. The performative femininity of the space seems a fitting nod to the play's protagonist, a battleax who has survived a life of mundane emotional and physical violence: breaking her back, living with her husband's blood disorder and cancer, accepting his infidelity, her son's abandonment. The spring notes of the surroundings also belie the truth of a body in decay. (A grisly detail about C's broken, disintegrating arm may make post-theatre dinner tough to stomach.)
It's a testament to Metcalf's dynamism on stage and full realization of both aspects of her character, but every moment from kicking off her shoes to rolling her eyes is infused with such athleticism and energy, she diverts attention from Jackson, who rules the stage with a more smoldering ferocity, masterfully pivoting between vulnerability, vulgarity, strength, humor, wisdom and impish delight.
Though harrowing feels a more apt descriptor for the play than hopeful, Metcalf's refrain, "and so it goes," reminds us that as much as we worry over change, in ourselves as much as in others, we live in the ever-present now. And, perhaps, life's most profound mystery and biggest surprise is simply that we survive it at all.