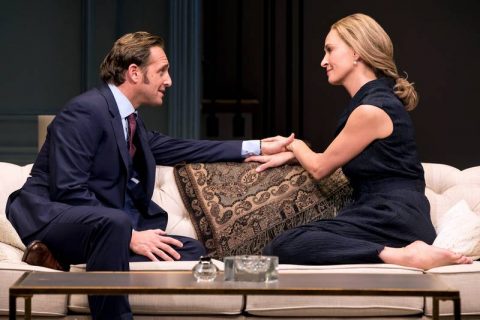 Beau Willimon, the writer and four-season showrunner of Netflix's House of Cards, brings his signature brand of dark humor to a new politically-minded show, The Parisian Woman, just beginning a limited run at Broadway's Hudson Theatre. Directed by Pam McKinnon and featuring an interesting mix of celebrity talent, from A-lister Uma Thurman to Broadway darling Phillipa Soo, the play — inspired by La Parisienne, Henry-François Becque's work from 1885 — questions how the ambitions and maneuvering of "politics as usual" is altered when our President's platform is Twitter and left and right seem more divided than ever.
Thurman stars as Chloe, the dilettante housewife of Tom (played by a charming Josh Lucas), a successful tax attorney to wealthy politicos who has in turn become quite wealthy himself. From their well-appointed townhouse in the Capitol Hill neighborhood of D.C., the two dream — and brood and plot — about an empty judgeship in the Court of Appeals.
Chloe isn't secret about her distaste for the current administration (nor, for that matter, is the play), but Tom has spent years taking money from anyone on either side of the aisle who could meet his fee, and he feels it's time to cash in his hard-earned favors. So behind the scenes, Chloe springs into action as the faithful wife (in mind if not in body), which means navigating a cast of characters with their own aspirations and ethics, including influential businessman cum spurned lover Peter (Marton Csokas); Jeanette Simpson (Blair Brown), Trump's nominee for Federal Reserve Chair and the play's mouthpiece for some amusing if not earth shattering insights from team GOP ("If he behaves – great. If he doesn't, we'll just keep working around him."); and Jeanette's idealistic, fresh-out-of-law-school daughter, Rebecca (Phillipa Soo).
A big-budget, high-tech set piece descends upon the stage early on to paint a thrilling picture, but the play isn't quite a thriller. It's an exploration of Chloe, the Parisian Woman herself, who claims to find fulfillment in "pleasure and beauty" rather than climbing the ladder — content to drink wine, read trashy vampire novels, and lobby for her husband's career instead of her own. She's an intriguing character, and Thurman carries much of Willimon's dialogue off with a cool-headed smirk that leads you to believe there's much depth below the well-dressed surface. But the play hinges on Chloe's irresistibly — if at times unintentionally — seductive nature, and the chemistry between Thurman and the rest of the cast just doesn't quite click.
Unfortunately, the play has, in Broadway parlance, a "strictly limited" time to settle into itself, but perhaps that's best for a work so of-its-time (there's even a Hurricane Maria reference) it's in danger of spoiling quick. Regardless, audiences will find plenty of entertainment in the visually sumptuous, thought-provoking, and brisk show, with plenty of snappy dialogue, whip cracks of humor, and Wildean witticisms to carry it along. "Powerful friends are the only kind worth having," a character suggests, not-quite-joking, early on in the show. In Trump's America, Willimon dares his audience, what will you do with all of those friends and all of that power?