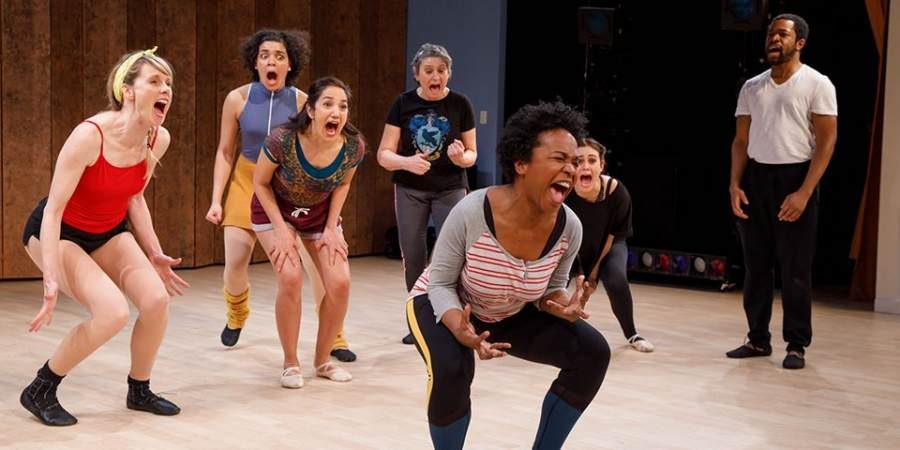 As a former 13 year old girl myself, I was struck by "Dance Nation," Clare Barron's brash, bittersweet ode to the brief and awkward period of life that tends to have a profound impact on who we become as adults. The play, now onstage — and twice extended — at Playwrights Horizons, follows a troupe of ultra-competitive tween dancers as they prepare for the Legacy National Talent Competition in Philadelphia, the first in a series of events that could earn them a spot at Nationals (in Tampa Bay, Florida!).  
In their high-pressure petri dish, helmed by Dance Teacher Pat (Thomas Jay Ryan), who runs a tight ship and never lets the girls forget that their futures ride on every leap and spin, the girls navigate the sticky transition from girlhood to womanhood in a way that feels revelatory in its honesty.
Apart from occasional interactions with Pat and the well-meaning Mom character (played in her multitudes by Christina Rouner) the spotlight is, literally and figuratively, on the girls — and the lone boy, Luke — who each get a solo, so to speak, stepping out of time to ruminate on their past, present or future.
There's Amina, the star (Dina Shihabi), who's learning that it can be lonely at the top, and her best friend Zuzu (Eboni Booth), who's struggling to reconcile their friendship with the fact that she's always second best. There's blunt, weird Maeve (Ellen Maddow), the girl who can fly; Connie (Purva Bedi), who still loves horses; Sofia (Camila Cano-Flavia), who's in the know; and Ashlee (Lucy Taylor) who, in a crowd-favorite monologue, flaunts her brains and beauty and reveals her plot for world domination. There's even Luke (Ikechukwu Ufomadu), who loves his mom and also maybe loves Zuzu a little.
It's important to note that all of these characters are tweens in spirit only; the actresses (and actor) that play them range in age twenties to sixties. Though this may seem like a gimmick, it works remarkably well, especially for the play's dance sequences, for which Barron instructs in her script: "The dances should take up time and space and be fully and gorgeously embodied performative events, even if the actors possess no real dance talent. (In fact, better if the actors possess no real dance talent.)" It's both hilarious and heartbreaking to watch women play young girls, perhaps because it lays bare for us all the fact that though we may hemorrhage a little bit of naivete and a little bit of magic, there isn't too much that changes after all.
In this way and more, Barron flirts with surreality as she ponders the way that magic and reality still coalesce in minds still mired in youthful imagination. (In one charming scene, Zuzu describes losing her virginity to Luke: "In one version I'm an enchantress. Like an enchantress, enchantress. Like I'm actually an enchantress. (Don't tell anyone this.)")
If I have any complaint, it's that the play suffers from a superfluity of ideas, styles and themes. Though director Lee Sunday Evans commands dynamic performances from the ensemble cast, and each troupe member shines (or his), sometimes overlapping scenes seem to step on each other's toes, jutting physically into one another in a way that calls attention to the play's somewhat loose organization.
But you'll leave this "Dance" with an acute sense of having seen something important and empowering, and if Barron is already able to acutely tug at so many themes, both eternal and timely, it's thrilling to consider the body of work she'll produce in the years to come.