Interview: Annie Ryan and Aoife Duffin, of Dublin's The Corn Exchange, on Adapating the Novel "A Girl is a Half-formed Thing" for the Stage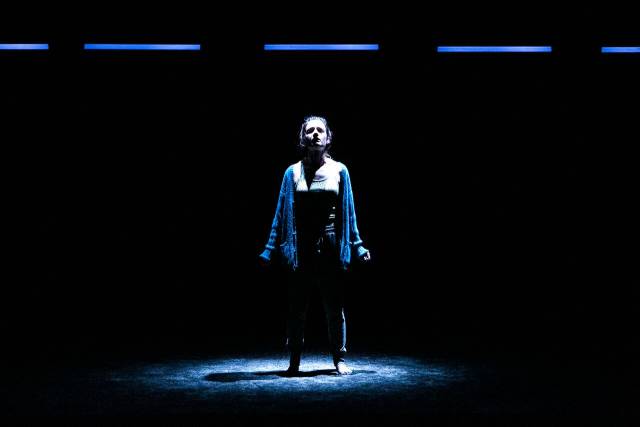 Irish writer Eimear McBride's debut novel A Girl is a Half-formed Thing took a mere six months to write but a further nine years to get published, such is the struggle of the burgeoning scribe. McBride however, may well consider that time well worth the tumbleweed wait. The ensuing acclamation for her book, about a growing girl's perspective on her discomposed relationships with family and acquaintances, has been plentiful, with a subsequent book (by David Collard) written about the novel's development and a successful stage play, adapted and directed by Dublin's Corn Exchange theater founder Annie Ryan with Ireland's latest rising star Aoife Duffin in the leading role. A critical triumph in Ireland and the UK, A Girl is a Half-formed Thing makes its New York debut beginning on April 20th at Hell's Kitchen's Baryshnikov Arts Center for ten performances only. StageBuddy talked to Annie Ryan and Aoife Duffin about the play's journey from page to stage.
Annie, you've a background in acting in Chicago and at NYU's Tisch School of the Arts. What brought you to Ireland to begin with and what led to you founding The Corn Exchange and expanding your skills into writing and directing?
Annie Ryan: I had been studying acting at NYU, which meant doing a lot of rolling around on the floor in pajamas. I was craving a taste of some kind of legitimate academic education, which frankly NYU could not provide as far as I could see. For my third year, I studied Philosophy in Trinity College Dublin in 1989-90. It wasn't intensive really. If you turned up to class, which hardly any Irish did, it was not too difficult. I spent a lot of time making shows in Players, which is entirely student run. This was Dublin well before the boom. The city was dark – one or two night clubs, a handful of restaurants. It was still, just barely, the '80s. And the place felt like it belonged to us. Students lived in the fine Georgian squares in the city center in those days.
What brought me back to Dublin in 1992 was the people. The combination of humor, wit and way with language won me back. They wanted to make things. And I felt I had something to give in terms of theatre practice and training, which was pretty much non-existent at the time there. I had begun a career as an actor in Chicago, but I didn't feel like following John Cusack to LA was particularly empowering. I didn't really know it at the time, but I wanted to become a maker.
My work is based in ensemble-based theatre games, improvisation and a kind of bastard version of Commedia dell'Arte from Chicago – it starts with the body of the performer and then expands with the ensemble toward transformational theatre. In the early '90s, there was a wave of training that swept into town from various sources – Le Coq, Complicite and now Chicago. I began teaching actors and soon we were performing. When Dublin's first Fringe Festival was founded in 1995, we became official.
Over the years, the work grew very organically. It was bound with the notion of starting with the performer, with the ensemble, and therefore deeply collaborative. Writer Michael West, who I began working with back in Trinity, was along side from the beginning. We began to make the work for our actor friends, and it grew from there. I've never had a particularly reverent relationship with the text – it was more about serving the piece from moment to moment. The skills involved for adaptation for Dubliners or A Girl had been at play in the company since the beginning.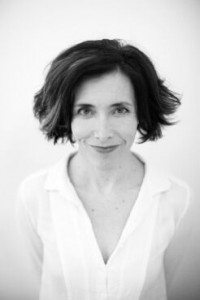 Eimear McBride's debut novel A Girl is a Half-formed Thing is written as a stream of consciousness. As with Beckett and Joyce, there is coinage and creativity with grammar and language. It is no easy read and all the better for it. Why did you select the novel and how testing was it, adapting the story for the stage?
Annie: When I read the book, I was totally blown away. It is so visceral, so alive, so devastating. Really vital and important. I was also instantly struck that it was performable. And that it should be performed by one girl, as the whole piece is inside of her head.
The company's work is grounded in the performer's ability to transform location, character, time. I knew that end of it wouldn't be a problem as such. The real challenge was how to cut so much text and still keep it alive and immediate for the audience.
Did Eimear McBride's linguistically gutsy approach to storytelling in book form inform how daring you could be with the play?
Annie: Well, it's so daring already, that it you hardly have to add to it. It was about channeling the energy through her incredible way with language. In a post-show discussion in England, Eimear said that her intention was to disturb the reader, which she certainly does. Mine was the opposite intention: to hold. To hold the audience and their attention with great care. And of course, Aoife too.
Tell me about the casting of Aoife Duffin. What had you seen of her previous work and what impressed you about her?
Annie: I'd known Aoife for years in Dublin. She's an established leading actress in Ireland, having played Antigone, Abigail in The Crucible... I needed someone from the country (rather than a Dubliner) with serious chops. I had to almost beg her to do it. She'd been playing Velma in Spring Awakening for the second time, and had played so many brutalized girls, she was exhausted. This trumped them all, but the huge difference here is that the story is from the girl's point of view. It's been an incredible journey and very humbling to watch her continue to grow in the role.
Aoife, you've played a number of harrowing theater roles that revolve around sexual repression and unhappiness. In this play, your role as a girl in an abusive sexual relationship who wreaks revenge on cruel local boys, confronts the darkness of sex head-on. Did those prior roles assist with summoning this character's particular brand of pain or did you discover a new approach from the unique material in conjunction with Annie's direction?
Aoife Duffin: True, there are similarities, but I'm always starting form scratch with a role. The material for this piece is very particular: its adapted from a novel which gives me a much deeper insight into who the girl is. It's a monologue therefore I don't have anyone else's energy to feed off. The language of the piece is a whole world/character in itself. All of this made it a very unique experience for me as a performer. But of course having delved into harrowing material in earlier roles gave me good courage and practice to go to the dark places in A Girl.
The set is stark, thereby pulling focus into the sole performance. Was this always so in the play's development and how did it feel initially to perform without props?
Aoife: We toyed with the idea of having a bench or something for me to sit on but very quickly threw that out. It was very exposing performing without props at first. In the first few weeks of rehearsals there were times where I felt very uncomfortable and just didn't want to be looked at.
Annie: Almost all of our work is based on the principle that you can be anywhere, make anything, in an empty space. I knew this wouldn't be problem. We pared back any flavor mime as much as possible. The transformations Aoife makes in the show, from character to character, from location to location, are extremely internal.
We work with the notion of camera shots. We think of terms of framing – in close-up, in wide shot. Of course, she's still just standing there, but the feeling is that you are watching the film.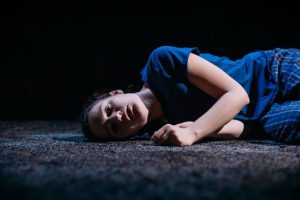 The language, with its sometimes consciously irregular syntax is simultaneously musical. Did you find this to be the case? How did you get the measure of such unconventional prose?
Annie: The text absolutely showed us what was happening for the character, from moment to moment. Eimear's training in Method Acting at Drama Centre in London informed the way she writes. Tiny example: "Knocking tat the door she is." The sound happens first, then the source of the sound, then the entrance of the character. It doesn't demand invention from the actor or director as such.
Aoife is such a skilled, remarkably truthful, pure actor, it just flows through her, especially now, with such ferocity.
It was very difficult to learn. Quite a frightening amount of text. We devoted rehearsal time to her learning it. She recorded herself and listened to it walking down the street. We did Skype rehearsals to prepare for the tour when Aoife was living in London.
In the beginning it was difficult for her to read the text without breaking down. It's a terribly traumatic story. And it still really costs her to perform it now. We do our best to take care of her. Hopefully there won't be long term damage!!
Aoife: The musicality of it only really became apparent to me later on. At first I just tried to deliver the lines truthfully. It came from a very instinctual place. The musicality is already in my own accent so I didn't have to do much work to find that. Of course the real work came in learning it. I suppose I did learn it in a musical sort of way. The way I would learn a song. I recorded different sections on my phone and I would listen to my own voice over and over and over...of course learning in this way can be dangerous especially with new work because we were constantly changing lines and editing as we went along which meant I was sometimes having to unlearn lines which were deeply embedded in my memory.
Tell me about performing and directing the aging process of the character from a two year old to a young woman.
Annie: One of the most remarkable aspects about watching the piece, is watching her age in front of you. It's like watching Boyhood. A lot of work was spent on gauging the balance of vocal pitch and level of vulnerability for the story.
Aoife: I found/find playing the early years of the girl tricky. It's a little silly a grown woman pretending to be a baby, so even now I still feel like I'm on a knife edge between trying to keep it rooted in my own grown up voice but also portraying that she is two, then thirteen, sixteen gets a bit easier, and then when she reaches twenty I feel I can really relax into it and find my own voice. So maybe there's something in there about me as a performer finding my voice just like the girl tries to find hers.
It's very important that the audience know she's thirteen when the uncle abuses her, but like I say, it's tricky for a grown woman to portray a thirteen year old without it seeming a bit...I don't know...trivial.
How much of a challenge was it to sew humorous elements into such an unsettling story?
Annie: God, it is such a huge relief that it's funny! Eimear has the sharpest tongue out there. Very funny.
Ireland is a dark place. Terrible poverty for centuries. Terrible history. What can you do but laugh?
Aoife: The humor in A Girl was always there. There's a beautiful sarky acerbic humor that the girl has throughout the book so it was just a matter of delivering them in the best way possible. We experimented with lots of different arks for the piece which included less and more dramatic sad moments. Dramatically, it was important for us not to land too many moments because there are so many and we needed to keep the energy up before the final peak at the end.
Annie, the play has garnered much praise and success in Ireland and the UK. As an American, do you perceive that a New York audience might react differently in any way?
Annie: I don't think they will. It's definitely not for everyone, we know that already. We were nervous when we brought it to the UK, to England first, then Edinburgh. While it's a deeply Irish story, it's also a universal one about growing up, about being a girl, about love, poverty, cruelty. Our audiences have been remarkably consistent in their reactions. Some Americans will find its intensity too much. Some will find it hard to see the light in it. Perhaps the world it depicts will challenge their idea of Ireland, or maybe it will shine light on their own culture.
We'll find out soon!