Interview: 'Bachelorette' Director Hannah T. Wolff on Dark Comedy and How Weddings Bring out the Worst and Best in People
Leslye Headland's Bachelorette returns to New York for a limited engagement from September 8-17, the immersive theatrical experience will play at Walker Space where audience members will become entangled in the chaos leading up to Becky's wedding. We spoke with director Hannah T. Wolff about taking on Headland's iconic play, the meaning of weddings, and finding the right tone for a comedy.

What a great time to bring Bachelorette back! What do you think the play has to say about the world today that it didn't when it first came out in 2010?
Bachelorette is a cautionary tale that needs to be told. The dark comedy deals with vanity and indulgence in a way that can be best related to by the Selfie Generation of today.  Millennials are plagued with the fear of becoming irrelevant. It drives us to act on impulse, strive for spectacle and obliterate privacy. Bachelorette shows us that we are an over-stimulated, intoxicated, addicted generation. In this connected world we are uploaded personas of our best selves. But when we put the phone down, look in the mirror and see our unfiltered reflection, it is not so pretty. That lack of awareness breeds self-hatred and self-hatred breeds self-destruction. These are the major issues Bachelorette addresses and they are more relevant than ever.
What are some of the challenges when taking on a piece that has become as popular as this? Do you want to pay homage in any way to the original production, or the movie, or just start from scratch?
The creative and production team of Bachelorette is thrilled to be generating some buzz. We are happy this play has been so well received in the past and we are excited to bring it back. A major goal of mine is to pay homage to the brilliant writing. Leslye Headland creates these dark, twisted, yet very real, characters that are lost and trying to find their way. In my direction I try to push my actors to get "ugly". Bachelorette is about a bunch of broken individuals indulging in their own self-destruction. At first glance, the play might seem like a kitchen-sink drama but it is far denser and more dangerous than that. I want to create a thin line between the realism and the heightened psyche of these cracked characters. We are accomplishing that goal by creating a kind of dollhouse on stage. It is fragile and pristine and bound to come crashing down.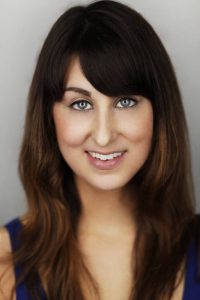 Your take on the play sounds more immersive. As a director do you find yourself drawn towards immersive theatre more than traditional proscenium-only experiences?
I have always approached theatre as an experiential art form. We go to the theater to block out all the other noise outside of the theater doors and escape in the action unfolding within. That is the power of theatre. It is meant to be immersive. As a director I do not believe the playing space ends at the lip of the stage. The playing space is boundless within the theater. We are lucky to have an incredible space like WalkerSpace. We have all four walls to play within and we plan to do just that. From the moment the doors open the audience will become a fly on the wall, an accomplice in a crime, and a witness to a tragic accident.
Is Bachelorette your favorite from Leslye's "Seven Deadly Sins" series? Did you envision versions of each of them?

The "Seven Deadly Sins" series is a treasure trove of human experience that Leslye has masterfully woven together. Bachelorette is a favorite but I also love Reverb (wrath) and Assistance (greed). I would be honored to direct all seven of these plays. In fact, Leslye if you are reading this, please hire me to direct your "Seven Deadly Sins" series. You will not be disappointed.
What do you think makes the whole wedding culture so popular in fiction and entertainment in general?

Weddings bring out the best in people and weddings bring out the worst in people. Weddings are meant to be a joyous occasion. But between the constant balancing act to keep both families happy, the question of faith, the endless luxury products documented on Etsy and the fear of failing to one-up the last wedding you attended, weddings end up being a part-time job with no pay. No wonder people take a honeymoon. They need to recover. Weddings have always made for great creative material, just ask Shakespeare.
Would you care to share any special wedding memories of your own?

I always tear-up at weddings but on my sister's wedding day the floodgates opened. Misjudging my ability to hold it together I sobbed through the entire ceremony. I am 85% sure the guests were watching me and not the bride and groom. I made up for it by crying through my entire maid of honor speech. At that point my cousins picked me up and brought me to the bar. I actually have five weddings this season and at each one I am getting better and better at bringing Kleenex.
Bachelorette is the best kind of comedy because it always flirts with horror elements, how important is it for you to maintain this balance?

Dark comedy is the best brand of comedy. As humans, sometimes we laugh at inappropriate times. Sometimes it hurts to laugh. Bachelorette is hilariously tragic. I want the audience to be constantly asking themselves, 'is it okay to laugh?' Leslye Headland has referred to her work as an exploration of morality and how morality is relative. Who are we to judge? There is great comedy in chaos and great chaos in comedy. It is all fun and games but no one makes it out unscathed.
The characters in Bachelorette are not entirely likable, which is something female characters get more flack for than male ones, is talking about this element a part of the rehearsal process?

Bachelorette is full of irredeemable narcissists of both genders. Without descending too far into controversial feminist dogma, I think the reason the female narcissist is often not well received is because these roles are busting the boundaries of the gender norms dictated by the entertainment business. In rehearsal we have talked about not judging the characters. I challenge the actors to embrace the un-empathetic, self-absorbed, addicted, attention hungry men and women of Bachelorette. These people exist in real life. They stomp the streets of New York, they dwell in the bathrooms of bars and they devour Reality TV as a viable source of news. Basic does not begin to describe these Insta-obsessed individuals living vicariously through the Elite. I encourage my actors to embrace the good, the bad and the ugly. And in the process I think the actors are finding that it feels good to be bad.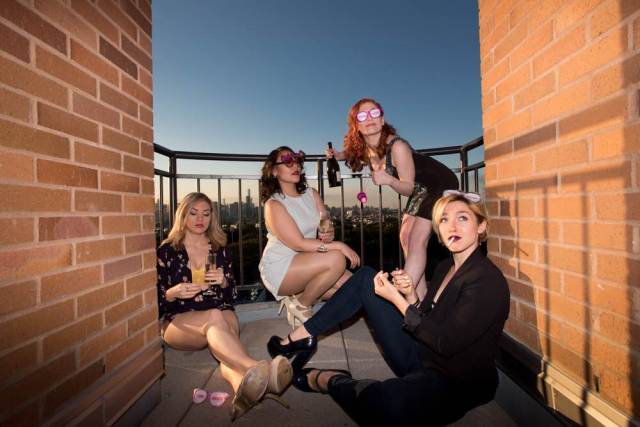 How does your background in improv comedy help you when it comes to directing?

I use a lot of improvising in my rehearsal process. Before blocking through the text I have the actors drop into character and navigate various scenarios.  For Bachelorette we had a lot of fun bringing these characters back to their high school days, their prom and their graduation. The actors discovered a lot about their characters and how they relate to one another. I like to bring this improvised play into the rehearsal room as a means of daring the actors to not only create a backstory but also embody it. This method often allows the actors to trust their instincts, make unplanned decisions and play outside the boundaries of the text.
As a female director, would you say that theatre is more receptive to women artists than other mediums? What are some of the challenges you've encountered in each of the various fields you've worked in?

I like to surround myself with strong female professionals. In fact, my team for Bachelorette is made up of a majority of women. Our executive producer, stage manager, many design collaborators and most of our cast are women. It is important to me to create opportunities for women in theatre. We have to look out for each other. I find it strange that it is somewhat of a novelty to have a female director. At one of my performances I heard someone say, "Can you believe a woman directed this". I was very confused and tentatively offended/flattered. I think the challenge of working within the entertainment business, regardless of medium and role, is constantly breaking down the gender norms that have been placed on us from before the time of Marilyn Monroe (a referred to heroine in Bachelorette). People forget that Marilyn was not only a bombshell blonde, she also owned her own film company. We get to choose the critical narrative and the lens through which our work, as female actors, directors, writers, producers, designers, etc., is viewed.
The show will have a limited run, what happens after that? Will you get to take it to other cities?

One can only hope. Bachelorette has been a labor of love for about six months. The project started with an email from an old friend and grew into a life-changing experience. I am so grateful to my team for all of their hard work and commitment. I will be very sad when Bachelorette closes. We are all hopeful for some sort of extension or remount. Most importantly I have found some incredibly talented collaborators. I hope our work together, as a team, has only just begun.
You make chocolate too! Will we see any bark by wolff products as merch at the show? How did you end up making chocolate?
I am a director, an actor, and a chocolatier. It is a delicious combination. Bark by Wolff is a gourmet chocolate bark company based out of Brooklyn The geographic diversity of the chocolate used in each recipe is carefully tailored to each added ingredient to bring out the rich flavors in both.  From spicy to sweet to surprising, chocolate bark appeals to every palette. Bark by Wolff does weddings, private events, limited online sales and concession stands. At WalkerSpace the audience will have the opportunity to try a special recipe I am concocting for Bachelorette. Bark by Wolff plans to become a staple at many theater concession stands around New York City. I started making bark as a holiday gift for friends and family. It was a big hit!
For more information on Bachelorette click here.