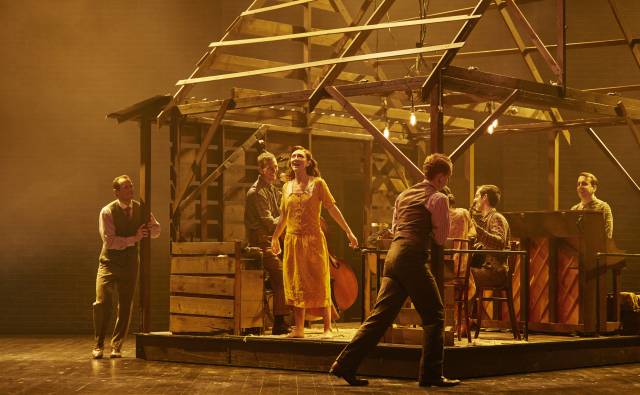 Steve Martin and Edie Brickell deliver the brilliant gift that is Bright Star to audiences this spring, a new musical about how we choose to tell our stories. Set in the southern part of the United States in the middle of the 20th century, Bright Star follows the journey of a female editor, Alice Murphy, who meets a man that awakens a longing within her -- leading her to re-examine her past and ultimately inspiring hope for the future. Carmen Cusack leads this gifted cast, also starring Paul Alexander Nolan as Jimmy Ray Dobbs, Michael Mulheren as Mayor Josiah Dobbs, and several others.
Bright Star is an ensemble driven piece, and among the cast members is Max Chernin, who has recently graced the stage in performances such as Brooklynite and Claudio Quest. Chernin, who has been a part of the cast from the very beginning, is excited to see Bright Star premiere on the New York stage, and savors how the production travels back in time to honor the art of storytelling and how we define life's remarkable moments as they relate to our happiness and true purpose.
What first got you interested in performing and how did you get your start in the biz?
Max Chernin: Figure skating started it all for me. Naturally, I was the only boy in the five-year-old group. During the big spring show, my teacher had to duck out at the last minute and couldn't take us out onto the ice. She somehow knew that I could do it, and sure enough, I led a train of girls onto the ice for our big number. Spotlights. Cheering. Autographs after. I was sold.
I got my "start" in "the biz" in Really Bad Things at NYMF in 2012.
Growing up, did you always have a plan for your career or has it unfolded in a surprising way?
At a certain point I was sure that acting and singing were going to be a part of my life forever. It wasn't until I learned that I could study acting in college that I began to think of it in the sense of a career. I think it's safe to say that everyone's career unfolds in a surprising way. Those surprises can be exciting, and they can be extremely challenging. I graduated from the University of Cincinnati College-Conservatory of Music (CCM) and moved to the city with my 14 classmates. Some got jobs weeks out of showcase, and some, even 4 years later, have transitioned into different careers all together. It's easy to compare your success to others, but it's really important to focus on your own journey. Say "Yes."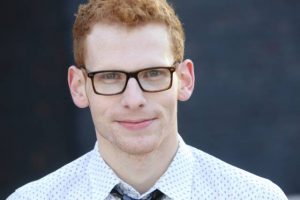 Is there a mentor you've had or another performer you've looked up to that has been a source of inspiration for your career?
There is this incredible pocket of teachers and talent in suburban Cleveland that I could go on about forever, but if I were to mention one person, it would be Andrew Kober (Hair, Spelling Bee, Les Miserables, She Loves Me). He was my camp counselor, and we performed at Heights Youth Theatre together — Andrew usually as a lead, and me in the chorus. In eighth grade, I got a chance to be Smee to his Captain Hook in Peter Pan. Sharing the stage with him was thrilling. He made me feel like a funny, smart actor just by being around him. He was a brilliant Hook. From there, he went on to Carnegie Mellon to study, so I set my sights on doing something similar. Years have passed, and we've wound up doing a couple concerts and things together in the city, which is rad. He's a cool cat. (Hi, Andrew!)
Can you describe a challenge you overcame that has made your career stronger?
Saying "Yes" doesn't necessarily mean you'll be making the big bucks. I was fortunate enough to land a job at a restaurant that (reluctantly) accommodated my ever-changing schedule. We had an online system of requesting shifts off, so any time I did a concert or a reading, I would just block those shifts, and pray that they would work around it. Miraculously they usually did, but while taking three days off to do a Ryan Scott Oliver concert was thrilling, I was missing those shifts at work. I don't regret anything. If I had not said yes to Ryan, I wouldn't have gotten the exposure that I did and I don't think I'd be where I am today. (Thank you, Ryan!)
Bright Star is one of the most highly anticipated shows on Broadway this spring – how does it feel to be making your Broadway debut?
Words like "blessed," "thrilled," and "honored" fit the bill, but I'll avoid that…what stuck for me was what a professor of mine wrote to me on the night of our first preview. "Delicious." And that it certainly was. (Thanks, Richard!)
I've been with Bright Star since its premiere at the Old Globe in San Diego, so it's great to see it have a home in NYC. As thrilling as it is for me, I'm equally, if not more thrilled be with Carmen Cusack while she makes her Broadway debut as well. She is one of a kind.
What stands out to you most about the story line of Bright Star?
We have a number of big "twists" in the show, but even if you're a step ahead of the plot, watching these revelatory moments is captivating. Steve [Martin] has penned a book that seamlessly blends comedy and poetry. Ms. Murphy (Carmen Cusack) says to Billy (A.J. Shively) "…it would be easier to get Lincoln off the face of Mt. Rushmore than to get home out of the heart of a Southern writer." This line has always stuck out to me — I think it speaks to how genuine and sincere Bright Star has become.
How do you hope audiences will respond?
I think Bright Star resonates with everyone in some way. It has an incredible momentum that can really sweep an audience up. There are moments of dead silence, and moments of raucous laughter. People are really listening. It's amazing to see how deeply Bright Star affects people, and continues to do so.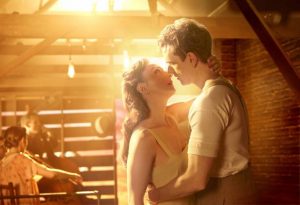 Why do you think it's so important for a show that is so moving and rich with emotions to be told in a world that is so fast-paced?
The theatre is one of the last places where people turn off their technology (at least I hope). Dating apps, social media, and texting have changed the way we express ourselves and how we communicate. Any demonstration of how people "used" to connect -- that is essential, especially for young people. You could spend your Saturday night at home, streaming and ordering Seamless. And don't get me wrong, I love to do that, but at the theatre, you see sweat and tears, you hear people breathing and speaking. You watch real human interaction while sitting next to real humans, and you can't get that anywhere else!!
The show is very ensemble driven; what has it been like working with a group that has added so much beauty and magnificence to the overall masterpiece?
It's a dream. Such a rich, smart, and dynamic group. We're really responsible for the ebb and flow of this story. Josh Rhodes gave us a movement vocabulary that is incredibly diverse. It syncs up with the energy, tempo and emotions of each character's journey. He's crafted these beautiful sequences that paint us into the bigger picture. We're like the Greek Fates, watching over the story, and moving it along. It keeps us on our toes, and it keeps us invested in the storytelling, which I think is something so unique to our show. There's a really amazing atmosphere on and off stage…it is indeed beautiful and magnificent.
The catch-phrase for the show refers to the stories we tell and the ones we don't…. would you be able to explain what that means to you and how you hope fans will interpret that message?
Ah. Well…I think we have stories we're proud to tell, and ones we're reluctant to even bring up. When you hear stories from both ends of the spectrum you gain a certain perspective of a person. I think that is palpable empathy. I hope fans, especially those who are creatively inclined, feel inspired to unabashedly share and create from their personal experience. Every bit of it.
Catch Max in Bright Star opening March 24th at the Cort Theatre.