Interview: The Creators of "Mississippi Stories" on Southern Literature and the Legacy of Eudora Welty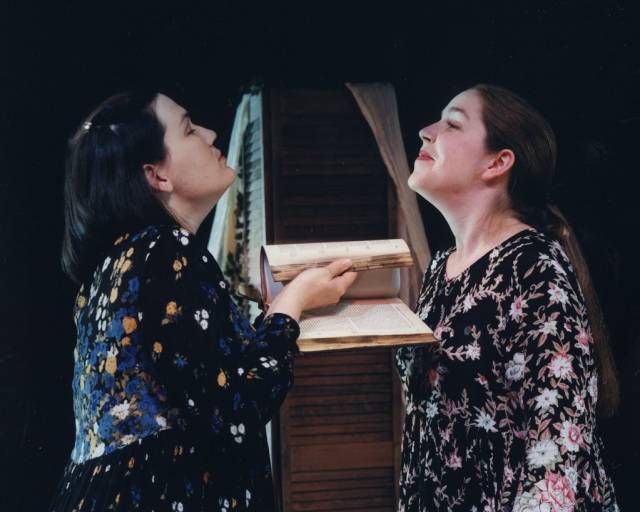 New Yorkers will have the chance to experience the art of Southern storytelling this summer, as Voices of the South makes their debut with Mississippi Stories – adapted from the works of the iconic Southern writer Eudora Welty. This tight-knit company challenges audiences to slow down and live in the moment as they allow the customs, language, and flavor of the South to open their eyes to a unique kind of beauty. Founders Jenny Odle Madden and Alice Rainey Berry, along with Gloria Baxter, their professor turned director, have been collaborating for decades and will be performing a two-woman adaptation of Welty's short stories, "One Writer's Beginnings" and "Why I Live at the P.O.", this summer at Theatre Row.
StageBuddy had the opportunity to speak with Jenny Odle Madden, Alice Rainey Berry, and Gloria Baxter about their history and work together, the importance of introducing new audiences to Southern writers, the evolution of their nonprofit, and what they are most excited about in debuting the work of Eudora Welty in New York this summer.
Congratulations on bringing Voices of the South to New York City!
Jenny Odle Madden: Thank you. We're very excited – it's been a long time in coming.
Alice Rainey Berry: We're very excited – I'm thrilled to death.
Tell me a little bit about how Voice of the South came to be and how it's evolved over the decades? 
JOM: The company creates and produces theatre from diverse Southern perspectives. The professor that we studied with at the University of Memphis -- our director, Gloria Baxter -- was the reason for a larger company. She got us all in a room back in 2000 and we adapted some journals from conservationists who lived out West and we realized that all of us were "Voices of the South" and decided that it needed to expand beyond the two of us. We've evolved, with a group of people from the University of Memphis, and it's allowed us to keep creating new work -- ranging from a narrative adaptation to original character work. We tend to run the gamut and keep working to make things happen.
ARB: It's interesting how when people work together for a long time, they start to move as one. Jenny and I have a great chemistry on stage, but people also comment on our company and say that we are like one mind on stage together. It's a really special thing.
Gloria Baxter: There's a larger company now and they are all former University of Memphis students and students of mine at some point. What is fabulous is that this group has worked together for so long and I call directing them "dolphin talk." I can throw out a slight thing and they know immediately what the relationship is to movement and the language and can pick up on things from each other. Alice calls it one mind, and I call it "dolphin talk."
Mississippi Stories is adapted from the works of Mississippi native and writer Eudora Welty – talk a little bit about Ms. Welty's writing style and what makes her storytelling distinctive.
GB: Eudora Welty was known as one of the best American masters of the short story. In my mind, the Golden Age of Southern Writing is the Faulkner, Welty time period -- when they introduced a new way of looking at the South. I love her language and she talks about how much of the South is the love for talking! Even as a child, Welty loved listening to older people talking – just about everyone is telling some kind of heritage story. Those were the days when people sat on the porch and spent hours exchanging stories. We may be losing some of that, but that's the core of it [talking, talking, talking] for us Southerners. Her awareness of the sense of place is what made her writing get so rich – and makes it feel like it's a place that we know and a place that we are in.
JOM: Her storytelling lends itself to a sense of place. It contains a lot of fun Southern sayings and what happens from them is a kind of musicality that is well suited for the stage. It makes it fun to perform and fun for the audiences to listen because people don't speak with that cadence like they once did. We still hold on [as Southerners] to those fun ways of saying things -- "fixing to go," "kiss my foot," "broad open daylight" are all sayings that make the experience very theatrical. When Alice and I started the company, we ultimately wanted people to read more Southern literature.
ARB: While I think all of American literature is very important, I really believe that individuals like Faulkner and Welty are very important to our history, and that people should know them as Americans and writers. People in the South should be reading these authors and I recommend [Welty's] autobiography to everyone I meet because it's about memory and not just having memories, but the art of recalling and cherishing time, and she captures that so beautifully. It's called One Writer's Beginnings and we will be doing one chapter of it.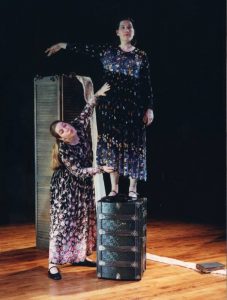 This two-woman performance challenges you to act out the parts of multiple characters – what type of technique and focus does that require?
JOM: It makes you have to listen and react and be in the moment. The convention that we decided upon 20 years ago was the two-person performance, and I tend to be the comedic and play all of the different characters. We have to respond and do quick transformations for the audiences to truly get it. We have a chemistry that really works well.
ARB: It's interesting because Jenny and I are so different from each other – Jenny takes on all the different characters and plays the comic bit, and I play the straight roles – the through lines. It's different for both of us as far as energy and what it entails. My character is the one that keeps everyone involved in the story – basically the narrator, telling the story and then also acting it out with all of the characters that Jenny creates – so my character comes in and out of the story. The second piece is very lyrical and we play Eudora at different time periods in her life and we both play that character – so both are very different.
In your travels performing the works of your nonprofit to audiences all over the U.S. as well as internationally, do you learn something new from each venue that you visit?
JOM: It's interesting with Southern literature… people aren't used to listening anymore, so it's fun to try and figure out how we can guide them through that process. As an actor, it is up to us to listen to the audiences and figure out what they are gaining and be able to adjust.
When we took one of the stories,["Why I Live at the P.O."] to Edinburgh, the audiences thought that one of the characters, sister, was hostile and that the story was hostile, and we were like, "No, that's really just Southern people." They had a very different way of hearing it than a Southerner would. You do your best to gauge what will be received.
ARB: I think audiences from different places will each enjoy it for various reasons, but the fact that these stories are so human is really the connecting factor. Things are interpreted in different ways and some audiences aren't used to Southern words or mannerisms but ultimately enjoyed the themes of the stories. I think certain aspects of Eudora's work that relates to family and her description of her relationship with her parents -- everyone can relate to that. Certain experiences like catching fireflies in the summer brings out the child in all of this and are what audiences love remembering and what Eudora references in her writing. All of this may come from a Southern perspective, but the story itself is universal.
What do you hope that NYC audiences will take away from the performances? 
ARB: It does require the audience to use their imagination – it's about the words and images we evoke though movement and how we tell the stories. I'm curious to see how these stories will survive in New York. I think people will be willing to go with us on the journey.
JOM: I really hope that NYC audiences will enjoy this and take the time to slow down and experience an incredible Southern writer. She captures the rhythm and feel of the South through her storytelling and our job is to maintain her original intent.
GB: My hope is for audiences to enjoy watching these phenomenal two women and for them to enjoy the humor and beauty of the language. I want people to love the joy of Welty's language itself and her love of books and of writing. The work that Jenny and Alice do is wonderful and seeing the evolution of the piece and watching them morph really brings out Welty's interior life and thoughts. I love New York and come often for theater, theater, and more theater! Since it's a minimalist piece, I hope audiences will appreciate the exquisite care for language and movement and soak up the entire experience.
Eudora Welty – Mississipi Stories runs July 28 – August 7 at Theatre Row for eight performances only! For more information, visit: https://www.summonersensemble.org/eudora-welty---mississippi-stories.html