Interview: Playwright Itamar Moses on How 'The Band's Visit' Shows Strangers Help Us Recognize Ourselves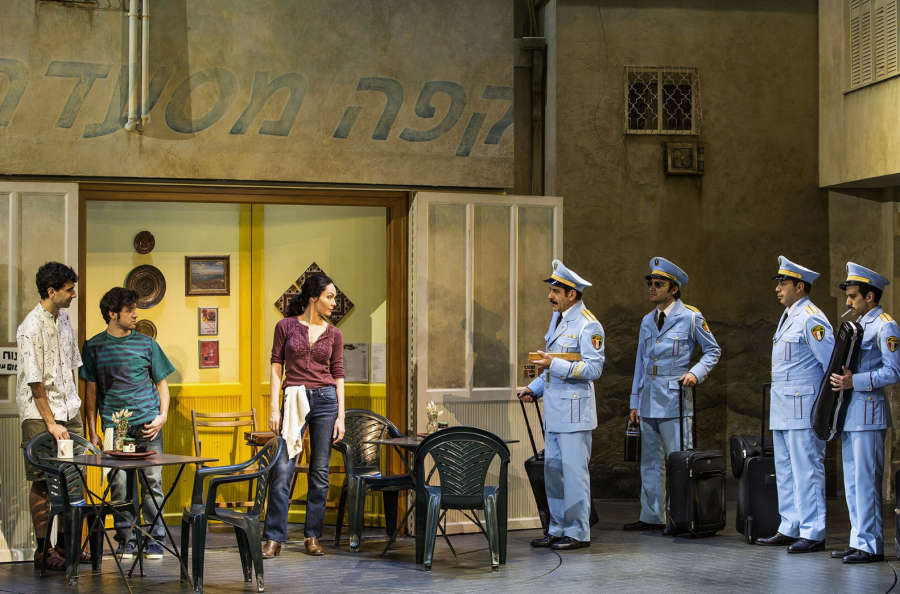 Playwright Itamar Moses has mastered the art of versatility, whether he's writing for television dramas, plays, or books for musicals, he knows how to weave situations in which the ordinary becomes transcendental. A perfect example is his delicate work in The Band's Visit, the critically acclaimed musical adapted from the eponymous Israeli film, which sees the members of an Egyptian band find themselves stranded in an Israeli town in the middle of nowhere. In Visit, Moses creates a lovely dialogue between characters, but also between musical numbers. The show is the rare one, where everything is in its right place. To celebrate the release of the cast recording we spoke to Moses about adapting the film, his penchant for stories about outsiders and how doing the musical was a healing experience.    
Whether it's Nobody Loves You, Fortress of Solitude or The Band's Visit you seem fascinated by "fish out of water" stories. How did this come to be?

That's never occurred to me before...All these musicals are so different, Nobody is about a guy who has contempt for reality shows and finds himself competing in a reality show, Fortress is about a kid growing up in a neighborhood where he doesn't necessarily belong, and in Band the band is stranded in the wrong town. Keep in mind that two of those are adaptations, but in terms of what attracts me, I don't have a conscious answer. Obviously unconsciously something attracts me to that, maybe it's that for something to work as a musical it's necessary for there to be a heightened, strange, or uncanny world where the main character enters. The mundane world is transcended in musicals, so maybe a fish out of water story lends itself to that.
What scene in the movie gave you access into the world?

There's a line of dialogue that helped me understand what the core idea of the piece was. In a way it's a spoiler, so let's just say it's a speech near the end where Tewfiq reveals his back story to Dina. In explaining why some bad things happened he says "I didn't understand him" about someone in his past, and to me in a story where we have two groups of characters from different cultures who have conflicts, this idea that people who speak the same language also have trouble understanding each other, unlocked this world for me.
The film solves the language conflict by having the Egyptians and Israelis speak English, was it a challenge to translate this into the world of a musical with songs almost completely in English?

We defined this when we defined the formal rules of the musical. There's a lot of dialogue in Hebrew and Arabic, in the movie everything is translated with subtitles, but I liked playing a game of keeping everything in its original language while giving audience members enough information to know what everything meant. We decided that all the lyrics would be in English because that's how the characters tried to communicate with each other, but also a lot of the songs are internal, they sing them to themselves. We decided we could justify all of that being in English because it was an expression of their inner lives. We thought a musical would be a way to excavate the soulfulness of the closeups in the movie, I think the songs work because these are people struggling to be understood and music is a doorway to this that works in a way spoken language wouldn't have. There's only one exception, Tewfiq sings to Dina in the park in Arabic, and the song that follows has her try to figure out what he meant. It was fun to break the pattern of our formal rule.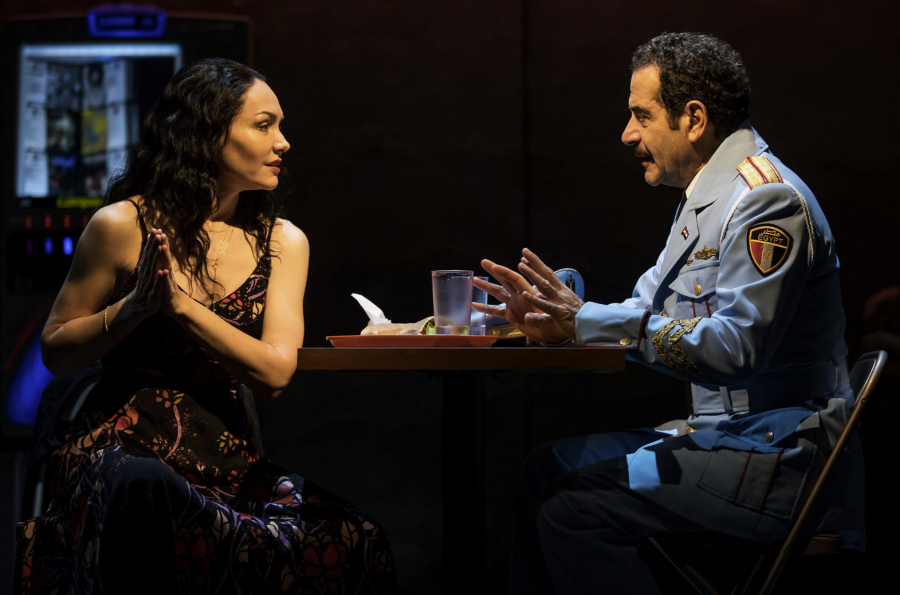 The musical came out around the 2016 election and I wonder if in any way it helped you cope with the wave of xenophobia that would come from that?

The short answer is yes. We did the show Off-Broadway in the fall of 2016, we were rehearsing in September and everything seemed to indicate that Hillary Clinton would win. We were excited to tell this story but we'd developed this running joke in which every time we got too serious about the show, one of us would say sarcastically "and that's why our show is so important," and we would all laugh. The election happened when we were in tech and the world changed overnight. Our joke then became something serious, our show now was really important. It was healing to come into work after the election, we had a very diverse group of artists, Muslim, Christian, Jewish, straight, gay...and when you're making theatre you're always making something bigger than the sum of its parts. Theatre itself is a repudiation of the idea that we need to be afraid of difference, and by telling this story we paradoxically show that we often see ourselves reflected in strangers. Shutting out strangers is a way for us to avoid knowing ourselves.
Shutting out strangers is a way for us to avoid knowing ourselves. - Itamar Moses Click To Tweet

At some point people will be able to buy the script of The Band's Visit but also the cast recording. Is it strange to have your work split into different mediums?
Not really, that's just how theatre is. Even when you write a traditional play and the script is for sale, the script isn't the play, it's just the blueprint for an event. The cast recording is an opportunity for the people who've seen the show to have access to re-experience it, and for people who haven't seen it, it's a chance to experience it.
Has having a show transfer to Broadway changed your process in any way?
I can answer that with a resounding no and let me tell you why, as soon as you're thinking "how do I get this to Broadway?" as opposed to "how do I create a theatrical experience that's as true to itself as possible," you're gonna get in trouble. The goal is to create something that works, and that's a tall enough order. If you do this the chance of success is higher, but the amount of things out of your control for something to move to Broadway is huge. It also involved an amount of luck, you can't aim for Broadway, you have to aim to make something that pleases you, and something you can stand behind. If anything, the process of making Band was a reminder that aiming for Broadway is not the way to get there.
The Band's Visit (Original Broadway Cast Recording) is now available in digital music outlets and on CD. Click here for more information.  
---