Interview: Jesse LaVercombe on 'Love Me Forever Billy H. Tender' Playing at FringeNYC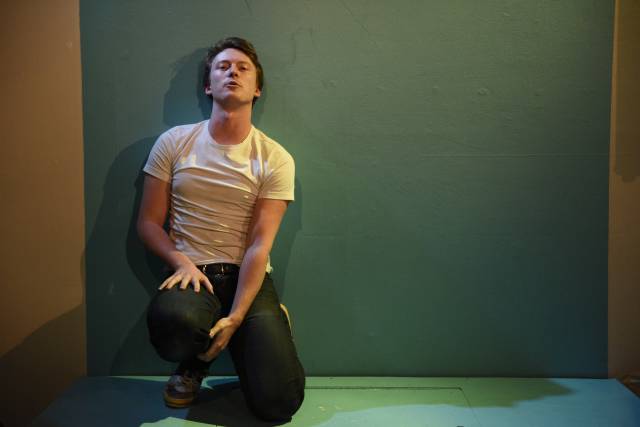 In Love Me Forever Billy H. Tender Jesse LaVercombe plays a former child star, his mother, and his brother, all of whom take part in a tragicomedy about the price of fame. After a sold out run in Toronto, LaVercombe will be premiering his piece at the FringeNYC Festival and he told us a little bit about what went into creating the show:

Is it presumptuous to believe the pop star in your show is based on a certain Canadian pop sensation? How did you come up with the central character?
It's presumptuous and not – Billy H. Tender is Canadian because it's where I live, and I found it helpful for a superstar in identity crisis to be in context of a country that has a bizarre and seemingly perennial identity crisis itself – but Bieber's meltdown, along with DJ Khaled's music video Hold You Down and most things that Kanye West says, offered wonderful inspiration to write about the absurdity of celebrity culture. The play takes place in 2021, and the central character is actually Billy's little brother Hal, who is precocious, loyal, lonely, and still quite distraught over the death of Edward Snowden.
In this show you play three characters, did you write backstories for all of them? How do you go from character to character?
I'm not much of a backstory guy... as a writer or an actor. There were a lot of things in the play that I scrapped, but outside of the final draft, I don't like the idea that I, as the writer, am the ultimate authority on who these people are. Each character has a different relationship to the audience, so switching between them gets interesting because the audience's relationship to me as the sole performer keeps changing. So if I want them to love me in one scene, and it goes well, that means I have to make an even faster turn to make them distrust me in the next, which is a fun way to spend an hour onstage.
You've done a lot of solo work, what would you say are the pros and cons of being the only person onstage?
Performing alone is a weird combination of extreme pre-show anxiety followed by eerie during-and-post-show calm that seems to be unhealthy for my stomach but good for my soul, kind of like those tribal hallucinogenic drugs that I'm too scared to take. I miss the camaraderie of other performers. I'm in a play right now, and getting to stand in the wings and watch the senior actors do something different and more specific each night, or being onstage when someone finds a new colour and then getting to play off that... those are pretty exciting feelings that I miss when I'm alone.
The show deals with shifting your artistic direction. Is this something that worries you at all?
I don't know what it's like to be a superstar, but I know that when I want to change something about myself, in addition to the fear of the change itself, I have anxiety about looking like a hypocrite. But when you get so famous that other people's identities are rapt up in your identity (to the point where if you change, then they feel like they have to change too), I think that that anxiety could get truly scary, especially if that level of fame is reached before puberty.
What was your work with director Adam Lazarus like? What do you expect a director to bring to the table when they do your plays?
Adam makes fun of me because my nerves make my gassy before shows (my producers in NYC don't know this yet), but besides that he is generous and smart and hard on me and sees opportunities for physical language that help the story and heighten the sadness and humor... so he's not just what I would expect, he's everything I could hope for.
You get to sing a lot in the show. What classic musicals would you like to be in?
I don't think my singing in this show will garner any interest from musical theatre producers, but...Man of La Mancha.
What are you looking forward to the most about FringeNYC? Where does the show go from here?
I'm looking forward to performing for an American audience. Early on when we were talking about doing it in New York, I proposed that I cut some of the Canadian stuff, but my American producers said that it made them "lean forward," which was a cool note to get. I think the Canadian references might actually be more potent when they're a bit abstract. From here, the show probably does another run in Canada. I'm in touch with to some different festivals in Vancouver and Toronto, and we've talked about Edinburgh, but we'd also love to bring it back to New York.
For more information and tickets to the show click here. For more on Jesse visit his official website.