Interview: Jessi Blue Gormezano on Abortion Access, TRAP Laws, and Her Documentary Play "Remarkably Normal"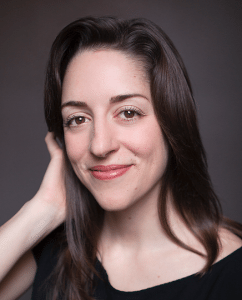 Jessi Blue Gormezano, a dedicated and passionate theater artist, is attracted to powerful subject matter that reverberates with up-to-the-minute social issues.  Last summer I interviewed Ms. Gormezano about her producing and acting in the U.S. premiere of Kevin Kerr's Unity (1918), a play dealing with the 1918 flu and pandemic disease.   Adding writer to the many other theatrical hats she wears, Ms. Gormezano's new play Remarkably Normal, after a successful national tour, is coming to New York City on September 26 for a one-night-only celebrity benefit reading.
Remarkably Normal deals with intense and perhaps even controversial subject matter. 
Yes.  Remarkably Normal is a documentary play centered around contemporary experiences with abortion care.
What drew you to write about abortion?
I'd been frustrated for a while witnessing all the creative legislation or TRAP laws being put into place across the country in order to restrict abortion access.  That said, it never occurred to me to write a play that raised awareness around contemporary experiences with abortion care. I was in the extraordinary position of being commissioned by Advocates for Youth, an incredible D.C.-based nonprofit, to create a full length documentary play.  They, along with Marie Sproul, a wonderful theater director also based in DC, felt that a documentary play was a great way to build upon Advocates' very successful grassroots 1 in 3 Campaign - where people all over the world shared their first person experiences with abortion through written stories and video submissions online.
What is a documentary play and why chose that particular format for Remarkably Normal?
A documentary play is one that is drawn entirely from words that were written or spoken by real people (not an imaginary character created by the writer).  Remarkably Normal is exclusively composed of written stories and video submissions found at 1 in 3 Campaign's website, as well as additional interviews that I conducted.
Abortion care is a very divisive topic in this country. Conversations about abortion care, when we're speaking to someone who doesn't hold similar opinions, can be difficult because they often spark emotionally charged responses rather than rational discussion. I can think of several times, prior to working on this show, where I felt like my blood was boiling and that I was running into a brick wall when I encountered someone who had opinions diametrically opposed to mine.  What was exciting about working on Remarkably Normal is that it forced me to listen, rather than try (and fail!) to exert my opinions on others.  And I slowly realized that the magic of documentary theater is it simply presents real experiences, in a dynamic and theatrically satisfying way, and allows the audience to glean what they will from the stories.
Editing all the rich and complex source material was very challenging.  Every person I interviewed and encountered through research could have had their own show.   So as I was editing, I kept coming back to the question, "Is this an opinion or is it an experience?"  It's much easier to ignore opinions - especially when they don't reflect our own values - but when we are faced with actual experiences, it's impossible to dismiss them as untrue or worthless… they happened!  That's why, for this very divisive topic, the format of a documentary play made a lot of sense to me.
Have you had experience with this particular format as a playwright?
I had never written a documentary play before Remarkably Normal, but I had toured as an actor for several years with ReEntry, a documentary play about marines and sailors returning home from deployment.  We traveled to regional theaters, festivals and military bases domestically and internationally.  During my time working on ReEntry, I noticed that the post-show conversations felt more honest and substantial than any I'd experienced before.  It was the first time in my life where I felt like the energy we generated onstage didn't stop after the lights went down but actually continued out through the theater doors. That experience made me want to continue working in documentary theater.
What was the process for creating Remarkably Normal? 
The process began with a lot of reading and research for my own understanding of the history of abortion care in this country as well as all the stories and videos submitted to the 1 in 3 Campaign. I transcribed videos and begin collecting excerpts from the written stories.  At that point I saw I didn't have a lot of experiences from the point of view of providers, faith leaders, sex educators or male partners and began conducting interviews to collect a more comprehensive picture.  I transcribed those additional interviews and began editing.
And how did you come up with this title?
That was without a doubt the hardest part of the process.  We wanted to find something that felt in line with the essence of the show - approachable, honest, surprising - what we didn't want was something that felt too didactic or dry or intellectual.  Current statistics show that 1 in 3 women will receive abortion care in their lifetime, making the experience "remarkably normal."
Remarkably Normal has had quite a lot of success across the country.  How have audiences reacted?
Remarkably Normal received an eight-city national tour this summer hitting Atlanta, Miami, Austin, Denver, Los Angeles, Oakland, Chicago, and Cleveland.  There's a lot of levity and a surprising amount of humor in the play.  I think a lot of folks may think, "Oh, okay, I'm going to a play about abortion.  It's gonna be a real bummer and I'm not allowed to laugh or enjoy the storytelling.  I just have to sit and be silent and sad."  And that's so not the case with this show!
Lots of men have come up to me after hearing the play and said, "I have literally never thought about so many things that are talked about in this show."  And the flip side of that too - lots of women have said, "I never really considered a partner's experience of abortion care before until hearing this play."
We also meet a doctor and faith leader in the play and so many people are shocked to hear that doctors and faith leaders were at the forefront of advocating for legal abortion access in this country.
Several people who identify as liberal and 100% pro-choice have told me that they were surprised by the tension they felt around a couple of the stories - that they found themselves struggling to support all the choices that some characters made or the words they used to express their experiences and values.
So now you are doing a reading here in New York.  Who is part of Remarkably Normal here on the East Coast? 
In the original conception of the show, five actors play eleven parts.  However, for the NYC reading, since we have so much incredible talent to draw from and it's only a one day commitment, we are expanding the cast to eleven so each actor will only play one role.
The majority of the actors who went on tour will be involved in the NYC reading (Gisela Chipe, Tracey Conyer Lee, Shanta Parasuraman, Evelyn Spahr) and will be joined by Jon Rua (Hamilton, In the Heights), Kathryn Erbe (Law & Order Criminal Intent), Sharron Paul (Cheap Date Comedy Show), Kellie Overbey (30 Rock), James Chen (The Walking Dead) and more.  Jessi D. Hill will be directing.
What's your vision for Remarkably Normal?
That it's not only satisfying, exciting theater, but it can also be a tool for meaningful discourse.  I hope it's performed everywhere from professional theaters to college campuses and everywhere in between.  I was recently contacted by an activist in Ireland (where abortion is only legal if the pregnant woman's life is at risk) who wanted to read the script and possibly use it as part of her advocacy work.  I hope it has value in arenas I haven't even thought of yet.
And then ultimately, of course, I want it to become completely pedestrian and boring and useless because everyone is talking openly about experiences with abortion so the idea of a play about it is absurd.  It will become a way to reflect on a moment in time that we have moved through and learned from.
What's next for you as a playwright?  Is there other subject matter you'd like to write about in this documentary style?  Or do you have an imagination based play rattling around in your head?
I have too many ideas!  I just need to pick one and go with it.  I have two plays with music knocking around in my head - both based on real life musicians - that are very interesting to me.  So there will certainly be an element of research and real life source material for those projects. I also have a strange take on a Christmas show that I've been thinking about for a while.  I do know that whatever I write next will most likely have live music integrated into it.  We shall see!