Interview: John Kelly on Getting in Touch with His Feral Side for Post-Apocalyptic Opera 'Dog Days'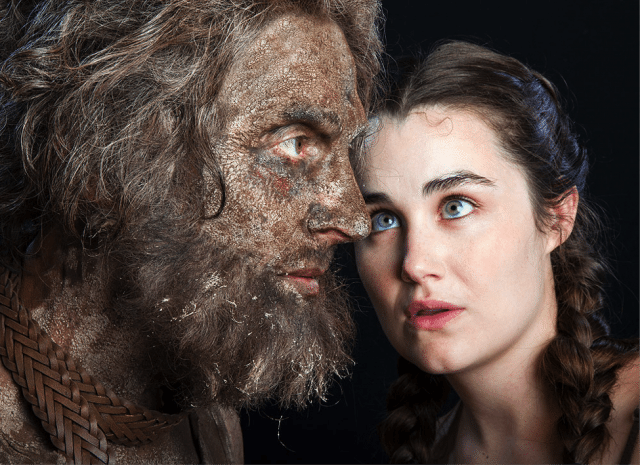 Performance artist John Kelly is known for his emotionally and intellectually complex works in which he draws from elements of his own life, current politics and other arts. Going from writing, to singing, to acting, Kelly is always on the lookout for the next challenge, and in the contemporary opera Dog Days (co-presented by NYU Skirball Center, Beth Morrison Projects and HERE's Prototype: Opera/Theatre/Now) he might have found one of the most exciting projects yet. The opera by David T. Little and Royce Vavrek takes place in a wartorn future where teenage girl Lisa (Lauren Worsham) meets Prince (Kelly), a man in a dog costume, who is convinced he is a real dog.
Blurring the lines of identity, and highlighting the very human need of survival, the piece will surely be one  of the essential new works at Prototype, where it will play from January 9-11. Kelly answered some questions we had about his process, his visions of the future, and whether he'll bring any of his pieces to Broadway.
What do you find to be the most exciting aspects of David T. Little and Royce Vavrek's piece?
To be in the first production of a complex work like Dog Days at the outset is a real privilege, and it was especially great to be in the room with David and Royce throughout the process.  My challenge was to get the emotional and dynamic 'pitch' of my character, the dog/man Prince, which is really a crucial pivot in the work.  The collaborators are all amazing artists, and I jumped at the chance to work again with the director Robert Woodruff, who I would walk to the ends of the world for.
The show is set in an apocalyptic future - what would an apocalyptic future look like to John Kelly?
Donald Trump as President.
Do you play a dog, or a man pretending to be a dog?  
I play a man who has assumed the coping mechanisms of a dog as a survival tactic. In the process, and in the absence of human contact, he has re-invented his reality.
Your character arrives after a cataclysmic event and befriends a lonely, young girl  It makes me think of the relationship between Toto and Dorothy in The Wizard of Oz, which is iconic even if we don't know much about its origin. Any thoughts on any parallels, if any, between the two?
Well, Lisa and Prince don't go on an actual journey, they cannot escape to an OZ, but they find some trust, refuge and comfort in the emotional arc of their friendship. Lauren Worsham sings Lisa's extended first aria directly to me, a beautifully performed outpouring that breaks my heart. Each night on stage I am literally weeping.
What fascinates you the most about the relationship humans have developed with dogs?
It may be what's in their eyes, and some recognition thing on our part--it may be that dogs are more dependent then, say, cats.  But I think humans also have a feral aspect, and all creatures respond to kindness, and recoil from cruelty.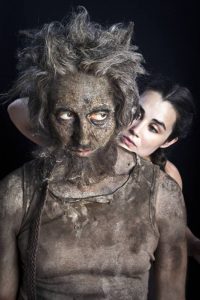 When you're preparing to play an animal, if your character is even an animal, do you study other works with anthropomorphic animals like Sylvia or Cats, or do you try to approach it from a completely fresh perspective?
I wasn't fond of Cats, and I haven't seen Sylvia.  I find it most useful to go directly to the source, so that I can build my interpretation objectively from the ground-up--in this case re-creating some of the essential aspects of a dog.  When the opera singer Maria Callas was tackling a new opera, she had a word for the process--'straight-jacketing', by this she meant that she would strictly adhere to the composers intentions as found in the score, nothing more and nothing less.  You first nail the foundation--then you can internally combust within those shapes—and that's where you can find enormous freedom.
You wear so many hats, that one wonders how you decide what to work on next. Is there a method or allotment you use, or does the mood to do one thing, and not the other, strike unexpectedly?
I do shift my focus from more movement-based work, to music and singing, to writing, and my visual art projects. Sometimes there's a clear idea, a character I just need to jump into, or some nagging personal or cultural agenda I need to explore.  I just find the right mode for a given idea, and usually it's some combination of all those disciplines.  In the absence of moments of 'inspiration', I just try to find the next 'point B', that I believe is always there.  Deadlines can be helpful, and kick me into high gear.  But with funding so hard to come by, it ain't easy.  I'm just beginning a memoir project based on 40 years of handwritten journals.  How's that?
What is more exciting, finding the character during rehearsals or bringing him to life each night onstage?
I have to figure out as much as I can in rehearsal, and then there's that inevitable terror--the moment when you're in front of an audience for the first time.  No matter how much you rehearse and aim to know something, it takes a performance where work itself, and the character, tells you what it really is.  A live audience is needed to clarify--and endorse or negate--all the preparation you've done.  It's a crapshoot, and a leap of faith.  And it's crucial to stand by your choices, albeit with possible adjustments, when it doesn't fly.  And savor when it does.
You revisited Love of a Poet over the summer of 2015.  Are you planning on revisiting it every certain amount of years? What about other of your characters like Joni Mitchell?
It was great to sing Schumann's 'Dichterliebe' song cycle again after 25 years, and the biggest challenge was to keep singing well after falling face-first into a huge pile of peat moss every night.  It was an effective theatrical device, but it kicked-in my asthma.  My Joni Mitchell work Paved Paradise was a serious tour-de-force, as I sang 16 of her songs in 3 vocal registers, playing her complex open guitar tunings and the dulcimer that she gave me.  I was very proud of the work, but after a while it became more about the 'drag' and the wig, and less about the music and the artistry involved in bringing it to life. It became a bit of a career albatross, and quite frankly I got tired of people saying "oh, you do the Joni show, who else do you do?"
Any plans on bringing any of your works to Broadway?
Even though I've played the Great White Way, I'm an off-Broadway baby at heart.

For tickets to Dog Days click here.