Interview: Kate Baldwin on Her Concert Series at the Sheen Center and Championing the Work of Composers She Loves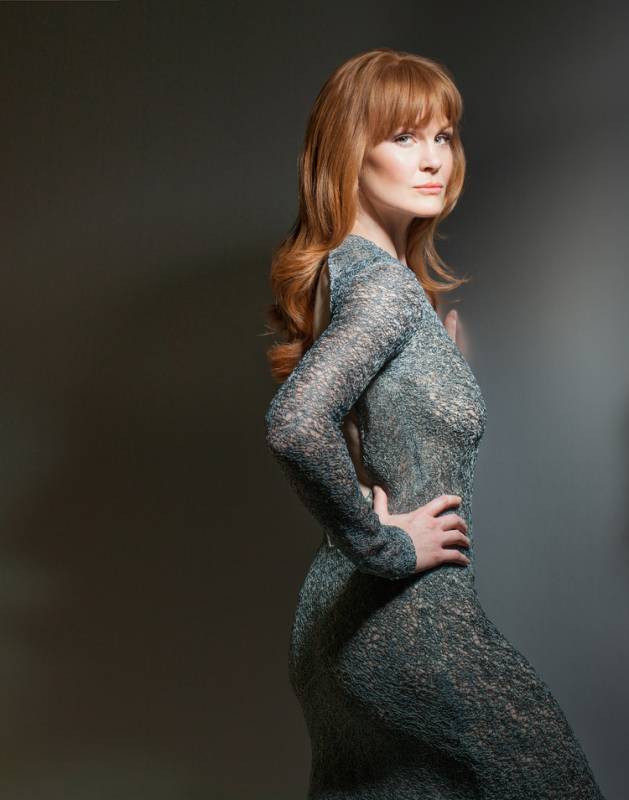 After a landmark 2015 - which saw her give two of her finest stage performances to date - Kate Baldwin is starting 2016 with a residency at the renovated Sheen Center, which will see her headline three concerts, each of which will highlight the work of a composer Ms. Baldwin herself selected. The first of the concerts, set for February 28, will be dedicated to Michael John LaChiusa with whom she worked in Giant, that performance will be followed by a show featuring the music of Will Van Dyke (March 21) and an evening of Georgia Stitt's music in the fall. Ms. Baldwin's eclectic selections very well represent her career choices, she is the rare performer who one can never peg as just one thing; she can be tender, ferocious, moving, scary, and with each performance she reveals even more layers.
In 2015 she played the title co-lead in John & Jen, which saw her age from an infant into a mother with a teenage son, it would've been hard to imagine she would close the year as the complex, troubled Tammy in Songbird, a play where she also showed us in a parallel universe Kate Baldwin might be the greatest country diva. Jen and Tammy are just two in a collection of women whose legacy has become richer because Ms. Baldwin has played them, others which include Sandra Bloom in Big Fish, Nellie Forbush in South Pacific, and Sharon in Finian's Rainbow, for which she was nominated for a Tony. I had the pleasure of speaking with Ms. Baldwin about playing some of the aforementioned characters, other characters she wishes to play, and of course her concert series.
The Sheen Center is trying to bring back to life that part of the city. As a New Yorker why is this important for you?
That's right, I had actually never heard of the Sheen Center before Andrew Levine called me in the summertime to tell me about it. I did a little more research, visited it, saw how beautiful it was, and how modern and equipped the space was and I was really impressed by the facility. Andrew said they wanted me to do three concerts there and I had never been offered that kind of residency, or artistic home, a carte blanche to make some choices and highlight the work that I liked. I was really flattered, so we went around about deciding what kind of music I wanted to do, we settled on theatre music because the space will lend itself beautifully to theatre. The Loreto Theatre where my concerts will be held has accommodated plays, musicals and other musical productions, so it felt like the right choice to make. I'm looking forward to being in that space, I love being downtown, I remember my time at The Public very fondly when I did Giant, and the downtown experience is something I loved.
In your first concert, Welcome to My Party you will celebrate Michael John LaChiusa with whom you collaborated in Giant, what songs are you looking forward to doing?
The concert will have four, maybe five songs from Giant, and then before I met him I was a fan of his work. I think I heard Hello Again when I was in college, I heard it for the first time in my sorority room and thought "what in the world is this", I was totally entranced and taken by it. Not only his different musical styles, but also because all of his scenes were two people. We had just studied La Ronde on which it's based at Northwestern University, so it nicely coincided with what I'd read in class. The idea that he could take this classic and modernize and made it musical was really exciting to me, I was a fan before I was a collaborator.
When I first moved to New York, The Wild Party was one of the first things I saw on Broadway, and again, I was blown away by its scope, danger and darkness. It sounded like the time period, his musical complexity takes a couple of listens before you truly begin to appreciate and notice all the layers. You can appreciate it after one listen, but then every time you go back you hear something new, exciting and unlike anything you've heard before. I also saw Little Fish and was enamored of that as well, because it was so different to The Wild Party, it was intimate, personal and hopeful, it's about human values that seem very small in the moment, but are universal.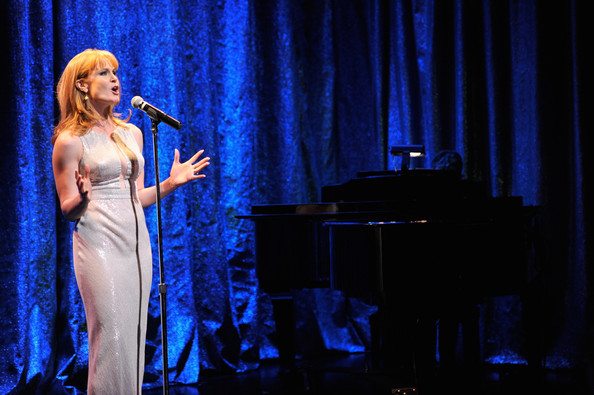 You helped develop and create Leslie in Giant, but you have never played those other LaChiusa characters. When you're doing songs sung by characters you've never played, do you need to enter the mind of this character, or are you singing as Kate Baldwin?
That's a good question, because obviously a concert setting is very different from a stage production, you don't have all the elements you would normally have in a stage show. For this concert I've chosen songs from The Wild Party, Little Fish, See What I Wanna See, and Hello Again that feel self contained to me, and will tell a story from the beginning until the end. It might be a big leap but I hope if the audience knows nothing about the musical where it's from, they will be able to enjoy the song as its own little encapsulated story from beginning to end. I try to approach it as the storyteller, you might not know all the aspects of Queenie or what the circumstances that lead her to say the words she's saying, but I try to give it the snapshot moment in time feeling that the song is, but also give it a beginning, middle and end.
I often describe you as a human time machine, because I've seen you in three different shows - Giant, John and Jen, Big Fish -  in which you age in front of our eyes without any makeup or external aids. It's breathtaking, because you do it through acting. I don't know how you do that, but whatever it is, you should bottle it and sell it to people.
(Laughs) That is so nice of you, you hit on three shows where I do that, in John and Jen I'm 6 when it starts, and by the end of Big Fish I'm 65. In recent years that's become something I've been asked to do a lot and I love it! I love finding the spine of a person who is 16 vs. a person who's 65. It's really fun, you get to go back to all those lessons from theatre school.
When actresses do similar things on film and TV they are criticized for it, do you find that theatre is more forgiving and allows people to suspend their disbelief more?
I think I'll say yes, simply because when you're in a theater and you're seeing a play or a musical, the audience is more willing to accept a theatrical device as if were. Just putting on a coat and all of a sudden you've leapt forward in time five years, or just changing one aspect of your physicality or your voice. Watching that happen in front of you onstage, for me as an audience member I find that thrilling and I go along with it. On film and television, we as an audience expect less theatrical drama and more natural realism, so along with that we can get up close and personal cause the camera does, so there's less room for that kind of theatre.
Your next concert at The Sheen Center will be The Girl Who Stayed, the songs of Will Van Dyke, who is an up and coming composer. How did you first come to know Will's work? Which of his works are you most excited to introduce to people?
Will and I met through a mutual friend, Jeff Talbott, who is actually directing the show. Jeff is an actor/playwright/director and he and Will have collaborated doing musicals together, so they asked me to sing on an EP they released in September 2015 called A View of the River and I loved the song I got to sing, as well as all the other music. It's a great blend of what I love about theatre music which is storytelling, and Will also has a great talent for blending a pop sound that I find fun and accessible. I chose Michael John because of my personal relationship with him, and I mean this as no slight, but I'd like to see another Michael John show on Broadway, but Will has never had a show on Broadway, so I feel I'm championing people who have been underrepresented in the Broadway scene. I want to give them the spotlight. I'm doing a third concert in the fall too, of my friend Georgia Stitt's work, she's yet to have a show on Broadway as well. They are people who have all these written Broadway shows in their back pockets but need a producer to come on board.
Georgia's work is stunning…
I love it too! It's a small world, Michael John was her professor at NYU when she was getting her Masters in Musical Theatre Writing.
Matt Doyle will be your guest too!
Matt and Will have been collaborators for a long time, Matt and I are friends because of Giant, he played my son in the out of town production, so it seemed natural to invite him to come play with us.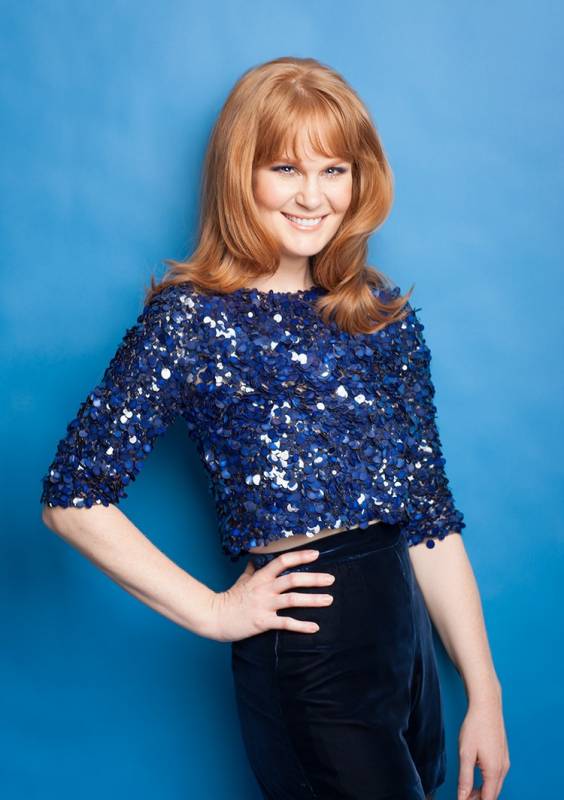 Usually you play good girls, so it was delicious to see you play someone who wasn't very nice in Songbird. Tammy was so complex, and I love seeing a more villainous side of you. It made me dream of you in a Dynasty musical.
(Laughs) Fabulous! When they offered me the show I read the script and kept going page after page going "I can't say that, I can't do that, no way am I doing that", I thought she was terrible! I knew her because I'd studied The Seagull, so I knew about the narcissistic, very put upon, strong willed and shortsighted woman that Arkadina is. She's always drawing attention to herself, so I knew Tammy would be a version of that. It wasn't until I got to the second act and there's a scene where she's tending her son's wounds after a suicide attempt and there was this beautiful ballad that Lauren Pritchard wrote and I thought she was redeemed there for a moment, we see a glimmer of who she once was.
I've played Countess Malcolm twice, and it's my thought that anyone you can describe as "a villainess", or someone who behaves so poorly, they probably started out as a really nice person, but they just got stomped on and told no too many times. I don't think anyone's born bad, I think there is a reason why Tammy does what she does. She might seem self-centered and ungenerous, but she's doing the best she can to make the people around her feel the weight she carries so acutely. She feels responsible for everybody, so she deals by criticizing them. It was fun to work on her to find the reasons why she was who she was, which is why I became an actor in the first place. Tammy terrifies me, my parents came to see the show and were horrified with everything I said (laughs), my poor husband said "I don't ever wanna see that woman come home". After each performance I came home and hugged my husband and child.
Do you think we'll see the show again soon?
We're doing a workshop in March, we are going to go back into the rehearsal studio, working on some rewrites and Lauren Pritchard wanted to add two songs she'd cut. I always think that more Lauren Pritchard music is a good thing! I think almost everyone is coming back, except for one person, and I think our producers are looking for where we're going next.
Can you pick three Sondheim characters you'd love to play, and three of his songs you love to perform?
The Countess in A Little Night Music is one of the best roles written in theatre, she gets all the best lines and a pretty killer song too, "Every Day a Little Death" is such a study. I'd like to play The Witch in Into the Woods because we that show in high school and I played Cinderella, and now I'm feeling like The Witch is more my speed, she looks like fun and her songs are incredible, I love "Stay With Me", "The Last Midnight" and her transformation. Also, Phyllis in Follies, we did a Sondheim concert at the 92nd Street Y in 2015 and David Loud who was in the original Merrily We Roll Along, music directed, arranged and told wonderful stories about his relationship with Stephen. I got to do "Could I Leave You" and thought "ooh, this is a role I'd like to play in ten years", Heidi Blickenstaff sang "Losing My Mind", so we had Sally and Phyllis, now we need some men (laughs). I wanna play Dot too, I love Sunday in the Park with George and what it says about creating art, and having a loving relationship with somebody who is an artist and how those things sometimes work and sometimes don't.
The songs I love to sing, gosh. Over the summer I sang with the Boston Symphony and my favorite songs to do were the title song from Sunday, which was a thrill to sing, I also did "In Buddy's Eyes", and in my show I do a version of "You Could Drive a Person Crazy", which David Loud arranged, it's a solo version, not a trio, it's a crazy person talking to a crazy person and I love it (laughs).
For tickets to Kate Baldwin's concerts at the Sheen Center click here.