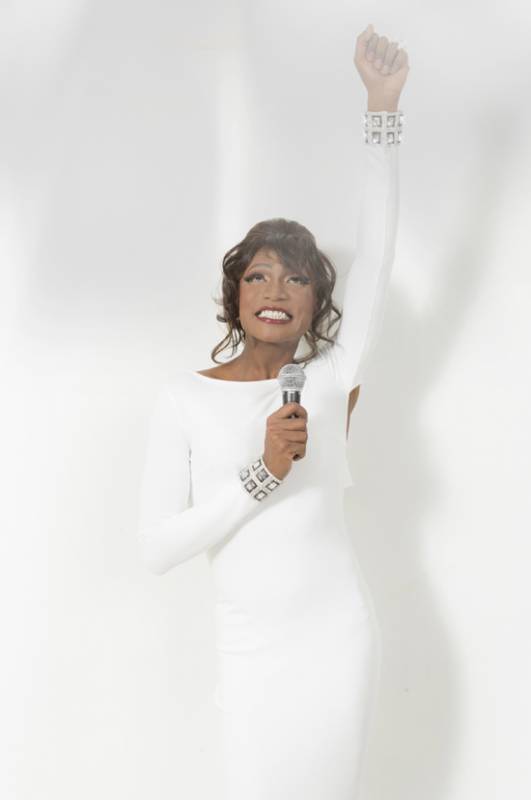 In Kevin Smith Kirkwood is Classic Whitney: Alive! the vibrant performer is possessed by the spirit of Ms. Houston who comes to Earth to deliver one last concert. After a sold out run at Joe's Pub, Kirkwood brings the show back on August 31st. I spoke to him about his love of Whitney, channeling her unique spirit, and what makes a "Whitney classic".
Let me start with a very obvious question, but why Whitney?
I've always felt tremendous love and connection to Whitney, her music and everything she was able to accomplish. As a young boy I sang her music all the time, growing up in the 80s she represented grace, beauty, tremendous talent but also success. She broke so many barriers and she meant so much to the community where I came from. She's always been a staple in my life, so I wanted to show my love for her and do a tribute show.

It's crazy to think she's gone, and so are Michael Jackson and Prince! We have lost all the greats from that era.
The day that she died, my phone started blowing up with texts, emails and calls. There had been some false alarms before and I hoped it wasn't true. Those artists from that generation were so talented and groundbreaking, they influenced the world and our lives so much. It was crazy to see them passing on.
Whitney had the voice. Was it intimidating for you to take on her songs?
Of course I was intimidated and nervous! A lot of people sing her songs but nobody is Whitney, nobody will ever be her. I've always sung her music, as a little boy I used to sing "The Greatest Love of All" in my neighborhood community center, and a lady thought I was talented so she offered to pay for me to have voice lessons anonymously. I sing her music to show the influence she had on me, I always was a high belter so I do some of the songs in the original key, and others we take down. I had to take past the intimidation to have the guts to do the show, I wanted to believe that people would see my love for her, even though I won't be her myself. I used to sing along to her Classic Whitney concert from 1997 while I cleaned my apartment, I still have it on VHS, and that's how I got the idea to do a show. Doing the whole show would've been hard, so I do a compilation of my favorite live performances that she gave, we do the same arrangements, and do the numbers beat by beat. I do a darn good vocal impression of her and you can see how she's influenced my style.

I love that story about someone paying for your voice lessons because they heard you singing Whitney. You've played Angel in both Rent and Kinky Boots, and it seems Whitney is another angel in your life.
Absolutely. Every time I've sung Whitney I've gotten an amazing response, when I put a wig on some people even say I look like her, so I feel she's with me. I was in a drag group called the Kinsey Sicks and I played a character called Trixie Houston, she's always been a part of my drag performer style. I feel she's an angel on my shoulder, after the first performance I did people said Whitney was there with me in the room, and that she was smiling.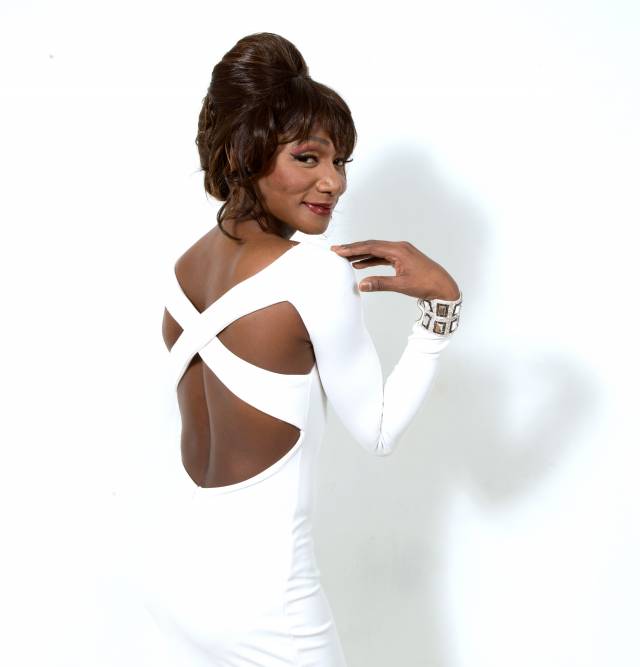 The Bodyguard has been turned into a musical, is playing a Whitney character something that interests you?
Absolutely! I've always been a singer since I was a little boy, but then I trained as an actor, my show is a concert but it's also a theatrical experience with the concept that she reincarnated in my body. I think we're nearing a time when it would be OK for a man to portray her in a play, musical or movie and I would love to tackle that challenge.
Thank god we're in a time in history when men in drag are seen as performers and drag is accepted as a work uniform, rather than the conservative views people had a few years ago.
You're taking on a character, it's not relegated to the subculture of clubs and gay bars. You can perform theatre pieces in drag and have them be respected as art. Trans actors, drag performers are showing up on Broadway, in film, even in music, we have people like Big Freedia. Fortunately we're living in a renaissance, it's a beautiful thing!
Is it exciting to think your work might introduce younger people to Whitney?
It's very exciting, her artistry should be appreciated and remembered. I would love if I could help people remember how passionate and soulful her music was, and just the overall depth of her talent.
You shaped your show after Classic Whitney, but let me ask you out of all of her music, what makes a Whitney classic to you?
I love her uptempo dance songs, they were always fun and her voice made them essential, not just fluffy pop songs. I think though that I can't love Whitney and not think about her ballads, she took a melody and used her voice in a way that was full of artistry, she brought soul and power. Her ballads will be what she's most remembered for, they were songs she took and poured her heart into. She made you feel them, and that's what makes a classic Whitney song.
Is there one of her songs you wish people mentioned more often?
Lots! There's a song called "You're Still My Man" that is gorgeous, she rips into it and takes it higher and higher. I wish people remembered that one more, also "All the Man That I Need", there are some things from her later albums like "You'll Never Stand Alone", "Why Does It Hurt so Bad?" which she performed at one of the MTV Movie Awards, just sitting on a stool and ripping the hell out of it. I could go on and on…
Let me finish by going back to your musical theatre work. Going through your credits I didn't see any Sondheim shows, are there any of his characters you'd love to play?
I've always wanted to play the Witch! I believe Tituss Burgess did it, and that's been my all time dream Sondheim role. You're right though, I don't get hired to do a lot of Sondheim, but he's obviously a masterful genius, I love his music and shows.
For tickets and more information on Kevin Smith Kirkwood is Classic Whitney: Alive! click here.