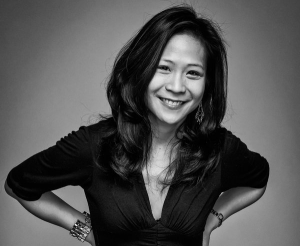 May Adrales is one of the most sought-after directors in the business.  Most recently, she has directed "Luce" at Lincoln Center and David Henry Hwang's "The Dance and the Railroad".  She has also led several successful world premieres, including "Edith Can Shoot Things and Hit Them" at Actors Theater of Louisville, "Mary" at the The Goodman Theatre, "In this House" at Two River Theater Company, and Katori Hall's "Whaddabloodclot" at Williamstown Theater Festival.  A recipient of the Stage Directors and Choreographers Foundation's inaugural Denham Fellowship and the Paul Green Directing Award, she is also a recipient of TCG New Generations Grant.
It was an absolute pleasure to speak with this bright director about her varied experiences as a teacher, director, and writer.  Keep reading to find out what it was like to work on LCT3's successful run of "Luce", her advice for aspiring directors, and more.
StageBuddy: Where did you start as a director?
May Adrales: I actually feel like I came into theater a little late.  I had always wanted to be a lawyer and work in social justice. I worked in Africa for a little while, I was on this pre-law track in my mind and I just did theater on the side.  When I moved into the city I worked in foreign relations with this hope that I would eventually go into social justice, but I kept on doing theater.  I'd done a Fringe show at the time and the two worlds collided.  I had been writing shows and directed them -- they were terrible, very political plays, but I was directing them.  I got this review for this Fringe show that said where I was lacking as a dramaturg I made up triple fold as a director.  I was crushed, I felt like I was writing these really meaningful political plays.
Later that week, I got sat down by my supervisor and they fired me; I had been doing so much theater that I wasn't doing my job.  They pulled out a file that was so thick that was basically all the scripts I had copied, all the times I had left early, all these phone calls I had there.  I was devastated because I had never been fired from anything.  I barely had gotten a 'B' in my life.  As I was leaving, they actually threw me a going away party as if it were my choice to leave; they threw me a party and told everyone in the office that I was going to be a theatre director.  I thought, 'O.K., life is directing me in a sort of way,' and so I went for being a theater director.  It didn't really start until I was 21 or 22.
What really excites you about theater?
I love plays that open up into a larger world, plays that shift your thinking on current events.  "Luce", for instance, is absolutely that.  What JC [JC Lee, author of "Luce"] brings up in this play deals with so much of where we are as a country talking about race, class, and entitlement, and "Luce" fits into that.  I recently directed David Henry Hwang's "The Dance and the Railroad" -- which is very different aesthetically, which excited me.  There's a lot of dance -- it's a very expressionistic play -- and playing with those rituals as a director really excited me.  And also at the core of that story was an immigrant story about disenfranchised people coming into a very difficult situation.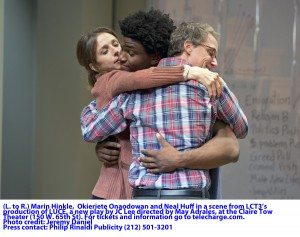 Did you have any challenges when directing "Luce"?
Definitely.  A lot of challenges.  I think the action of this play is through the action of psychological thought and each of the characters has a completely different track, a lot of the nuances.  And to build those nuances and character arcs is very specific.  There was a lot of grueling table work and analysis of the text for the actor, and so it was challenging in that way being very heady. I couldn't rely on some of my own directing tricks.  It was very much about digging deep into the text.
One of the things [that is] very interesting about the play is that there are a lot of secrets, there is a lot of lying, there is a lot of miscommunication.  The scene pops more when the other person genuinely doesn't know what the other actor was intending to say.  I found myself whispering a lot of the direction to individual actors so that their scene partners wouldn't actually know where they were coming from.  It was a little exhausting because instead of talking generally in the rehearsal process, I sort of took sidebar with each of the actors to work on their character arcs.
What was your favorite thing about working at Lincoln Center?
The space is amazing.  Every time I walked there I would feel so lucky to be working there, and I think for me it's a nostalgic thing.  I came to New York: I grew up in southwest Virginia.  I just could never imagine that someone like me would be working there.  When I first moved to the city I spent all this time at the New York Public Library, just reading plays and watching them on archives, and I just never imagined in a million years that I would be working next door to that library and in this amazing plaza.  You're just working alongside some of the best artists in the world.  The production staff, the artistic staff -- they're so supportive, they really are trying to get the vision of the writer and director onto the stage as best they can and there is so much support, they're so generous.  It's really great.
What was it like working with JC Lee?
JC is a dream, I can't wait to work with him again.  He is so giving and collaborative, and he really trusts the actors at work, he trusts the director.  Giving me that trust gave me so much confidence to take on the play.  And he is just so smart; his writing is so smart and unique.  It's an honor to work with him on it.  In the year developing this play we talked on the phone, pages and pages of emails developing the script, we spent a lot time just looking at each of the individual lines, how information is disclosed, how to get that through in the acting, how to make it clear in the writing.  I feel like we have been real partners in this, and I'm so grateful for that.
What did your actors surprise you with?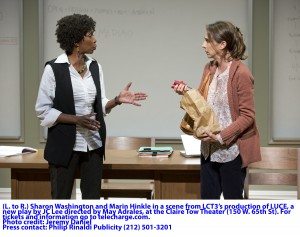 Everyday they bring in something unique and amazing. All of them have been able to bring out such specific characters highlighting all the nuances in the script.  They're an incredibly cerebral bunch, all very smart.  They're passionate about this play.  They have so much insight on how we are telling this story.  They found so much detail.
You also teach?
Right now I'm on faculty at Yale, my alma mater.  Yale School of Drama.  I teach a class called 'Bridge to the Profession' -- it's really about how to build a career, and have a life as an artist.  So we deal with not just the nuts and bolts of the business and producing and all that but we also look at how you can stay true to yourself as an artist and try and make a living.  I also teach directing workshops.  I work a fair amount at school, I did a lot of work with the community with The Public Theater in their mobile Shakespeare initiative.  I did some work with Epic Theater Ensemble, working with Shakespeare in schools.
Advice to the young director? 
I think keep dreaming with one foot on the ground: always have that next project, be grounded in something.  When you're in production, you always have these big visions for what you really want to do and that one foot on the ground keeps you grounded in the circumstances that you have.
(This interview has been edited and condensed.)
For more on "Luce", check out our interview with playwright JC Lee: https://stagebuddy.com/theater/hbo-and-lct3s-jc-lee-chats-with-stagebuddy/