Interview: Matt Doyle on His Debut Album 'Uncontrolled', and Making the Music He Loves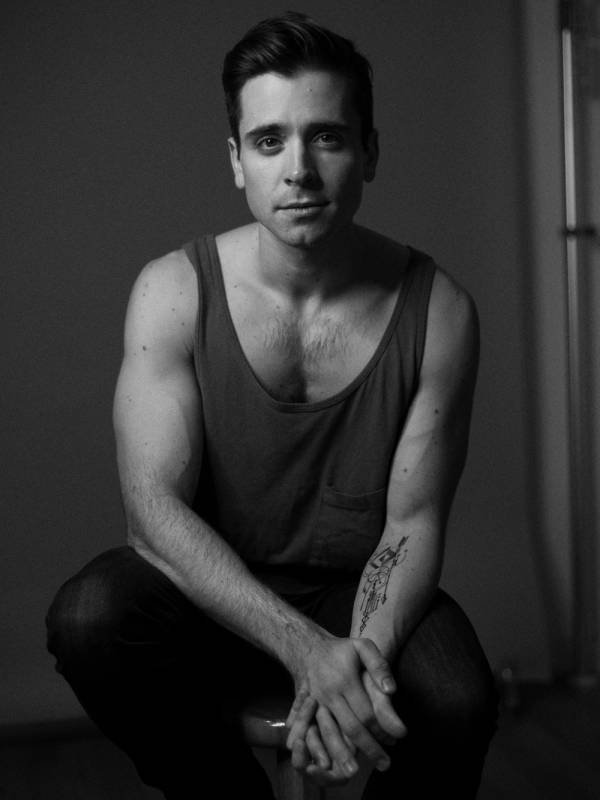 Matt Doyle will release his first album Uncontrolled on February 26, featuring music and lyrics by Doyle, and composer Will Van Dyke, the album is a compilation of new material, and covers of songs he loves including tunes performed originally by Janis Joplin and Sheryl Crow. The 28 year old's voice has never sounded better, and the pop/rock sound of the new tracks reveals a maturity and depth his fans will undoubtedly love. The multitalented performer is also known for his stage, film and television work, having turned in memorable performances in Spring Awakening and War Horse among others. In 2015 he appeared in the Off-Broadway production of Brooklynite and the Seattle production of Jasper in Deadland.
We spoke to him about his preparation for the release of Uncontrolled, and talked about the themes of the album, his influences, and of course made some time for musical theatre talk.
This is not the first release party you'll hold at Le Poisson Rouge, you did a party for Daylight there as well and now you're holding your official album release party there, what makes this venue so special to you?
I love the venue, I think there's a great atmosphere there, the sound is amazing and they can do whatever they want with the space which is a really fantastic thing. If they wanna bring more people in they can, if they wanna keep it intimate they can...but I've been performing there since I was gosh, 22 (laughs) so it's been a venue that has a lot of history for me and I love coming back to it.
The album will feature your own music and lyrics, in what ways is performing your own music different than singing musical theatre pieces?
When I first did my original EP I was approached to do a musical theatre album actually, and that kinda launched everything, a smaller record company wanted me to do an album full of new musical theatre songs and I knew that even though I'd fallen into the world of musical theatre, it wasn't necessarily the album that I wanted to produce. I wanted to write the songs I identified with, the music I identify with is folkier and has a more pop/rock sound. I'm influenced by a lot of soul artists and blues, so I decided to go for it and found a co-writer who wanted to go along with me, we've been writing together for five years now. I think it comes from a place of wanting to be honest and make truthful music. These are the songs I love, and if I were to put out an album of only musical theatre it would be a little dishonest, because it's not who I necessarily am as an artist.
In "Fall For Me" you describe someone as being "as slick as Fred Astaire", which made me think of "Vogue" obviously, was Madonna a big part of your pop influences growing up?
(Laughs) Oh absolutely! It's so funny that you said that because I definitely did not make that connection until now, but my sister used to dance around the house nonstop listening to Madonna and singing "Material Girl", my father even had to sit her down and have a conversation about what that meant because she didn't understand. She thought it meant Madonna liked to sew, so clearly she had no idea. Madonna was a huge influence, but it was also the time of Annie Lennox, she was huge in my household, my mom loved her. All these huge women who took hold of the 90s have a huge influence on me, in fact a lot of the covers I do on the album are songs by female artists, I do a song by Sheryl Crow, Alanis and Janis Joplin, so I think I've always been influenced by very powerful female musicians.
The album will feature a cover of Sheryl Crow's "If It Makes You Happy", any word on whether we'll see Diner on Broadway anytime soon?
I am the wrong person to ask, but boy do I hope so! I haven't been involved with it in over a year now, I left to do Brooklynite, but Sheryl is one of the most wonderful people I've ever met. That score is incredible and I have nothing but the greatest hope for it because I think it needs to be heard.
The album was funded in part by donations from fans, does this make you feel like you have an even bigger responsibility with what you'll deliver?
Absolutely! In fact that was a huge part of the album, it wasn't just funded by a producer who wanted to tell me the things they wanted, it's funded by the fans so I want to make sure I give them a product I love, and that is honest and truthful, and that they can appreciate. So we've made an effort to bring theatricality to the album, and strings and horns, and have it be accessible for my theatre base, while also making sure it's a pop album. We've also done covers of songs I know my fans love like "You Made Me Love You", which I sang in Private Romeo and fans have been asking me to record it for years, and I finally did it. It's half the album I always wanted to create, and half a love letter to my fans. I couldn't have done any of this without them.
Can you talk about shooting the "Moment" video with Erik Altemus?
It was fantastic! Erik's a great guy, we are friends so we have great chemistry, when we were casting it it was important we didn't have some stranger on set who I had to pretend to be in love with (laughs), so Erik being there made it easier, also he's a great kisser.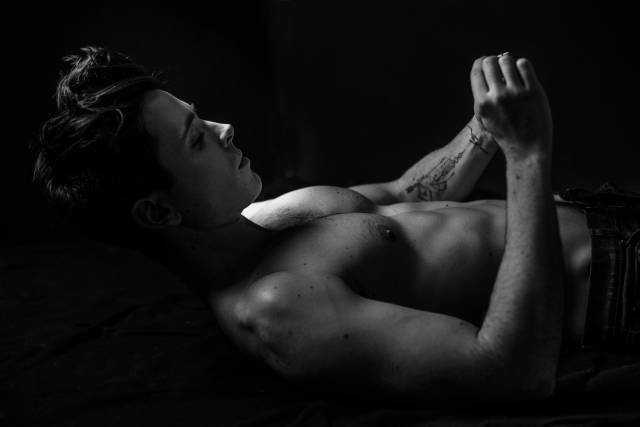 I interviewed Seth Numrich last year, after doing Private Romeo and War Horse together, are there any more projects the two of you would like to do together?
I would love that. Seth is so talented, it's great to work with him, we've had a funny career together in that we've played lovers and also cousins, so working on the chemistry in both those projects made for some awkward moments, but he's a dear friend and I hope I get to work with him more. I feel like I'm supposed to at this point.
You starred in Bare: A Pop Opera, Spring Awakening and had a supporting part on Gossip Girl. What attracts you to stories about teenagers? Was it specifically because you were, and looked so young, or was there something else?
I started here so young, I moved to NYC when I was 19 and I decided not to go back to university, in part because a lot of casting directors and directors were telling me to take advantage of my age, they needed high school-looking people, which was something that was somehow lacking in the NYC pool, and sure enough it worked for me. I did Spring Awakening after about a year of sitting at the non-Equity benches at Equity for open calls. I was in the right place at the right time when that happened, and opened the door for other projects about teenagers. I was so grateful for it, but it's really funny growing out of it, because you get so used to playing that and when you start hearing "you're too old for that", of course I know, but oh my gosh (laughs) what's next? Characters in college I guess!
Many of these projects also touched on the lack of sexual education in youths…
I love all three of those projects because there was a lot of bravery in them, they weren't afraid to address issues teenagers were dealing with, Spring Awakening especially, which recognized how ridiculous and sad it was not to be able to talk to your kids about sex, or Bare which talked about the importance of talking to kids about sexuality and how there is fear in it. I was really proud to be a part of those, and also in Gossip Girl to be an openly gay actor playing an openly gay character was a thrill for me.
You played a version of Juliet too and people ask you about it all the time, but I'm curious since the older I get - and I'm not that old - the less I like Romeo and Juliet and the more I like the characters around them. If you could go back to this show and play any other character what would it be?
I would probably be interested in playing Mercutio or Tybalt, they're both so fascinating maybe because both are so far removed from the characters I'd typically be cast as, but both of them were trying to protect their dear friends from something they saw as destructive, I've always been fascinated by it and it's something I'd like to explore.
Pick three Sondheim songs you love, and three of his characters you'd love to play.
"Not While I'm Around" because it's absolutely amazing, "Move On" is one of the most brilliant duets ever written in musical theatre, period. For the third, I'd end up with "Marry Me a Little". The three roles, George, the greatest male role he's ever written. Wait, maybe not, that's debatable...you've overwhelmed me with this question (laughs). You're talking to a musical theatre nerd now...I'd be curious to play the Baker so I can put a different spin on him, and the third would be playing Dot.
A one man production of Matt Doyle in Sunday in the Park with George!
(Laughs) Some of the best roles in musical theatre are female, one of the best roles ever is Clara in The Light in the Piazza so I jokingly say "if only I'd been born a woman" (laughs).

Matt Doyle's Uncontrolled will be available in stores on February 26. For tickets to the release concert at Le Poisson Rouge click here.