Interview: Matt Doyle on Singing with The New York Pops and Why He Loves Taking Risks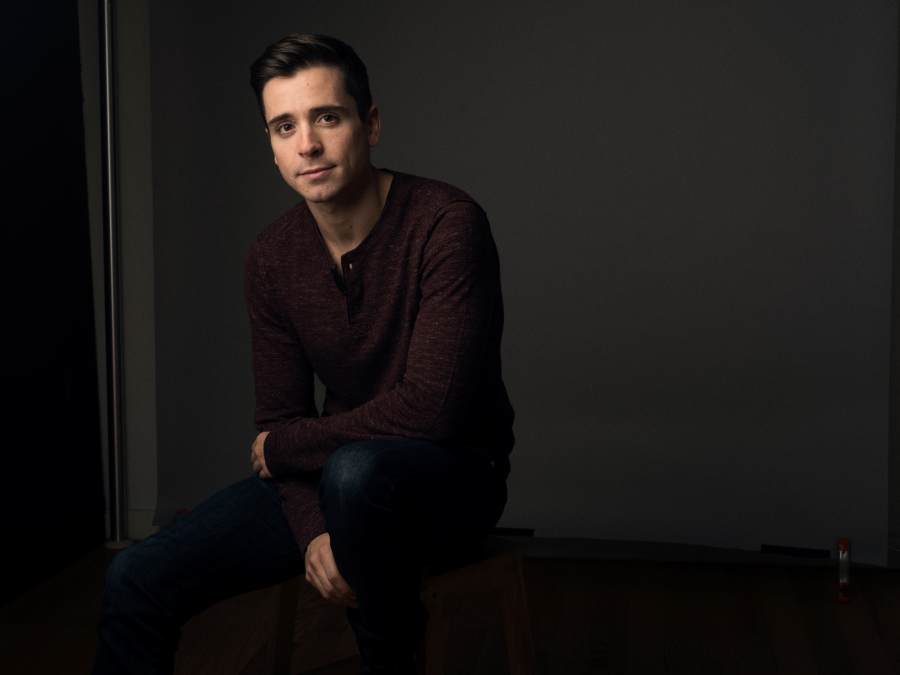 On October 27th, Matt Doyle will join guest star Ali Ewoldt to open the new season of The New York Pops. In 2017, Doyle has already delivered outstanding work as a swoon-worthy Anthony in Sweeney Todd and as the vicious Georgie, one of the "droogs" in a new theatrical adaptation of A Clockwork Orange. We spoke to him about getting to perform with New York's finest orchestra, and his adventurousness when it comes to choosing roles.
How excited are you to get to sing with The New York Pops?
I can't believe it. Performing at Carnegie Hall is something I've dreamt of my entire life. I'm really floored by this, I keep thinking about it and getting excited. What's really wonderful about this concert is that it opens the season and we're doing music from throughout the times since the Pops have existed. That allows us to choose from such a wealth of material, so the setlist is unbelievable, there will be Cole Porter and classic standards, also contemporary musical theatre. Just to get to sing with Ali Ewoldt, whose voice is absolutely phenomenal, makes me feel so excited. The theme allows us to do so much, I'm just thrilled!
You and Ali have West Side Story in common, having done it at different moments in your careers. Do you geek out about that with her?
Absolutely, I think it's safe to say you might get to hear some West Side up there with us. It's a thrill to sing with her, I remember when she was on tour and my friends said she was the best Maria they'd ever seen.
Can you compare standing on the stage at Carnegie Hall to something else you've been through?
The only thing I can compare it to is to when I performed at the Tony's with Spring Awakening. I did it once and have never been back on that stage, but I remember looking at that six thousand feet house, into that massive crowd and it was unbelievable. Carnegie Hall is massive too, but I've never had 70 pieces behind me, I've had big orchestras, but never 70. That's going to be completely overwhelming. I've heard about Carnegie Hall since before I even understood what it was, so to get to be up there is a very bizarre experience. It's something you can't comprehend, so you just go with it.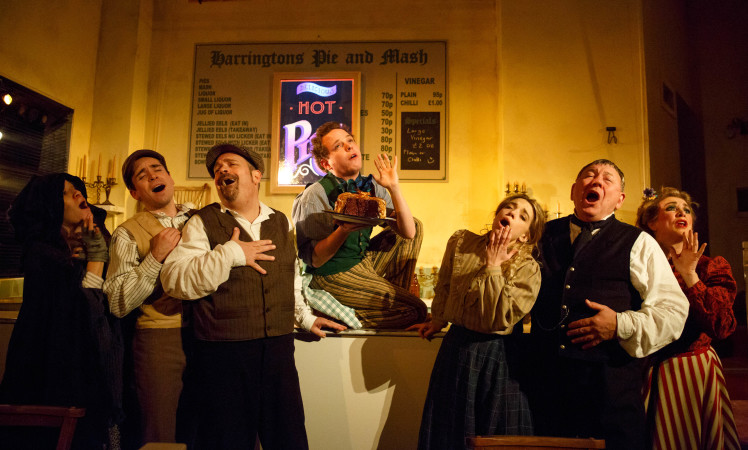 In less than two years you've had a chance to be in musicals where you performed two of the most beautiful songs named after women, you did "Maria" in West Side Story and "Johanna" in Sweeney Todd, are there any other songs with names in the title you wanna tackle for a "Matt Doyle sings your name" kinda show?
Maybe I should do a 54 Below show where I just sing ballads about three syllable names. What else could I sing though? I'll just say I couldn't believe I went from "Maria" to "Johanna," it was the same casting director so he'd joke about giving me roles where I sang three syllable names.
You're the guy to call if someone does a Laura Branigan jukebox musical and they need someone to sing "Gloria."
Exactly.
From the big production of West Side to the immersive Sweeney, to the hybrid Clockwork Orange you're doing now, you've had a chance to try out every style of theatre out there. Why is it important for you to try out all these different forms?
Something I really focus on is trying not to get stuck on the same set of roles people expect me to do. I trained in classical theatre, then fell into rock musicals, and was fortunate enough to do all these wonderful classical musical theatre pieces. I like taking risks and trying new things, Clockwork is probably the riskiest thing I've done. It's the most "out there," darkest piece I've done so far. It's a physical theatre movement piece which is something I never thought I'd do. If something scares me I'm attracted to it.
Was it weird to be so close to the audience in Sweeney?
At first it was weird in concept, during rehearsal I remember thinking there was no way this would be a comfortable experience for me. The first time Brad Oscar found out we were supposed to lean into the audience and scream in their faces he was like "wait, what?" (laughs) As soon as we got out there it was really empowering, people were there to be part of that experience, our audiences were so generous and so on board. It was beautiful and very comfortable to sync with them. I'd find a different person every night to speak the words of "Johanna" to and it was lovely to have someone look back at you and offer their own perspective on the song just by listening to you. Sweeney made me become more comfortable with audiences and people.
You went from doing a show where people ate pies, to doing Clockwork where you're probably forbidden from even thinking of pie since you have to be in such great shape.
(Laughs) Oh man, I've always been pretty obnoxious about my diet to begin with so Sweeney was tough backstage, because we had pies every single night backstage, which I had to stop myself from eating. I'm also in the fitness world, I'm a personal trainer on the side and it's a hobby of mine, so health and nutrition are things I'm big on to a point it would annoy other people. Clockwork felt like a natural transition, it's the first time I've tied physical fitness so closely into a show. It really is a workout, it's intense. There was even a workout portion of the audition to make sure we had the stamina to do the show, so I felt fortunate I was coming from that world. My diet is a little extreme right now, we have to look good and the aesthetic of the show is an important piece because of the element of sexuality and objectification in any form of Clockwork.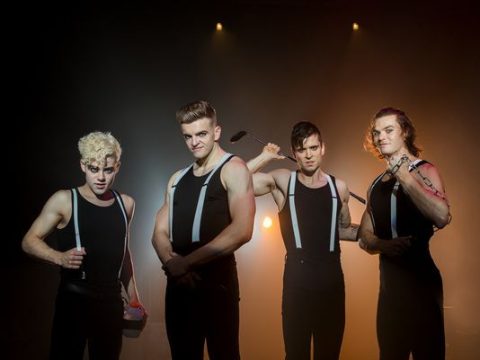 I was struck by how much the show reminded me of a musical, did the structure make it feel familiar to you from the get-go?
Definitely, it was familiar in how the whole show is transitions and told through movement, also set to a really fun soundtrack with pop music and original material. I would never label myself as a dancer or even a mover, I love physicality but more in a comedic sense, I like being a character actor and maybe people pinpoint me as a leading man type, but I'm actually so weird. I found comfort in the movement of Clockwork, I got to explore a fun physicality that brought me back to clown class in theatre school. It's wonderful to get to do something that's so out of the box for a commercial run in NYC.
We're both Madonna fans, so watching Clockwork I thought you'd all be amazing dancers in one of her tours.
That's what I think (laughs) The guys are incredible, we have a half hour warm up every day just to get ready for the show to make sure we're connected before getting out there.
Watching the show I saw a couple of men get up and leave and when it ended I overheard people talking about how uncomfortable the show had made them. We're living at a time when toxic masculinity is seeping out of everywhere including the White House. Was part of why you wanted to do the show to make audiences confront this toxicity?
Absolutely, if I can be completely candid I was attracted to how brave the piece was in what I thought was "post gender." Yes, there is men kissing men and we use a man in the rape scene that a lot of people know very well. We're trying to remove gender from the piece, I was surprised NY audiences have been responding to it as a homoerotic piece, or "oh, it's just a bunch of guys without their shirts on," there's a sense of people rolling their eyes at it. Audiences have come to expect women being naked all the time and call it necessary to the plot, but the second we objectify men it's met with "was this produced by a gay por company?" comments. I was so disappointed by that reaction.
I think sexuality is very important to the piece and the discomfort, a lot of people who saw the film were so disturbed because they were watching beautiful women in a really disturbing setting. We tried doing the same with men and we got "that's so gay." For me it was about addressing these characters' motivations, what evil is, and gender isn't necessarily the important part behind that. I know I'm working towards a post gender society where we don't look at men vs. women how we do now. There are very powerful men doing horrible things to women, so I'd love to move towards a generation where men and women feel more equal. Objectifying a man in the same way we do women works towards that in a weird way.
To end on a happier note, since you're so into fitness, what showtunes would you include in a workout playlist?
I've worked out to Hair a few times, it's people singing their faces off and it's rock, so it's a good time. I stay away from the more classical pieces if they show up on my iPhone during a workout, I love Oklahoma! and Carousel but they unfortunately don't have good running songs.
For tickets to The New York Pops new season click here.