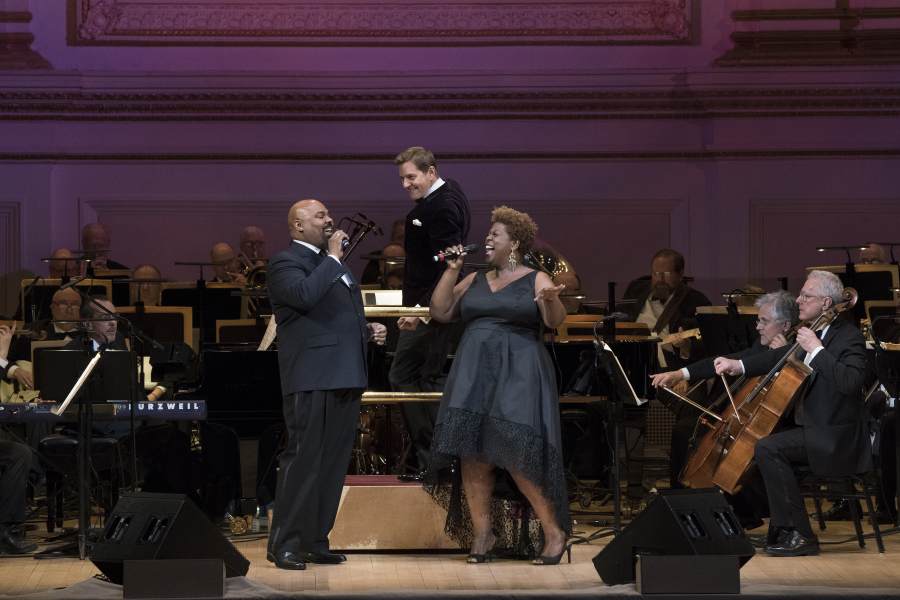 Last Friday night, revered sanctuary of music Carnegie Hall hosted the biggest party in the city as the New York Pops celebrated the beginning of African American History Month with a concert called "Heart and Soul." Music director and conductor, Steven Reineke, along with guest vocalists Capathia Jenkins, and Tony winner James Monroe Iglehart, urged audience members to "shake what their mamas gave them" as they took on the catalogues of James Brown, Al Green, Chaka Khan, Diana Ross, and Michael Jackson, among others. Here are five moments of utter slayage that night.
James Monroe Iglehart's Moonwalk
Never one to sleep on his laurels and be content with just the crispness and warmth of his voice (his rendition of Al Green's "Let's Stay Together" needs an official recording) Iglehart brought out all the dance moves, gliding across the stage on several occasions during the night. When he came out to moonwalk during a number being performed just by the orchestra, he shrugged "I just can't help myself!"
Capathia Jenkins Brings Down the House Singing Gladys Knight
Jenkins' powerhouse take on "Midnight Train to Georgia" sent chills down people's spines, as she poured all her emotion into a song that's so closely linked to Knight. It was a celebration of the legacy of black women in music, which meant performers like Capathia were raised on incredible role models. But above all, it was a work of incredible balance as Jenkins paid tribute to the legend, while reclaiming her own space on that stage. Performances this haunting don't come by very often.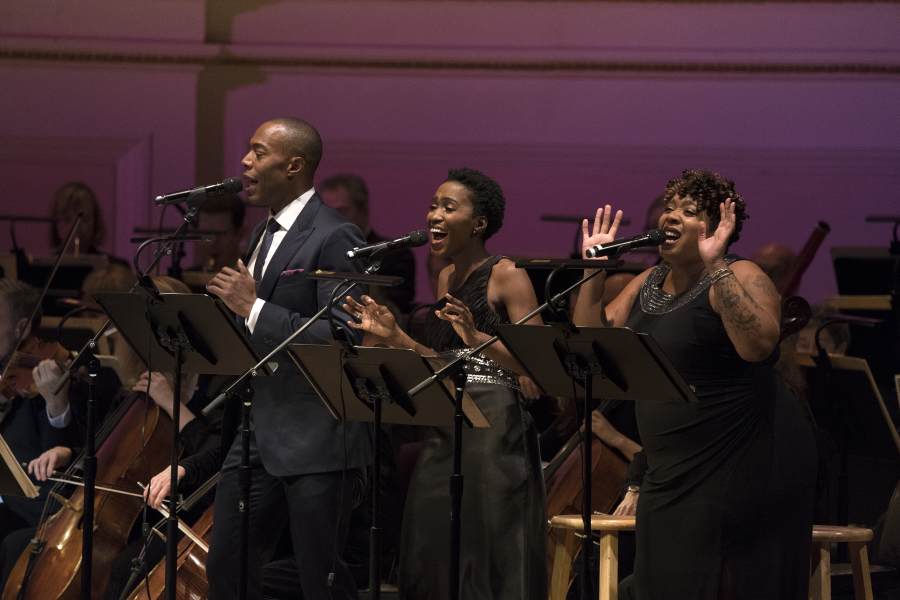 Backup Stars
As Reineke established at the top of the show, performances like this can't happen without exemplary back up singers, and Crystal Monee Hall, Anastasia Talley, and Michael McElory (who acted as the backup vocals' director) proved to be invaluable as they went from genre to genre, style to style, and song to song, without missing a beat. The key to great backup vocals is that they become unobtrusive, but also feel essential. It's not an easy compromise to achieve, but the trio soared in numbers like "Ain't No Mountain High Enough."
We ❤ Barry
In early 1974 Barry White's "Love's Theme" became one of the rare instrumental tracks to reach the number one spot in the Billboard Hot 100, with its sweeping strings, psychedelic beats and one of the most memorable intros in pop music history, listening to the New York Pops pay tribute to White was a throwback to an era not unlike ours, where deceitful politicians were screwing the nation over, and racial tension was palpable in the air, but where the promise of bliss found in music were sometimes enough to transport you to a place where love ruled almighty.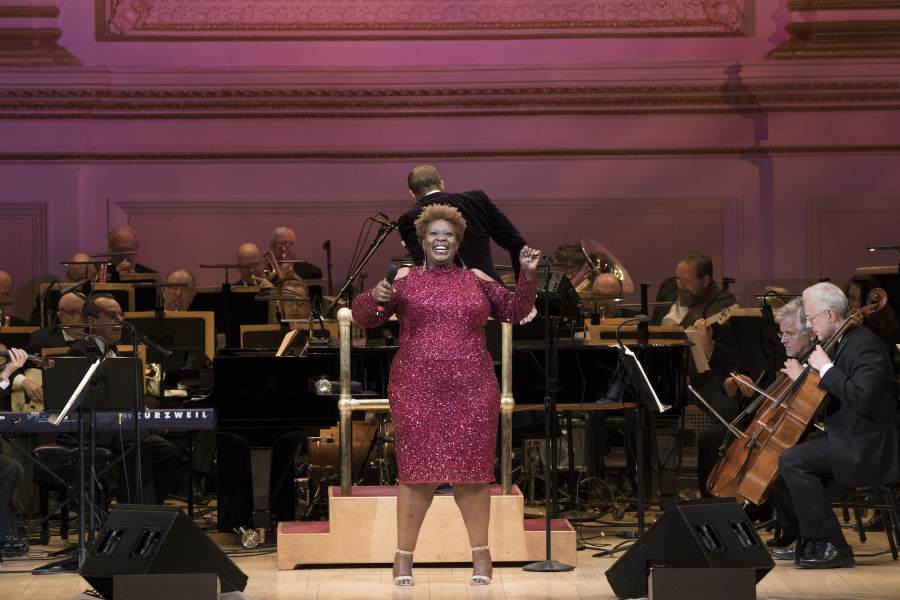 Capathia is Every Woman, But Her Whitney Was Something Else

Jenkins took on Knight, Diana Ross, and Aretha Franklin with authority and charm, but when she took on Whitney Houston, the concert achieved moments of pure transcendence. The closing of the first act had her do a medley of "I'm Every Woman" (The Bodyguard soundtrack version) and "I Wanna Dance with Somebody (Who Loves Me)," in the former her voice was in top shape, as the Pops' strings took us to disco heaven, and her transition into Whitney's hit from 1987 was playful, sexy, and had more people doing shoulder/seat dancing than, probably, anything else in Carnegie Hall history. As the second act came to an end, Jenkins spoke about how thrilled she was to be there and almost out of nowhere whispered "If I should stay / I would only be in your way," as the orchestra slowly joined her into a full rendition of "I Will Always Love You" you knew it was one of those nights people will lie about having attended. And when she reached that note in the end [insert worship emoji]...