Interview: James Monroe Iglehart on Doing Cabaret, and Why Theatre Matters More Than Ever
We spoke to Tony winner James Monroe Iglehart about his upcoming concert at NJPAC, the importance of theatre in the aftermath of the election, and some characters on his bucket list.
What are some of the challenges in putting together a setlist for the show you're doing at NJPAC?
The show is called How the Heck Did I Get Here? And one of the challenges was narrowing down the list of songs, because there were so many I wanted to do. My wife is an editor so that helped, she helped me edit it into a 70 minute show. We needed to follow a story, so it took me about two days to go through the list and shape it into the concert.

It sounds like a very introspective show, will it be a history of how you got to where you are?
Pretty much, when I was a kid I loved singing. I had my first solo in church when I was 4, I wanted to talk about how I did it by using songs.
Like writing your memoir with songs.
Yeah, but sometimes cabaret shows end up being like listening to someone talk to their therapist, mine isn't like that. It's just me performing, being silly and having a great time.
Is it there any difference in performing in concert as opposed to being in a show?
It's different because when you do a Broadway show you're limited by what's in the script, and in my show we have a setlist and script but I get to play off the audience and band.
Last time I saw you at NJPAC you sang one of Mrs. Lovett's songs from Sweeney Todd…

Yes I did, I sang "The Worst Pies in London" to Len Cariou.
What makes NJPAC a special venue for you?
One of the fun things people don't know is that I live in Jersey, right across the Hudson, my wife found our place in 2009, I didn't know anything about Jersey and the first time I came here I felt at home. When I had the chance to perform at NJPAC I loved it, this will be my third time there. It's a wonderful place, I was putting together my show in New York when NJPAC called, so it was a no brainer. It's always fun to perform in the state I live in.
How do you make the Genie from Aladdin feel fresh after all this time?
This will sound real cliché, but I look at every night as opening night. Every night people come to the show who have never seen it, so I can't perform like it's my thousandth time, I have to perform like it's my first time. You don't want the audience to get a guy who's done this 300 times, I want them to get the experience the first people got. Also, there's my ego...I want to look good (laughs).
How is it when new people come to the show? Do you have to start anew with each of them in order to have chemistry?
Not really, when new people come in, or there's an understudy on it's important to remember we're a team. Theatre is alive, it's a moving, living thing so you never want to be so rigid that you can't do new things, you need to have fun while creating new things together.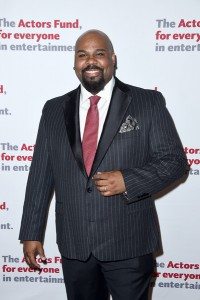 You're going to become my nieces' and nephews' favorite Broadway performer because besides Aladdin you're also going to voice a character in the Tangled TV series…
(Laughs) Yes I am, I'm trying to put myself into as many genres as I can. The Tangled series is really good, I've had so much recording it, I always wanted to voice a Disney cartoon character. I used to watch Disney afternoons as a kid, and was always a big fan of Duck Tales, Darkwing Duck and The Gummi Bears, so the idea of that Disney afternoon returning and getting to be a part of it is so exciting.
What other Disney properties would you like to be involved in?
I'd love to do a Disney motion picture and an animated feature, whether with Pixar or Disney animation.
On Twitter you're very open about your political beliefs, what do you think will be the role of theatre in the political period we're living in? Will people come more to escape, or to learn more about empathy?
I think both, theatre has always been a place to be entertained and also it's a place where you can become slightly more educated. You don't want to preach to people, if that was the case you should just go to church. Theatre shows you different views, you see people and stories that are different to yours. Theatre can educate you but it's also an escape from the crazy world. If you're watching Fox and CNN 24/7, you come to the theater and it's such an escape, you get a magic carpet, a genie, fireworks, great songs. Two hours way to experience happiness is great, but theatre can also show you characters you wouldn't normally interact with in your daily life. It shows you how to empathize with others, songs can affect you that way too. Theatre will be a big, big asset in the next four years.
Right, Aladdin takes part in a place of the world that half the country has learned to vilify.
And then they can see all the cultures onstage, we represent so many different cultures in our show. People look up there and can't say they don't like people who they've never met, because we're there and then we meet them to sign autographs.

What are some characters from the Sondheim canon you'd like to play? And some of your favorite of his songs?
I got to play my favorite of his characters in regional theatre, I was Sweeney Todd, but my second favorite show which I'll never get to be in is Assassins, only because I'm an African American, and it's a true story, and no African American has shot or killed a President before. So there's that. Hopefully we're smart enough to keep that record. There's another character in Sweeney I'd like to play though, that'd be Beadle because he's fun, and he's just so evil. At least Sweeney has a reason for what he's doing, but Beadle enjoys being mean.
My favorite songs would be hard, but I'll give you a quick rundown: "Agony" from Into the Woods, I also love "Joanna" which is the trio where Sweeney kills people and sings about how much he loves his daughter. It's a funny juxtaposition because the song is so sweet while people are going down the chute. I also really, really like the introduction to Assassins, it's so wonderful. "Being Alive" is also one of the best of his solos. You can't go wrong with him.
For tickets to James Monroe Iglehart at NJPAC go here.