Interview: Migguel Anggelo on Loving Joe's Pub, Being an Immigrant, and His Knack for Theatricality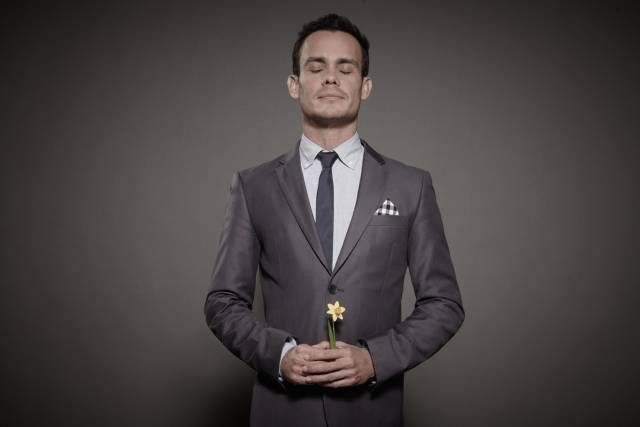 Migguel Anggelo will charm your pants off. Whether you listen to his albums, watch his music videos, or attend one of his shows, he is the kind of artist who makes sure each and every person gets a truly rich, unique experience. Combining elements of opera, world music, theatre and comedy, he paints a colorful musical landscape in which he often pays tribute to other artists he loves. We spoke to the fabulous entertainer about his April shows at Joe's Pub, the immigrant experience, and loving New York City.
You keep coming back to Joe's Pub, what do you like so much about the venue?
I like the neighborhood, the venue, and it's also like a way for me to thank Joe's Pub. The first time I performed in New York was at BAM, which I loved, it's a huge space that made me feel like Nicole Kidman in Moulin Rouge! One day a friend recommended I visit Joe's Pub because The Public Theater has a great reputation, and he also said the space was as theatrical as I am. I visited it and loved it, it's such an intimate place. The only thing that concerned me was that I'd never performed so close to the audience before, I'm very extroverted, but I also get huge stage fright. The second the show is about to start I always ask myself "why didn't I become an architect instead?" (laughs) I usually forget about it after the first applause though, but as a performer I worry about people not liking me or not "getting" me. But this has never happened in New York, so every time I get an invitation from Joe's Pub, I say yes.
Do you have a fanbase or a group of regulars that come to all your shows?
Yes, I sometimes see the same people and I ask them why did they come to see me again and not go to a movie instead (laughs), but they're lovely and always tell me they brought a friend, or a cousin, or someone new. I understand people who want to come back though, when I love something I wanna see it more than once, I've seen Hamilton twice for instance, first at The Public and then on Broadway.
Your show is called Another Son of Venezuela, what does that mean to you?
It's an autobiography about being born in Venezuela and both my parents and my metaphorical mother Venezuela. I think my home country is one of the most beautiful places in the world, and I grew up in a democracy. I remember I was living in Venezuela when I came back to visit and saw how this putschist had gone from attempted murder, to prison, to becoming a presidential candidate. I was shocked they were letting a putschist run for president, but that's how most of Latin America is. So as much as I loved my country and my family, I didn't feel safe anymore, I love Venezuela deeply, but I never felt I was part of it, so I left. When I was very little people would ask me where I was from and I'd tell them I was born in New York. I'd never even been to New York! Now I've been living here for three years, and I feel as if I arrived yesterday. I am in love with this city, the men and women are beautiful, I like the subway rats (laughs). Plus everything in this city is culture.
Even walking in this city is an adventure…
I wrote a song called "Underground" which will be in my next album. I wrote that song sitting in the TKTS stairs. I sat there for three hours, people watching and wrote this song. I never get tired of going to Times Square, I love people pushing me in the streets (laughs).
You mentioned your family and you were lucky enough to have parents who encouraged you to pursue a career in the arts. But that's not the case for most youths in Latin America, and even in the US, arts programs are often being cut from public education. What would you tell these people about the importance of art?
A country without culture is mediocre. If your child has any interest in the arts it's your responsibility to help them. My father didn't help me as much as my mother, who was trained as a classical dancer, she put aside her career for her children, and sometimes threatened to divorce my father if he didn't let us, me in particular, pursue our dreams. My mom had four children and I'm the only one who was interested in the arts. I wanted to be Julie Andrews in The Sound of Music when I was a child! Thanks to her I can reach the high notes I do now, because I would go practice my high notes in the mountain. I always admired Freddie Mercury, Gene Kelly, Fred Astaire, Barbra Streisand, Liza Minnelli...so as much as I loved Venezuela I knew people wouldn't understand me there.
Both your albums have titles that refer to the works of artists you admire like Matisse and Frida Kahlo, and in songs like "Que Pasó Con el Hijo de la Luna" you pay tribute to a song by Mecano. You wear your references on your sleeve. Why is that? Do you want people to learn about the things you love and introduce them to new artists for instance?
I always loved Matisse and Picasso, some people have suggested my painting style resembles theirs...I think they're crazy, but appreciate the compliment. One day I heard from a university professor from Ecuador who told me he had been having trouble teaching his students about art until he showed them my "Donde Estara Matisse" music video. The next day he gave them a quiz where he asked them about Rembrandt, Edith Piaf and other artists mentioned in the song. Even his worst student passed the quiz. You have no idea how happy this made me.
I've always loved Frida Kahlo too. She had such a terrible life, but despite all of that she wanted to paint. That's a beautiful metaphor about pursuing your happiness. I want people to learn new things when they listen to my music. In the case of Mecano, I grew up with them and I loved their poetic lyrics. I always wondered what happened after the end of "Hijo de la Luna", what would happen when the child grew up.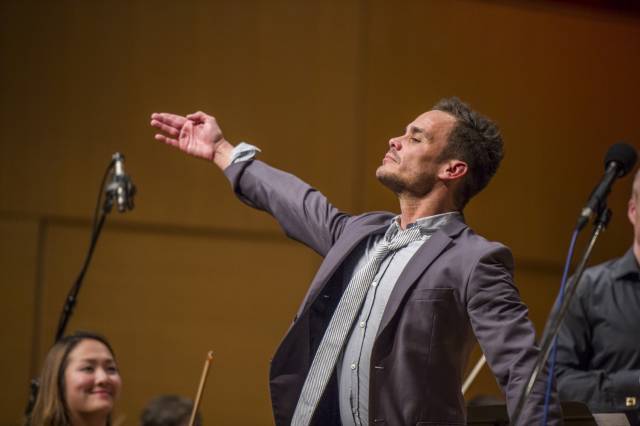 Having all these ideas running around your head at all times, is it easy to sit down and come up with a setlist?
Sometimes (laughs). I'm always on a natural high, but the only drug I like is Nutella. I can eat a whole jar in an hour, but anyway, I like when audiences become involved in my show, I want to challenge them and make them discover the themes in the show. Sometimes I wake up in the middle of the night to write a song, that's how "La Casa Azul" happened. I woke up at 4:30AM and wrote it in five minutes.
Does the opposite ever happen to you as well? Do you go through periods of writer's block?
Absolutely. I usually write about things that inspire me, or that come to me in the moment. It's hard for me to write about things people want me to write about. I can't write about a giraffe just because someone asks me. I've tried, but I can't.
In "Plaza de Arena" you combine Bizet with the Latin American protest song, and it was so rousing I imagined it as part of a musical. Are you interested in doing a narrative using your music? Say something like Evita?
I'm actually working on that right now. We were working on the third album which will be called English with an Accent, but I don't know if I want to use the same title for the musical. Either way, we already have the songs, the book, everything is ready. I don't want to spoil anything, so all I will tell you is that it will be a very poetic show. I like seeing poetry onstage, things like Cirque du Soleil. But you don't need a huge budget to do poetry, and that's what I want to do. It will be a minimalist show in which the star will be the show itself. The band and the performers will all be equally important.
Your band is made of people from all parts of the world and you often celebrate cultural diversity. Given the strange political environment in the States where some people are against cultural differences, is it a challenge for you to carry this banner of pride in being different?
That's why I like what I do, I like being controversial. I grew up in a place that went from democracy to a dictatorship. I like to believe everyone has some good inside them, so I think what Donald Trump is doing is absurd. His family came from another country, he knows that the people who build his skyscrapers are immigrants, even his wife is an immigrant. As I say in my song "Immigrantes" I say that we are all immigrants the second we leave our mothers' wombs, so I don't get what Trump has against being an immigrant. I want to show people immigrants aren't a plague, we come here to bring an optimistic message and help make this country a better place.
How would invite people who have never seen you live, to come see your shows at Joe's Pub?
I will tell them a story. When they come see me they will see theatrical elements, comedy, they will listen to my own compositions, and also some surprises. In this show they will listen to samples of Puccini, Nina Simone, Yma Sumac, The Sound of Music...I guarantee they will have a great time.
You like to surprise people then.
Absolutely. I've heard from journalists who have never seen them and then love my shows. In September during one of my performances there was a lady who kept yelling "bravo" through the entire show. After the show was over the lady who had been cheering and yelling, came to introduce herself. It was Glenn Close! I still get goosebumps when I remember that.
For tickets and more information about Migguel Anggelo and The Immigrants: Another Son of Venezuela click here.