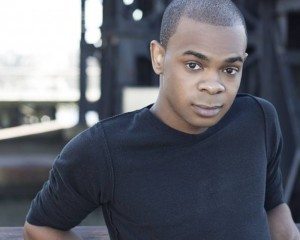 Actor, writer, director, and producer Glenn Quentin sat down with us to discuss his latest theatrical venture, the world premiere of CrackBaby, now playing at The Griot Festival. It is a piece that delves into the psyche of young urbanites grinding and surviving in a world with few choices. Quentin chimes in on the process of mounting a new play, the struggles of working on a piece ripe with controversy, and what it means to be an artist who does it all.
How was CrackBaby born? Can you speak to the process of inception to full-fledged play?
CrackBaby was born after reading a call for submissions to the Griot Festival. I knew I wanted to submit, but didn't know what I wanted to explore. So I put off writing for days until I could no longer procrastinate. With a deadline fast approaching, I wrote the first draft and sent off my submission. I remember thinking I had something great and sharing that with my family and close friends. But my excitement grew tenfold with my official invitation to bring the play to life as part of the 2015 Griot Festival.
There is a hazardous and provocative connotation to the term CrackBaby, and yet, you chose this as the title to your new play. How do you negotiate preconceptions while still honoring your vision?
I think preconceptions are ever present in everything we present and what's presented to us. That's a fact of life but there is a sophisticated beauty in breaking connotations and stretching the imagination. Having a title that gets someone intrigued is a blessing. Getting asked what your play is about is one of the most thrilling questions a playwright can receive.
The play explores the bonds of brotherhood, the far reaching magnitude of choices, and drugs as a transformative channel - ultimately, what message would you like your audience to walk away with?
Ultimately I want to remind audiences of the choices we have in life. Often it's too late to think back on the buildup of our actions that create our present circumstances.
CrackBaby feels especially timely with all the media directed at the violence against black men. Drugs are another insidious part of that equation. Did you have any trepidation in writing the play, considering that some may view it as a vilification of young black men, portraying them as agents of their own destruction?
I've got two younger brothers who mean the world to me and one day I might have a son. The violence against young black men won't change overnight but every little step we take to share our diversity is a move in the right direction. There is no "race" attached to this play, the four brothers can be of variant backgrounds. It may seem like they are the agents of their own destructions, but I challenge audiences to see them as young princes who never were given keys to their kingdom.
As actor, writer, and director, how do you balance all the demands placed on you while preserving a unified vision?
I wear one hat at a time. In the rehearsal space while acting I welcome the thoughts of my colleagues because they can see things that I can't. Being able to trust the artists I work with and having faith that everything will unfold the way it's supposed to gives me confidence that what's written on the page and found through play will resonate more profoundly than I could ever have imagined.
You are a renaissance man, who seems to master doing it all with grace. What advice would you give to the new theater renaissance when it comes to mounting a new play?
Thank you. To the new theater Renaissance, let your spirit guide you and give thanks when things don't turn out the way you expected. Most of your greatest achievements can come from mistakes.