Director Rubén Polendo's quest to imagine a better future lead him to create a "Utopian Hotline"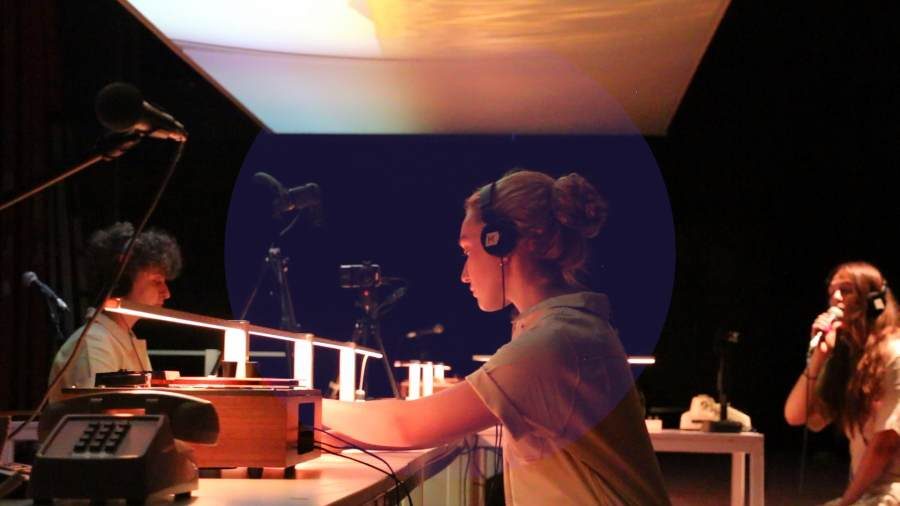 Is anyone out there?
That was the question on Rubén Polendo's mind when he and his fellow artists at Theater Mitu created their show Utopian Hotline. To gather source material, they created a public telephone hotline prompting people to leave messages to the future. Ahead of the reopening of MITU580, the home of Theater Mitu in Gowanus, we spoke with director Rubén Polendo about the creation of Utopian Hotline.
Where did the idea for Utopian Hotline come from?
We've been working on this project for about two years. It started with us questioning the idea of Utopia, both philosophically and practically. We are a voracious group of artists, so we immediately generated a massive amount of source material on the subject. Through our discussions over time, we realized that in all this research material there was one missing piece of the puzzle: us. In other words, this moment right now.
We looked back and discovered that there was an attempt made to capture a sample of us: in 1977 NASA launched Voyager, and with it, the Golden Record, which has become an iconic message pointing the way toward the future. As the pandemic took hold and affected all of us, we knew that we also needed to connect, to come together in some way that was safe and thoughtful.
We landed on the idea of focusing our research on a single question: how do you imagine a more perfect future? And then we discovered a way to reach out to people: by creating a simple telephone number and putting up flyers around our local neighborhoods to collect voicemails. To our surprise, people called. They called and poured their hearts and minds out onto the recordings. They filled the airwaves with their hopes and worries and jokes and dreams—so many dreams of a more perfect future.
What was the creation process like?
We always work as a group and combine elements of performance, technology, and installation from the beginning. It's our way of synthesizing our research to see what themes and elements reveal themselves. I was astounded to realize how much of the piece is about connection—the importance of the connection we have with each other and with the greater universe—and how much we've missed that connection over the last year and a half. It all boiled down to the question: is anyone out there?
I'm always interested in viewing a question like this from multiple perspectives, and that is why this piece is our most ambitious. It is at once a telephone hotline (where you can call and leave a message: 646-694-8050), a vinyl record (that you can pre-order and listen to on all the major streaming platforms), as well as an in-person performance (for only 12 socially distanced and vaccinated audience members). We used the hotline as our source material, and we complicated that with conversations between those committed to building a more perfect future and those who are set to inherit this future.
You developed this show in partnership with SETI Institute, Arizona State University's Interplanetary Initiative, and Brooklyn Independent Middle School; how did you choose those partners?
We chose SETI and ASU because we really wanted to engage in conversation with individuals who were actively conceptualizing, shaping, and building a better future beyond earth. We were fascinated by the Voyager Program and the Golden Record; and SETI Institute offered us unparalleled access to many people who worked on the Voyager Project, as well as those advancing and democratizing access to space exploration. So much of SETI's work has advanced our thinking about sending messages out into the universe, and ultimately we learned that what we receive back is information about ourselves.
Both ASU and SETI Institute have been inspiring thought partners. ASU bridged a connection with Former Astronaut Cady Colman. Our conversations with her about her time working and living on the International Space Station truly shaped the project.
As for those who will inherit this future? We turned to our friends at Brooklyn Independent Middle School, whom we have been working with for the last three years. We spent time with these students asking about their view of the future. Their responses, again and again, inspired and astounded us and gave us great hope for our future selves.
Utopian Hotline mixes live and virtual theatre, which seems appropriate for this moment in time. Were you at all inspired by all the virtual theatre going on during the last year?
For the past ten years, our work has engaged deeply with technology as a collaborator. Over the last year, as we all confronted the challenges of making work amidst a complicated public health landscape, I was very proud that we could meet the moment and lean on our experience with technology. It was a great privilege to be able to support and mentor other companies and artists through their own learning curve with all things digital.
We were also thrilled to be part of New York Theatre Workshop's digital season with our digital project </remnant>. It was so exciting to see how that project amplified our reach. On any given night during the show, we would have people tuning in from Shanghai and London, New York and Mexico. This opened the conversation for us about how to maintain that level of access even beyond digital spaces.
For this project, we created multiple points of access. With the hotline and the vinyl record, we wanted to create individual access points to the work. With the performance, we wanted to weave these two elements in with the idea of community so we could look more deeply at the material. Of course, we're still experimenting, and we're currently creating a dynamic digital interaction with our archive of research. We look forward to exploring more access points for the work as it continues.
What was it like directing a live show again?
Challenging. Really challenging. It goes without saying that we have all gone through a tectonic shift. The last year and a half has changed how we do everything—and that includes how we make art. I have felt very fortunate to travel through this challenging process with a company of artists who share a history, a view of the world, and a belief in the importance of art and community.
What about the show are you most excited for audiences to experience?
The space. The installation we have created is like a portal. You can come in and get whisked away into these fantastic sounds, images, thoughts, and ideas. You'll be tethered together by headphones and I promise you it is a unique 45 minutes!
Since this show is about sending messages to the future, I have to ask: if you could send a message to the future, what would it be?
When you ask that question my mind floods with all of the answers we've gathered over the last two years, so the best message I can think of is: come see Utopian Hotline!