Interview: St. Bart's Players, NY's Longest Running Community Theater, Performs Sondheim's "Company"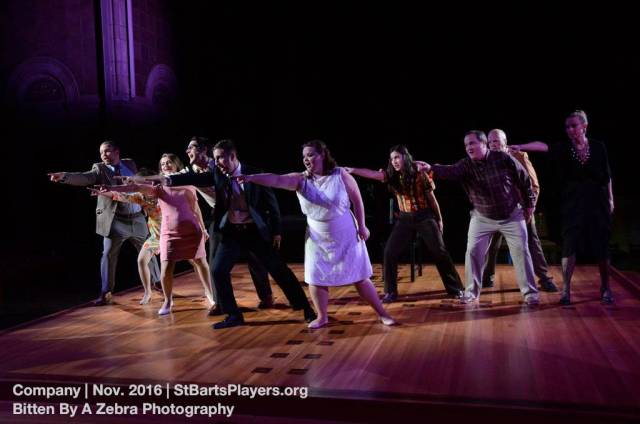 The St. Bart's Players Gears Up to Celebrate its 90th Anniversary in 2017 and Reflects on the Community that Has Sustained Them; Current Season Features the Stephen Sondheim Musical "Company"
The St. Bart's Players -- New York's longest running community theatre -- is preparing to celebrate their 90th anniversary in 2017 and is taking time to reflect on and celebrate the values that that have sustained them. A strong presence, community spirit, and love for theater has bonded members and volunteers alike, and will continue to attract new participants from all walks of life. The opportunities to get involved are limitless and include everything from performing in shows to producing to working on props and costumes, as well as selling concessions and assisting with fundraising and events. There is truly no part that's too small when it comes to the Players, with the lifelong friendships being a true testament to their longevity.
Merrill Vaughn, one of the co-chairs of the St. Bart's Players board, has been a member since 1978 and began her journey with the drama Craig's Wife. She recalls the Players being ahead of their time, when it came to creating a space for self-expression.
"This was a time before health and fitness centers were on the scene, and the Players provided a place for young people to have a social outlet," she said. "It served a very big function in New York and there's really no other place like it that still exists."
Since joining the Players, has never found a reason to look for opportunities outside of the group.
"I was looking to find a very professional group and I found it here," she said. " I've made friends for life – they are my family and we've seen each other through so many of life's stages."
Members aren't required to have past experience and pay a fee of $75 per season to gain access to exclusive events, meet-and-greets, and performance opportunities. A point system determines eligibility, with 65 points being required to perform in a show. When a new member joins, they are given 65 points and then after completion, they start over at 0 and work on earning the points. Opportunities to earn points can include crewing, selling concessions, assisting at events, and more -- with every hour completed being a point. Typically, 70% of the cast is pre-existing members and the remaining 30% is new members.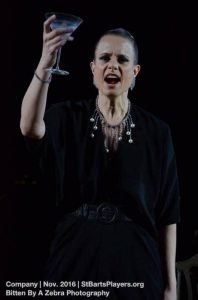 Vaughn encourages anyone who may be searching for a fulfilling community in theater to reach out to the St. Bart's Players and find out more.
"Please come join us! Come to a meeting, look at our website, and of course, contact us. We're always looking for new members and we're such a welcoming group and have something for anyone looking to get involved with theater," she said.
The St. Bart's Players will have a celebratory event in February for their 90th anniversary and will look back at all they've accomplished while working toward an even greater future.
"We are most proud to celebrate that we are still here," said Vaughn. "The spirit of people and their commitment to theater and to each other is what has kept us going and will continue to do so. It's never just about you – it's about the love we all have and are excited to share."
The St. Bart's Players will present Stephen Sondheim's Company this November and StageBuddy had the chance to chat with director, Phillip Fazio, and one of the producers, Alex Mogil, about their involvement with the St. Bart's Players, the community spirit, and witnessing the final product come to life on stage.
How did you find St. Bart's and how has the community impacted you personally?
Phillip Fazio: I've known about St. Bart's for awhile – a friend of mine who is a lighting designer has done a couple of shows with St. Bart's before – and I came and saw their production of Side by Side by Sondheim. I am a huge fan of Sondheim's and thought they would be a great organization to be involved with. I saw an opportunity with Company and am thrilled to be part of it this fall!
How has this community been different from some of your other projects?
Phillip Fazio: While each experience is different, what's been so great about St. Bart's is that it is so inclusive and such a well-oiled machine. They've been doing this for 90 years! It's been fantastic to have a team of willing and able participants.
Company first premiered on Broadway in 1970. Take me through the themes and their relevance to today?
Phillip Fazio: Like any well-written show, the themes are universal and since human nature doesn't ever really change, what was true in 1970 is still true today. We are keeping it in the time period that it was written in and our goal is to be as truthful and honest with the show as possible. The greatest lesson of the show is that it's amazing to love and be loved in return.
Talk about your cast and the new energy they've infused into the production.
Phillip Fazio: A lot of the cast has sent me pictures of what their character would have been like in the 1970s, so we've had a lot of fun doing some dramaturgical research with that. As far as costumes, the costume designer is working on all vintage, 1970s choices. We've found a vintage flight attendant scarf so we're being truthful to the period and having a lot of fun with it along the way.
What's been the most exciting part of the experience?
Phillip Fazio: I love the musicals of Stephen Sondheim – this is the fourth Sondheim musical that I've directed. Each time is always such a fulfilling experience. His work is so rich and so beautiful and complicated in a wonderful and interesting way that challenges you and awakens your brain. I love directing in the thrust [open stage with audiences seated on all three sides] – it gives you so many opportunities to make it 3D experience for the audience.
Can you talk about your approach to digging into Sondheim's material and making it accessible to your cast and audiences?
Phillip Fazio: I look at it the same way as I direct Shakespeare. Yes, this is the work of a genius, but I try to take it off the pedestal and make it relevant and interesting and palatable for mass audiences. We want everything to be crystal clear and make sure that all the dots are connected.  
What do you hope that audiences will walk away with?
Phillip Fazio: My hope is that people leave with a love for the show and a love for Sondheim as a songwriter. I also hope for those who have seen it before, that they can find something new about the show that they never experienced before.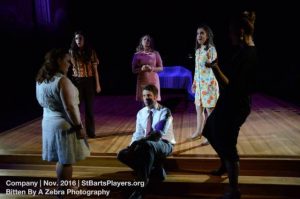 Alex, can you talk about the different facets of producing?
Alex Mogil: For St. Bart's, the main goal is to ensure that all parties are happy and feeling that their vision is being met. It also involves working with the Board and making sure that everything is going smoothly.
You've performed in quite a few shows yourself and are no stranger to the stage. How did you become interested in the producing side of things?
Alex Mogil: My first show with St. Bart's was Side by Side and since then, I've stayed in touch, and when I did The 25th Annual Putnam County Spelling Bee last spring, I felt such a connection and wanted to explore the other areas outside of performing. I decided to dive into the water and am so excited to have been a part of Company this fall!
What are some of the essential skills needed to do your job successfully?
Alex Mogil: For the producing side, it's important to be organized and know how to manage different kinds of people and keep their needs in mind in order to make sure that everyone's voice is being heard and that they get everything they want out of the experience. It's been interesting [from an actor's perspective] to sit in auditions with the production staff and be so directly involved -- such as witnessing what pops out to the director. It shines a light on what is appreciated behind the table.
Name the most exciting part of the creative process from a producer's perspective.
Alex Mogil: I've been most excited to see a show from beginning to end and how everything comes together. It's quite a ride being a part of the auditions, callbacks, rehearsal process, tech, and then finally admiring the final product come opening night. The greatest lesson I've learned is that you don't have to just be a performer to be involved in the community. There are so many areas that you can feel needed and wanted.
Any final thoughts on how you've hoped this experience has impacted your cast and the community coming to see your work?
Alex Mogil: I hope that audiences come enjoy it and love what they see and feel the love coming from the stage. This cast is so close and really bonded – I'm so happy that it's been a great experience and am excited to see them back at St. Bart's!
To learn more about how to become involved or become a member of The St. Bart's Players, please visit: https://www.stbartsplayers.org/ Click here to purchase tickets to Company running through November 18th.