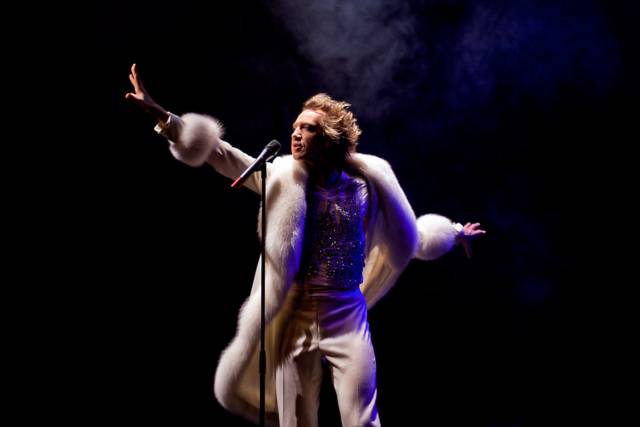 Sven Ratzke, a German/Dutch international cabaret entertainer, brings his production Starman to New York City at Joe's Pub. A solo performer, Ratzke develops new shows every two years and also stars in other productions. Throughout Europe, he's starring as the beloved character Hedwig in Hedwig and the Angry Itch.
His most recent show, Starman, is inspired by the music of David Bowie and contains music both by David Bowie and by Ratzke himself. Ratzke took an evening out of his schedule to talk about his upbringing, his inspirations, and the aesthetic behind his performances.
What was it like growing up in both the Netherlands and Berlin?
Well I grew up in a very free environment, very hippie-esque. I mean I grew up in an old castle where there were all these hippies and I was living with my mother. And you have to understand in the Netherlands, especially in the '80s, was a very tolerant country. It's changed a little bit now, but there was a lot of freedom then and a focus on the arts.
How would you say this environment inspires your art?
I'm half Dutch and half German. My grandparents are from Berlin. I have Berlin blood in me.
Of course Berlin is the center of the cabaret, or was the center before the Nazis took over. That inspired me very much. There was a certain amount of freedom there, and also people were thinking out of the box and mixing genres. A lot of new stuff was happening.
So you were in West Germany?
Yes, otherwise I wouldn't have been able to go to Holland. You couldn't travel if you were on the east side of the wall or the east side of Germany. You weren't allowed to leave the country. It was like a prison.
One of your mentors was the famous German actress/singer Hildegard Knef. What is something she taught you that has stayed with you?
At the end of the '40s she came to New York and she did Silk Stockings with Cole Porter and all these people. She worked with Ella Fitzgerald, so she learned a lot of the American entertainment style; because of course it's a very professional way of working. These are one-woman and one-man shows, but very laid back, and they always have the right timing.
I think she learned a lot from the Americans and she taught me these things too. She had that really laid back feeling and was highly professional on stage. What made her very special was that she was one of the first women who wrote her own songs, and very good songs. I mean, we are talking about the '60s. There were not so many women out there who were producing their own work.
What was your first solo show performance experience like?
When I was 15 years old, I started working at a big cinema where they were showing art movies. The people working there were mainly in the theatre and did this job on the side. With the people working there, I was writing plays and I was starring in and producing. After that, when I was 20, I did my first show with the songs of Fassbinder and Bertolt Brecht and these were songs about prostitution. On the other side, I had songs from Frederick Hollander, who was a writer who did a lot of songs with Marlene Dietrich. These songs were about this little poor girl in the suburbs of Berlin in the '20s. There was a big contrast with the songs.
That was my first show, but I wasn't talking because these songs were like 3-minute plays and were telling a story. I've always been interested in telling stories. It was a long way of developing myself as an artist. Starman was also was also inspired by the '20s and all these people who wrote little movie clips.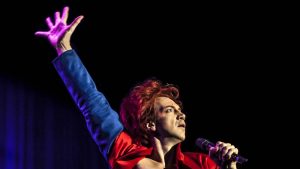 So basically you had short stories in your solo shows told through songs. Would you say that's carried on through all of your solo shows?
Yes. But again, the first program was like songs, like little stories, and I wasn't saying anything. I was just singing. And that helped me develop much more into an entertainer, along with working with people like Justin Vivian Bond and Joey Arias and all of these American icons. Every time I go to New York, London, or Berlin and work with my colleagues, I get better and better as an entertainer. But of course the songs that I'm singing are still stories. I'm not just singing a beat song – "la la la". One day, maybe.
What do you love about performing cabaret?
I love to put a spell on people and confuse people, make people happy and make people sad, and you can't do that with your own personality as a cabaret performer. And of course I use the songs – for example I have so many songs in my repertoire, like one of Lou Reeds "Perfect Day". You could sing that song all around the world. It touches everybody.
Your performance Starman is inspired by the music of David Bowie. What is it you most admire about him?
That he was always taking risks as a performer, as an artist, and as a creator, and I think that should be very inspiring. He never – he was someone who made his own puzzle out of his own puzzle pieces of things that he was fascinated or inspired by. He created his own thing, and he always changed his whole persona. Nowadays, you see that with Lady Gaga doing that everyday, or being a different persona. I think he was the first one.
What Bowie song/album most inspired the show?
Well in the show, I focus more on the '70s because he was always wearing masks and always had a different character. I really like the song 'Ashes to Ashes' because it's very complex. I didn't understand it, it was very strange, almost schizophrenic, but when I did all this research I get to learn the song more and more and I loved it.
It is now four months after Bowie's death, and you're performing Starman in the same city as his last show, Lazarus. What new meanings or revelations does this show have for you, and what new things do you hope to bring to your audience?
We started with the idea for this show a couple years ago and the premiere was last October. It was very different because he was alive.
You have to understand, I never mention his name. It's not like a tribute show, but I take people on an imaginary journey. For the audience, it's very different because everybody knows some of the songs and there are of course some fans that love David Bowie, and so there's a new perception for them on an emotional level. There's only a memory of him now.
How long have you been playing Hedwig and what has that experience been like?
It's been about three years now. I met John Cameron Mitchell and we became friends, since I'm doing this show. I was performing at Joe's Pub and he came to my show, and I got the offer to do the part. I first wanted to have his blessings. He gave that to me and he also came to Berlin and saw Hedwig and was involved in development. He really loved the show. He said I'm the best Hedwig he ever saw.
What is your favorite moment from being Hedwig?
There's not one moment. This is a very special experience to do this part because I almost gave up on theatre. This opened for me a lot of new doors in the theatre world because I didn't know if I could do this part.
But you have to give a lot of your self. It's not like a musical. It's a theatre play, almost.
What was making you want to leave the theatre, and what was it in Hedwig that made you stick with it?
Because Hedwig is so different and so strange and combines many different genres. And it depends a lot on your own personality. It's not about playing Hedwig but it's about being Hedwig. It helped open my eyes again.
I did the MC in Cabaret and I got praised for it and everyone loved it, but it got a little bit boring because it wasn't challenging for me. I've already been that in my own shoes, so Hedwig was a new emotional level for me and being this torn character was very touching.
What's one sentence that describes you and your experiences as a performer?
I'm getting there… you learn everyday, but I'm getting there.