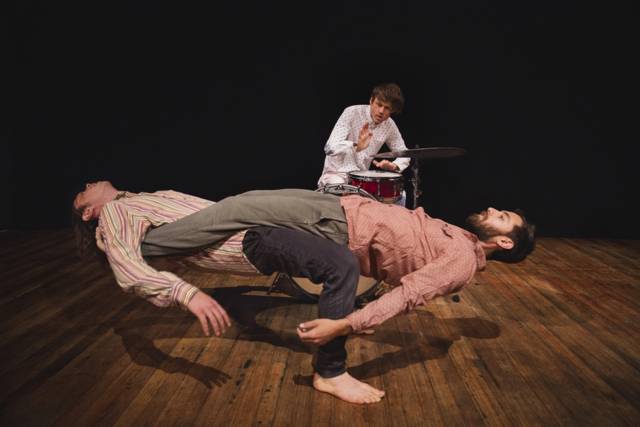 With a plain white stage, a simple drum set, and three bodies dressed in black, BOOMERANG Dance and Performance Project's Repercussion calls the audience to rethink the sounds, shapes, and interactions within dance.
The bare aesthetic of the show, performed at Dixon Place, creates a hyper-awareness in the atmosphere. Every slide on the floor and every breath that leaves the body are shared by the audience. Every generated and acoustic noise in the space becomes part of the soundscape.
The speed and duration of each performer's motion is immediately noticeable. Dancers Matty Davis and Adrian Galvin (co-founders of BOOMERANG) bring purpose to each movement. Their bodies weave in and out of each other, sometimes unifying, and other times contradicting each other. The various relationships they form with each other in the space juxtapose well with Greg Saunier's haphazard and chaotic drumming. The kinesthetic response between all three performers is uncanny and beautiful. Saunier's drumming reflects the audience's internal reactions – either full of anticipation or the initial shock from the constant clashes.
Director/choreographer Kora Radella has cultivated a space where bodies are always present, always breathing, and full of life and anticipation. Rebecca Wolf (lighting designer) and threeASFOUR (costume designer) create a monochromatic world that becomes a rich playing space full of dramatic tension and repetition fostered by dramaturg Will Arbery. Lewis Hyde's lyrics come to life through dancer Galvin's voice in a way that illuminates the many sounds of the body reintroduced in Repercussion.
BOOMERANG Dance and Performance Project invites us to tune in carefully to the sounds of handclaps and foot stomps, of sliding on the floor and banging on the drums, and of the shapes of silence.