Interview: Tovah Feldshuh on Working with Stephen Schwartz, 'The Walking Dead', and Hillary Clinton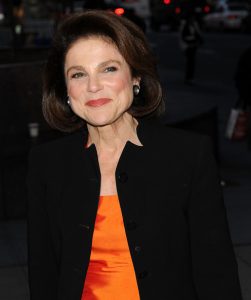 Tony nominee Tovah Feldshuh is a true New York institution. After making her Broadway debut at age 20 in Cyrano, she has never left the stage and has charmed audiences with riveting performances in shows like Irena's Vow, Pippin and Golda's Balcony, which to this day remains the longest running one-woman show in Broadway history. From television to the silver screen (her performance in Kissing Jessica Stein is among the most delicious supporting turns in modern romantic comedies) she has conquered every medium, and keeps surprising audiences by embracing genre fiction, hanging upside down from a trapeze while singing, or hiking Mt. Kilimanjaro.
As she prepares for her next musical role, New Yorkers will have the opportunity to see her as one of the headliners in Symphony Space's Wall to Wall Stephen Schwartz, an epic celebration of the beloved composer that will see countless performers sing from some of his most beloved film and theatre work. To commemorate the occasion, Ms. Feldshuh was gracious enough to speak to us right after a rehearsal:
Eight hours of Stephen Schwartz sounds like a dream.
I know! And tickets are free, it's for the community, so I'm excited and honored to participate. A lot of great Broadway artists will be there.
You were extraordinary in Pippin, and I've always wondered what was it like to be on that trapeze singing "No Time At All"?
I had a swing set when I was a kid in Scarsdale, and it had two swings, a trapeze bar and what I called the pedal pusher. I used to hang on a metal bar upside down, in the winter I had to wear my snow suit because the metal bar was freezing, but in the summer I would sit on it with my shorts and hang on it from my knees, so when I got on this trapeze for Pippin it reminded me of that trapeze in my childhood. It was a wonderful thing.
Do you remember when you first encountered Stephen's work and what it meant to you?
I met Stephen in 1974, he wrote me a song called "Child of the Seventies" which I bet nobody knows, I should really try to find that manuscript. We were doing a revue for Phyllis Newman called Straws in the Wind and he wrote for the show, Comden & Green wrote for it, I think even Leonard Bernstein contributed to it, because Phyllis Newman was very connected to that first rate Broadway community. She gathered all her friends and four actors, I was one of them, and Stephen Schwartz wrote for me. His wife was pregnant back then, and then had their baby Scott Schwartz who I chose to direct me in Golda's Balcony.
That's beautiful. Are there any parts in any of Stephen's shows that you haven't done that you would love to play?
My god I missed the boat on Wicked. Of course I'd like to do anything and I'm very good at playing boys, so I could do anything in Godspell, anything Victor Garber did I'd like to do (laughs).
Would you be an Elphaba or a Glinda?
I'd like to be Idina Menzel's part, Elphaba. It'd be more fun and my skill set is more akin to that.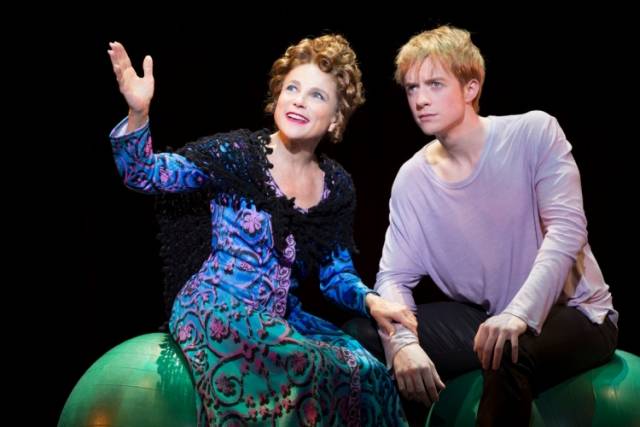 I read that your dad had worked with the French Resistance and I wondered if this in any way had shaped your career in terms of the parts you played in Irena's Vow, Yentl and Golda's Balcony?
My dad fought in WWII under Dwight Eisenhower, and his fluency in French and German saved his life because it got him out of the infantry, into the intelligence. He entered Normandy beach on D-Day Plus 5, he went into the underground, connected with the French Resistance and worked in the Liberation of Paris and the Liberation of Europe. He didn't come home until well into 1946, he was a great patriot who loved America and the free world. He loved being who he was, he loved being an American and also his religion, so it was very easy for me to take on his principles of heroism, if you will, and also his love of Judaism. So yes, I would say my roles have reflected early childhood experiences where I was made to feel comfortable.
Going back to something like Awake and Sing, are you usually more drawn to pieces with a social message?
Early in my life perhaps, but now it's like the song I'll sing at Wall to Wall Stephen Schwartz, "Oh, it's time to start living / Time to take a little from the world we're given / Time to take time, cause spring will turn to fall / In just no time at all". I'm currently working on a musical about Leona Helmsley and she's absolutely fascinating, and in trying to figure out why she acted the way she acted, as time goes shorter in my own chronology just give me a good role and I'm ready to rock and roll. Hopefully it will also have some social significance, but for instance even someone like Deanna Monroe in The Walking Dead is a big social commentary about the end of civilization. Leona Helmsley who couldn't abide by the limits of the United States tax system in order to realize her dreams, particularly in an election year is also significant, and of course the Helmsleys knew the Trumps so that was interesting. I really don't feel that the public is buying the actor as a political being, the contract that the actor has with the public is to become a master storyteller for worthy stories, some of which is entertainment because the power of laughter is very healthy. The contract is not to voice upon the public's mind, any particular political views. That doesn't mean I don't have a perceived value and people don't give me roles that they feel would be right for me, like Golda Meir and Irena's Vow, I didn't audition for those roles, they were offered to me. Same for Leona Helmsley, does that bode ill for me being offered Leona Helmsley? (Laughs) I should have prepared for her by doing Wicked.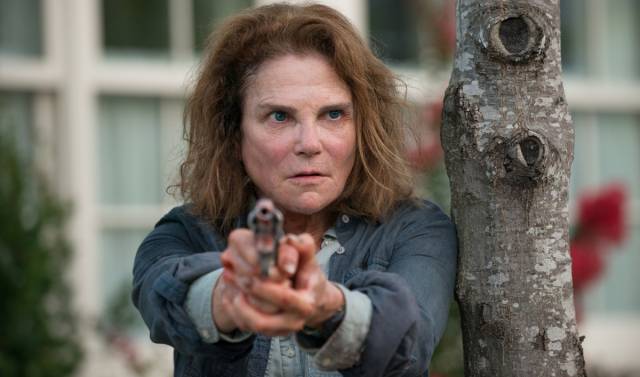 I read that you said you shaped  your performance in The Walking Dead on Hillary Clinton.
I've had experience with her, she was an excellent Senator and First Lady, for me. She was wonderful to me the few times I've had the honor of meeting her, she was always brilliant, particularly in remembering details about other people. I do believe she's about other people, and I do believe she has the most experience in the government to lead this country at this time. She is the one who has served the United States of America on a federal level longer than anybody else in the most important positions; therefore, I feel safer with her than I would with some of the other candidates.
That's so interesting, I heard Brian d'Arcy James also point out how great Hillary Clinton is at remembering details.
I can only tell you she did not have an earpiece. One of the times I met her she was running for Senate and I told her she knew my nephew through her daughter Chelsea. She said, "I know who you are, you're Tovah Feldshuh and I was so sorry I could not see you in Tallulah Hallelujah!" I was playing Tallulah Bankhead at the Barrymore in Theatre Row for 200 people every night, and I turned to her and said, "Are you kidding? You know I'm playing Tallulah Bankhead?" She said, "Yes, she's a fascinating character and I'm sorry I won't get to see you." I said, "Mrs. Clinton you should run for President of the United States," it was about 15 years ago. She met my boy on December 18, 2000 and she was so kind to him, she was not in a rush, she looks you in the eye and doesn't go to the next person. She's never disappointed me, I know there are questions about her emails, but let it go.
Have you found that your TV fans eventually discover your theatre work?
My work in The Walking Dead was the best job I've ever had in television, it was fabulous to be part of the number one show in the world, fabulous! It's very convenient to be recognized by people and it changes your perceived value as an actor and it brings more offers. Plain and simple. It was a pleasure for me to work in Atlanta, I loved the company, they were very, very serious about their work and keeping the show shined up. As is Broadway nowadays, everybody is much more accountable nowadays than when I was born, you have cameras taking pictures of you when you run a red light. People are more accountable and much more on their toes. This thing we're doing for Stephen Schwartz, we're doing it for love, and when you do something for love that's what you get. Money doesn't bring happiness or satisfaction or love, our tribute to him is meant to share him with the community and celebrate him. To show his repertoire to people and make it available for free. It's marvelous, it's so Upper West Side!
For more information on  Wall to Wall Stephen Schwartz click here.