Interview: "Washer/Dryer" Playwright and Actress Nandita Shenoy on Writing Plays that Reflect the Diversity of NYC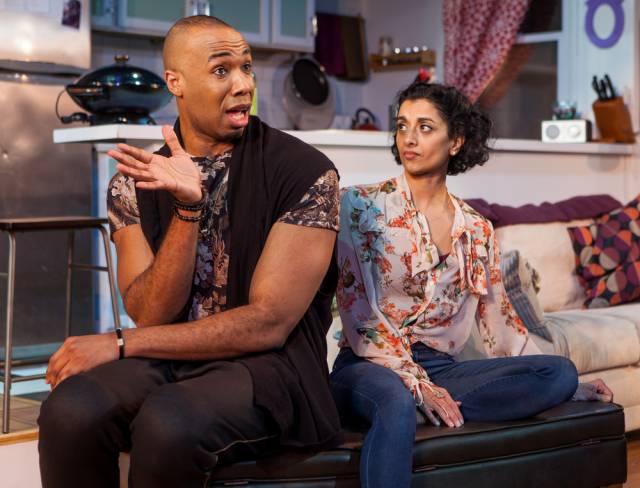 Phrases, hashtags and statistics abound about gender and racial parity in the American theater today. Theater artist Nandita Shenoy, a multi-talented petite powerhouse, doesn't just talk about these pressing issues, she's doing something about it.  Her delightful and quirky comedy Washer/Dryer, produced by  Ma-Yi Theater Company and having its Off-Broadway debut, brings the real diversity of New York City to the stage: four of the five characters are played by actors of color, including Ms. Shenoy, who is an American of Indian descent.  In this funny play with touches of farce and sweet romantic moments, Ms. Shenoy also sheds real light on the unique living situations New Yorkers face.  We met up at Kava, half a block from the Beckett Theater on Theater Row, where Washer/Dryer is playing through February 20, for a late afternoon chat about forging your own path, the challenges of being both playwright and actress in a production and the pleasures of witty banter.
Tell me a little bit about your journey to being a playwright.  You have an English Literature degree from Yale.  When did your theatrical writing begin?
My theatrical writing began in 2006.  I did a reading of a play with some friends that we all really hated and we were saying, "How many of these readings are we going to have to do?"  It was post 9/11 and the kinds of things we were all going out for were "terrorist's wife" or "one of 72 virgins in heaven".  And I was like, I cannot be seen for one more of these roles, it's just not interesting to me anymore.  So one of my friends, after this reading we'd done, said, "Don't you have an English degree from Yale?  Why don't you write something?"  I was like, "Yeah! Why don't I?" So I did!  I wrote a short play, Marrying Nandini, about two Indian parents who filled out their daughter's Match.com profile in order to get her married.  I am the Estelle Getty of the Indian theatrical community.  I was always playing the old lady comic relief supporting role and I thought, "I'm going to write something where I get to be the lead, even though I'm not that age."  I randomly submitted to a short play contest, I got accepted and it got produced!  That first production, to sit in the audience and hear people laugh at what I had written was the most amazing, gratifying experience of my career.  Then one of my friends, who'd come to the show, said, "Ma-Yi Writer's Lab is accepting applications and I think you should apply."  So I applied with that play and they accepted me and that is how it all began!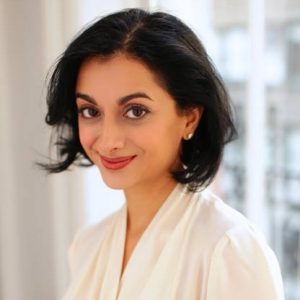 Your characters in Washer/Dryer are big, bold, funny and in the case of one character, extraordinarily flamboyant.  Where did these characters come from?
From my life!  Absolutely!  All of these characters are informed by people I know.  You might have noticed a similarity between the character of Sonya and myself!  Maybe, I don't know, possibly!  (Laughs)  All of these characters are familiar to me and I hope they are familiar to the audience as real life New Yorkers.  A lot of why I wrote the play is that I don't think New York is accurately depicted in plays in terms of diversity and the issues that come up…everyone in New York isn't fabulously wealthy…there's a lot of theater about really rich people drinking and talking about their divorces.  But I don't know any of those people!  I wanted to present an image of what my New York is like.  And I will say this…that a lot of what comes out of [the character of] Dr. Lee's mouth is from my mother!  At the opening night party, she was talking and saying, "You know that line, This is how my face looks?  I say that!"  (Laughs) I was like, okay Mom, you caught on!
How was casting for this?  Did you sit in on the casting?
Yes, I did.  Almost every Asian man that came in to audition for the role of Michael said they never get to audition for parts like this, for the romantic lead.  I do think that Asian men are so emasculated in the media and it is really important to me to have an Asian American couple that is sexy and romantic.  I have literally auditioned for a romantic lead once in my career!  I think it is really important for our community, cause we're always the quirky side kick…the nerdy best friend.  As opposed to the person looking for love, who has desires and can be desirable.  I think that is a really important message I'm trying to put out there.  Casting took a while.  The challenge in casting each role was finding someone who was both funny and had heart.  We really lucked out.  I am so happy with the casting.
Do you have a washer/dryer in your apartment?
I do not have a washer and dryer in my apartment!  The two elements of fantasy in my play are that I am not married and I do not have a washer and dryer.  I also have a bedroom, I do not live in a studio.  That is how life differs from the play. (Laughs)
What are the challenges that you faced writing a comedy?
I know this might sound obnoxious, but [comedy] is just what I write.  It's challenging to write a play, the structure is challenging.  The hardest part for me was writing the end.  I rewrote the end probably twenty times.  It's different here than it was in LA.  I rewrote the ending three times in this [NY] rehearsal process.  But in terms of writing the "funny", that is the one thing that comes naturally to me.  ActualIy, two years ago, when there was that typhoon in the Phillipines, I  wrote a short play for a Ma-Yi fundraiser for the survivors of the typhoon and I thought, "Okay it's for a typhoon, I'm going to write this serious play," and then when it was being performed, everyone is laughing! I'm like, I can't believe this is my serious play and people are laughing!  I guess I just write funny things.
You have a natural gift! What are the challenges and joys that you faced wearing these two hats, playwright hat and actress hat?
It's very challenging to wear two hats, especially when both hats are all consuming.  One thing that I did was to hire an assistant, Jolly Abraham, who is a dear friend, great actress and has a great eye and ear for language.  I asked her to sit in on all the staging rehearsals so that when any line things came up she could just take down notes, instead of having me, while I'm trying to act, think, "Oh I need to rewrite this line."
That was very smart.
It was one of the best creative decisions I've ever made in my life.  I don't know if I'd be able to do this without her.  When you are performing only one role in a play, you are just focused on that one character and how you are interacting with the other characters and how to make that work.  But when you are also the playwright you are thinking, "Do I need to rewrite that line? Why isn't that working? What needs to happen here?" You are in this kind of constant double thinking.  And even though I hired an assistant to take care of it, it's still a…..well how could it not be!  There is this second level of stress that is really hard to balance.  This is the first time I am acting in my own play, so it definitely was an adjustment for me….to figure out how I can let the playwright go when I'm on stage and how I can let the actor go when I am trying to rewrite.  That said, I LOVE being in my own play.  It is a wonderful and gratifying experience for me.  As woman of color I was so sick of what I was auditioning for and how I was being seen, never auditioning with an American accent.  Things have definitely changed in the last five years, I don't have that issue now, but I did, so I started writing with myself in mind because I wanted to change things for myself.  So it is really bringing everything that I started out to do, together.  I'm trying to enjoy every single moment of it!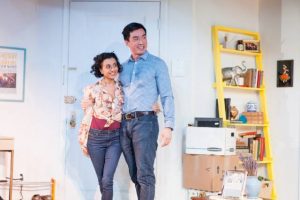 Being an actress and a female playwright and a person of color--
Triple whammy!
Yes!  What are your thoughts on improving gender and racial parity in the American theater?  I know this is big question!
Produce more plays by women and people of color, duh!
That was also playwright Lauren Gunderson's response when I interviewed her a couple of weeks ago!
And I don't know why it is so hard.  Somewhere along the process, and I don't know where it is, cause if I did I would fix it, there is just some kind of initial resistance to doing just that!  Just do it!  Produce women and playwrights of color!  I don't know where the blinders are.  There was a certain prominent theater in New York last year that announced their all-male white season and the artistic director said it just happened.  It doesn't just happen.  You make it happen.  And it's been made to happen over and over again.  And there is also this crazy meritocracy argument, that makes me just want to throw myself off a building.  I'm very vocal about this issue, part of that comes from my own personal feelings, part of it comes from my involvement with AAPAC (Asian American Performance Action Coalition).  We [AAPAC] just crunch the stats, of who's being hired…and that's just on a performing level…and I'm sure if we looked at the playwrights the numbers wouldn't be much better…or the directors.  3.4% of plays produced in the United States are written by woman of color, 78% by white men and the argument I've heard is…"well maybe they've [white men] written better plays."  Because there is this whole belief that the best person for the job gets it.  But perhaps the best person for the job is the one you [producer or artistic director] feel most comfortable with, or that you have a relationship or that you feel is easiest to sell!  It actually boggles the mind, because women buy the majority of the tickets.  I don't know what we are doing to ourselves!  Why aren't they looking?  The plays and people are out there!
What or who influences you as a writer?  As an actress?
I've been told I should write for television, so I suspect that TV has influenced my writing a lot.  I think TV has influenced my sense of timing and dialogue.  But I also think that kind of patter you find in Noel Coward or Oscar Wilde or Neil Simon!  My parents came to the United States in the early '70s.  I remember watching sit-coms with them…I think all those things, I Love Lucy, Friends, Will & Grace -- shows that I consumed very naturally and I've kind of spit out with my take on it.  So that's what I think influences me.  Also, as an English lit major I am a lover of witty banter!  I'm always looking for that!
And as an actress I also love witty banter.  I basically love witty banter.  Johnny Wu, who is my costar in Washer/Dryer asked me, "So what's your type?  What's really important to you?"  I said, "Witty banter!" That's my driving artistic force, witty banter!!! (Laughs)  And I've been influenced by female comediennes like Lucy or Carol Burnett or Mary Tyler Moore.  There's something feminist about those ladies that I love!  There is a tendency to think male comediennes are funnier than women.  So it's a bold statement, I'm a woman and I'm funny!
What's next for Washer/Dryer?  For you as a writer?  For you as an actress?
A big I don't know! (Laughs) I'm hoping that Washer/Dryer will keep going -- this is its third production -- that it can play in other markets.  But there is something so wonderful about doing it in New York, it is such a New York play!  We'll see!  I have a commission to write a new play for FLUX ensemble, so I need to get back to that next week.  I've got about 40 pages written.  It's kind of a noir style, so that will be different for me.  I don't know what's up for me as an actress, but I'm available for auditions!  And I'm going on vacation with my father after Washer/Dryer closes!