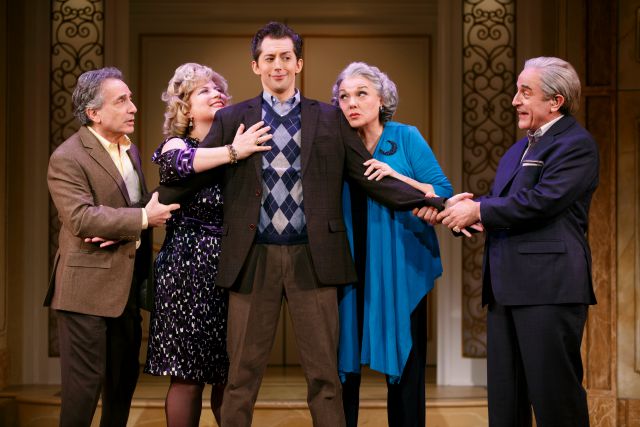 As he prepares to wrap up performances in the show where he made his Broadway debut, Josh Grisetti has already lined up his next musical, which happens to open exactly six days after It Shoulda Been You closes. In the show The Crack in the Ceiling, premiering at the New York Fringe Festival on August 15, 2015, Grisetti plays every single male character, which makes perfect sense considering the actor seems to be a source of never-ending energy. In the show by James Harvey, Grisetti will work opposite Broadway veteran Kristy Cates and Nicky Torchia. Immediately after finishing performances of The Crack in the Ceiling, the Drama Desk nominee will finish preparations for his big 54 Below dates in September, which themselves will be followed by a Harold Prince musical opening in Japan in the fall! With such a tight schedule, we were thrilled the actor made some time to talk to us about the craziness of his next couple of weeks, the post-Broadway life of It Shoulda Been You and how one iconic musical changed his entire worldview.
Let's talk about The Crack in the Ceiling. Sell it to us in a couple of sentences…
You know it seems a little obvious, but the show is basically about a crack in a ceiling, it's about  a single mom who discovers she has this problem in her ceiling and no matter who she calls or what she does, she can't seem to fix it. You might go on a limb and say that the crack itself might be a metaphor for something larger (laughs).
Up-and-coming composers might think that it's impossible to get Broadway actors to do festival shows, so how did you end up doing this one?
I'm gonna let you in on a secret and it's that I made a deal with the devil to do this show. James Harvey, who wrote the music, books and lyrics, approached a friend of mine about me doing this cause he had gotten word that I'd be doing a 54 Below show but that I decided not to do it because I couldn't get seven-piece arrangements done. If I was going to do a 54 Below show, I was going to do a big old 54 Below show, and I only wanted to do it with a full band, because I get bored when I only hear piano, bass and drums in a cabaret. So James tempted me with a carrot in a stick, he said he'd make the arrangements for my 54 Below show if I did his Fringe show (laughs). That was a deal I couldn't pass on, those charts are very expensive to make, and James is very talented with stuff like this, he sent me the demo recordings for Crack in the Ceiling and they were wonderful. That's how you get a Broadway guy to come and do a Fringe show, you tempt him with an offer he can't refuse.
So basically, Don Corleone people…
Exactly, I wonder if James has got any Italian in him. It seems he might.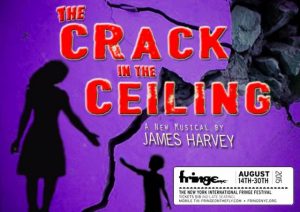 I was definitely not expecting that response.
I'm a straight shooter, I'm gonna tell you the truth. The one thing about the show is that it's a lot of fun to do for me, it's a three-hander with a woman, a kid and me. I play all the male parts, maybe 6 or 7 different characters, all of whom are fun to do and figure out. The only reason why I wouldn't want to do a Fringe show is because the schedule is insane, you have nine days of rehearsals to mount a full production of a musical! The work required to do it is so high that I would normally shy away from that (laughs).
You're currently in It Shoulda Been You which is closing this weekend, but you're also doing this Fringe show and will do a cabaret at 54 Below next month. Are you always trying to find creative outlets even when you have a steady gig like a Broadway show?
It's weird, I'm a worker, I like to always be working. Honestly if I had nothing else going on a Fringe show would not be crazy, because I like to do stuff all the time. But with It Shoulda Been You closing on Sunday, while rehearsing the Fringe show that opens next week, while rehearsing for the 54 Below show, while rehearsing for Prince of Broadway, which I'll be doing this fall, it's a lot of juggling. That's a little much even for my taste...but when I have breaks I wanna fill them with things. This year I won't have vacation time till Christmas, but I'm already wondering what to do over the holidays, maybe a concert in my hometown when I go visit my family. I'm already finding a way to work while I'm on vacation. It's a problem, I don't know what's wrong with me.
You're addicted to this. You'll probably end up doing Elf somewhere.
(Laughs)
You ended up making your Broadway debut in It Shoulda Been You after attempting with other shows that didn't pan out, however you kept working Off-Broadway and doing other things, do you think Broadway should be the ultimate goal for anyone in musical theatre?
There's no "should", everyone can have their own drive. Musicals tend to be very commercial in general, there's not a lot of indie action out there, cause musicals cost so much to produce that it's hard to make a really small musical that doesn't want to make money and just wants to be artsy. Most people who want to go into musicals tend to want to do Broadway or at least some version of it, whether on the road, or regional theatre, so I don't know, it's certainly the pinnacle of the business if that means anything to that performer. It certainly is validating to say "yes, I did a Broadway show" or "I originated a role on Broadway", all those things mean something to an actor's sense of self for better or for worse. It's not everybody's path though, actors may have other goalposts for success: people who want to do TV, or film, or indie films, or people who want to write their own material whether for stage or screen. I've always been a commercially minded person, I'm the guy who wants to make money first and then figures out how to satisfy himself artistically (laughs). Especially while I'm young, it's very hard to carve a place for yourself in this business, so I want to make money now so then I can do all the projects I want to do for fun or artistically. It's hard to have fun when you can't pay your rent. Practically speaking that's how I put my priorities, but that's just me, I'm sure there are great artists who don't care about paying their rent, and I say bless them (laughs).
As a side note, I just noticed you were in The Immigrant when I was re-watching it the other day!
That was so great to do, it's kind of an indie with a big studio behind it, for people who don't know it takes place in the turn of the century and it's obviously about an immigrant, but it was really cool, nuanced storytelling. I play this vaudeville-ish emcee to a group of newly imported immigrants at Ellis Island and we actually filmed it there, in the space where immigrants would've come in. My own descendants would've come through those hallways, and to film that in there, in the middle of the night, was one of the coolest experiences ever. If anyone wants to see it, it's on Netflix.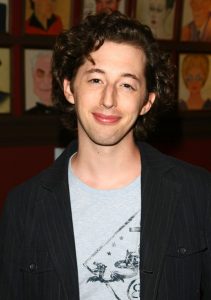 Years ago you wrote a very moving column for Broadway.com explaining how the cast recording of Rent opened your eyes to a world you had no idea existed and taught you about how gay people could fall in love. A lot has changed since, but I find it curious that you've done work in shows that speak about equal rights ever since. Would you say that this has become a political stance that you try to marry with your creative projects?
Yeah, anybody who follows me on social media knows that when I have downtime, when I'm not promoting or shows or busy being in them, one of my favorite pastimes is political ranting (laughs). Again, for better or for worse, some people are repulsed by it and some people like it, I try to be even-keeled, when I'm ranting I try to be self-deprecating, I'm very socially conscious and interested in politics. If I hadn't been an actor, I'd probably have been a lawyer, maybe a politician, so yes those ideas are very important to me. If I had my own way and wasn't needing to pay my rent, I would love to always be doing shows that push the envelope a little, and made people reevaluate their own beliefs on both sides of the spectrum, there are some conservative values that are definitely worth investigating and challenging yourself with, and likewise, I'm much more on the liberal side of things, but there are a lot of liberal ideas that are equally interesting to challenge. I grew up in a very conservative Christian home in the South and we had a very specific idea of what gay people were, the way they painted the picture back there was that all gay people were really sexually promiscuous, it was always men, never women, and basically it was like the Pride Parade, that was all you saw. You never thought of just people who happen to live with a different sexual orientation, people who wanted to spend their lives with someone else and raise families, no one talked about that because that made gay people seem human, and god forbid that. Rent when I discovered it, was one of the shows that made me aware that these were people, also because the AIDS crisis was hidden from me when I was growing up and nobody talked about it.
Have you thought how cool it would be if some kid listens to the cast recording of It Shoulda Been You and has the same kind of epiphany you did?
I don't think there'd be any greater contribution from the musical theatre world than that. Rent is a very serious, operatic musical, It Shoulda Been You is the opposite, it uses comedy to make its points which can be as powerful as drama. It's been neglected in the reviews, no one gave it credit for how subtly these really important messages were laced into this sort of sitcom world. It's very hard to write that kind of material without it being preachy or just ineffective, and the effect of our show which we see every night is that people are moved by it, they laugh all night and then they have tears. That's not easy to do and the writers, Brian Hargrove and Barbara Anselmi, as well as the director David Hyde Pierce, deserve all the credit. It's very powerful and I hope it continues to affect people with the cast album and the regional productions, especially because it's such an easy show to do, a unit set with only 13 characters. I hope to continues to live well beyond Broadway and does exactly what you're saying, that it touches people's hearts and minds and funny bones.
Your entrance in It Shoulda Been You was among the most fun in any Broadway show last season. Will the entrance be the same in the last performances?
It will, I think it's one of the best entrances in Broadway history, it's so much fun and it catapults the show into action. It's my Broadway debut officially and to have this glorious entrance and be like "hey, I'm here!" was very fulfilling, a true dream. So we definitely won't be changing that, the only thing that will be changing is that the people coming this weekend have already seen the show and want to see it again, so it's not as much a surprise anymore which is fine, now they cheer when I show up instead of being shocked. It's a different vibe, but I'm happy to receive cheers. It's intact and we're finishing this like we started it, a lot of joy, fun and no regrets.
For more information and tickets to The Crack in the Ceiling visit their official website.