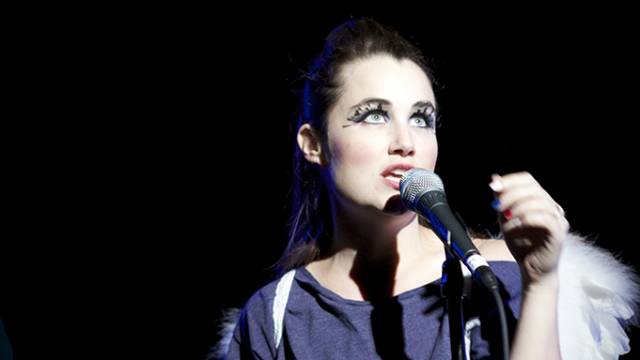 When Lauren Worsham sings, you simply have to listen. Whether she's doing The Turn of the Screw at the Met, or singing with her band Sky-Pony, she has one of those voices that demand your attention; her delivery is pristine without being fussy, and the emotion she puts into each word is even more impressive because of how effortless she makes it seem.  She made her Broadway debut in A Gentleman's Guide to Love and Murder where she originated the part of Phoebe D'Ysquith, for which she was rightfully nominated for the Tony Award for Best Featured Actress in a Musical. After leaving the show, she has appeared in countless concerts including the New York debut of Eric Idle's masterful Not the Messiah where she shared the stage with Victoria Clark. Her voice is truly the gift that keeps on giving and audiences will have yet another opportunity to see her as one of the headlinging performers at "Night of a Thousand Judys" where she will share the stage with Liz Callaway and Melissa Errico among others. We talked to the talented actress about her favorite Judy Garland things, working with Eric Idle and the people she admires. Needless to say so, she was as charming during our talk as she is onstage.
What will you be performing at "Night of a Thousand Judys"?
I'm singing a Noel Coward piece that Judy did, it's called "If Love Were All", it's very sad and very touching.
Are you a big Judy fan in general?
Yeah, I mean who isn't? It's like asking a person if they're a fan of Meryl Streep (laughs), there's no way not to be.
Pick your absolute favorite Judy Garland things.
I guess to me it's about the beginning and the end, that's what makes her such a lasting and tragic figure, kind of like Marilyn Monroe. For me the beginning was growing up watching The Wizard of Oz and Meet Me in St. Louis, and that innocence, that gorgeous voice and those wide eyes, and then seeing those wide eyes turn into something darker and scary towards the end of her life, those eyes saw, experienced and felt a lot of things. In the video for "If Love Were All" for example, she has the ability to express this kind of upbeat part of her, but you can also see this extreme pain and it's incredibly heartbreaking.
Judy's voice was also unique and I wanted to be cheesy to use that as a segue to talk about how great your voice is as well…
(Laughs) I think that everyone has a unique voice. Ideally you hear everyone's unique voice, sometimes people get into the trap of trying to sound all the same, especially the American Idol syndrome where you get people trying to do vocal pyrotechnics after vocal pyrotechnics, and we appreciate less and less unique things in our voices like Adele's and Whitney Houston's, Jennifer Hudson too has an amazing, singular voice.
You have mentioned that early during your career you were afraid that Broadway wouldn't want you. Do you feel that musical theatre has become less welcoming of sopranos and classical singers?
I guess musical theatre went through a phase, I don't know if it's coming out of it or not, with the success of A Gentleman's Guide to Love and Murder, but it's gone through a phase in an effort to move away from traditional musical theatre style, it's moved more towards rock music, but it's more of a pseudo rock music. Some pieces now are exploring real rock music like The Last Ship. I have definitely been told many times that I have an older fashioned voice, whatever that means, that it sounds like a throwback in many ways. I know that my vibrato goes well in opera and in classical music, either you like it or you don't, because it reminds people of a different time. But that's my voice (laughs) there's nothing that can be done about that.
Are people who know you from opera or musicals shocked when they discover Sky-Pony?
Yeah, that is actually how the band formed, because my husband was like "you don't sing rock music", and I was like "you have no idea what you're talking about". I grew up in Austin, Texas raised on blues so I can sing rock music, so we started the band together. Actually right now I'm at Martha's Vineyard with Ars Nova we're work shopping our Sky-Pony project, I don't want to call it a musical, so it's a Sky-Pony kind of theatrical experience.
One of my favorite things ever is Sky-Pony doing "Psycho Killer" with Bryce Pinkham at 54 Below. What other collaborations do you have in mind with your Gentleman's Guide co-stars?
He was pretty rad, he was all in! Actually I'm up here with the band and also with Lisa O'Hare who played Sybella in Gentleman's Guide, she's work shopping this theatre piece with us.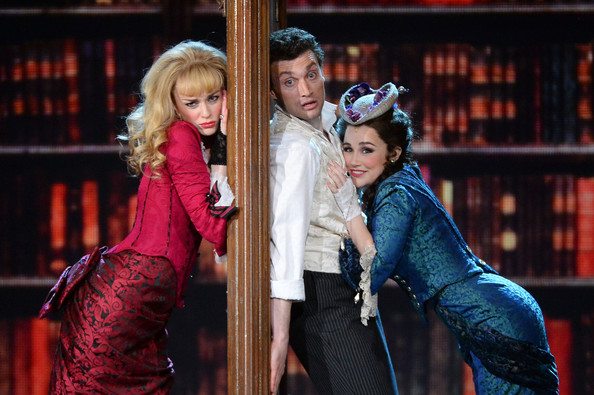 I saw you last year in Not the Messiah and I read that one of your first jobs in NYC was being a line monitor at Spamalot and less than ten years later you were singing next to Eric Idle at Carnegie Hall! It's like you came full circle with Monty Python!
I told him that story actually, he was like "oh, wow". It was interesting because it was shortly after Mike Nichols had died, and we were reflecting about his work. I told Eric the first time I had contact seeing his work live and he was telling me about working with Mike Nichols in Spamalot, they were also very good friends. Eric is an amazing person, he's not only incredibly smart and funny and a genius with words - he was changing lyrics constantly in the room - but he's also just a real person, very down to earth, kind and giving. So that made for a really nice full circle experience, it's nice when it comes full circle like that, because you want to think that when you meet people who are your idols - pun intended - that they will turn out to be the ideal version that you had in your brain, and a lot of times they are. I feel that way about Kelli O'Hara, I was a big fan of her for years and upon meeting her she was the kindest, most giving, most wonderful person...it's nice when that happens.
She made me cry so much in The King and I…

She's so lovely, she's just a lovely human being.
You originated the part of Phoebe in A Gentleman's Guide to Love and Murder. Do you find yourself being particularly protective of the part? Did you leave behind a guidebook for actresses who would take on the part after you left?
Not at all actually, I think sometimes our egos get too involved in what we do, and I think that everyone should bring their own unique spin to whatever part they play, just the same way everyone has their own unique voice, everyone has a unique spin and I think it's important for people to express themselves. Catherine Walker who took over me is fantastic in every possible way, she's done so many things differently, and so many are the same, but it's her Phoebe and it's a wonderful Phoebe. I feel that for a show to have a life it has to have freedom like that.

Sky-Pony makes me feel like you'd make an amazing Hedwig.
I would love that, if I could be in drag...that's the one sadness, besides not being able to stand up and pee, the other sadness of being a woman and not a man is that I can never be dressed in drag, because a woman who dresses in drag just looks like a woman who has too much makeup, as opposed to a man in drag which is an ethereal, otherwordly event. I wish I were a man and if so I would totally play Hedwig in a heartbeat!

Technically it wouldn't be the first time you played a boy, since you played Jonathan Livingston Seagull in high school.
I did! And I also played Cherubino in The Marriage of Figaro in college, even if it was not the right voice track for me, but that was a lot of fun, I put a traffic cone and attached it with velcro to my crotch area like a penis, and I would chew gum the entire show and then I'd take the gum on stick it on the traffic cone, that was a lot of fun!
Do you have any other dream roles?
Gosh, I mean roles that I could actually play or fantastical ones, do whatever I wanted to do, dream roles?
Now you'll have to give me both!
If I could embody Gene Kelly and do every single piece of theatre or dance that he ever did I would die a happy person. I am not that kind of a dancer, I don't move well, but if I had the ability to move like he did and be Gene Kelly and play hos roles I would be so happy. As for women, gosh if I could have Kelli O'Hara's career and revive all those beautiful classics I'd be very happy.

Night of a Thousand Judys takes place on June 1 at the Kaufman Music Center. For tickets and more click here.