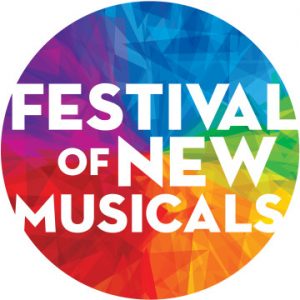 It's been said it takes five to ten years to get a musical produced, which obviously makes writing a musical a genuine labor of love.  I was fortunate to experience a few of these labors of love recently at the National Alliance for Musical Theatre's (NAMT) 28th annual Festival of New Musicals at New World Stages.  NAMT is a non-profit organization comprised of organizations and individuals here in the United States and abroad, including England, Spain and South Korea, whose mission is to advance the possibility and potential of musical theater.  The festival itself featured eight new shows selected from 193 submissions, and if I had two entire days free I would have happily trotted from New World's Stage 2 to Stage 3 and back again to catch all eight shows, plus the songwriters cabaret, showcase and the writers panel.  Unfortunately, my schedule only permitted me to experience three of the eight shows, but I still came away awestruck by the extraordinary talent involved, inspired by the commitment of the composers, lyricists and book writers to tell their stories through the art form of musical theater and thrilled at the support and interest of producers at all levels to develop and foster new work.
Each of the eight shows receives approximately 45 minutes each of the two days of the festival to present an excerpt from their show, usually a truncated version of their first act.  Actors are on book, someone reads stage directions and the music director on piano plus a couple of other instrumentalists are the orchestra.  The stellar casts are made up of many Broadway people and some wonderful new talent.  The shows are in different stages of development, some having had workshops and readings at big organizations dedicated to new work like Eugene O'Neill Theater Center's National Music Theater Conference, ASCAP/Dreamworks Musical Theatre Workshop and Oregon Shakespeare Festival, while others had privately funded 29 hour readings here in New York or were connected to smaller theaters with reading series like Ars Nova's OutLOUD Series or residencies at retreat centers like Rhinebeck Writer's Retreat.
Sitting in the theater with many producers and other theater professionals watching three excerpts from We Live in Cairo (book and lyrics by Patrick Lazour/book and music by Daniel Lazour), Lempicka (book and lyrics by Carson Kreitzer/music by Matt Gould) and Benny & Joon (book by Kirsten Guenther/music by Nolan Gasser/lyrics by Mindi Dickstein) I became aware of a palpable excitement, a leaning forward by the audience in a desire to engage their imaginations with those of the composers, writers, actors and musicians.  These bare bones presentations asked for our participation; to feel the turmoil in Cairo during the 2011 student protests, to travel back in time to 1930's Paris with its jazz, its artists and hints of fascism in the air and to see a beloved movie through new eyes.  I was riveted by the edginess and non-traditional storytelling of We Live in Cairo, brothers Patrick Lazour and Daniel Lazour's view of Egypt's Arab Spring through the experiences of six young Egyptians, loved the inclusion of an oud and elements of Arabic classic music and was ecstatic to see diversity on stage.  In Lempicka, inspired by the life of the glamourous and scandalous Art Deco painter Tamara de Lempicka, Carson Kreitzer and Matt Gould create bold colorful characters struggling with universal issues of love, identity, class struggle and being an artist.  I was deliriously happy to see a fantastic array of roles for strong women of various ages and fascinated to see how they handled the challenges of telling an historical figure's story.  As always in live theater, anything can happen and Caissie Levy, the actress playing Lempicka, had fallen ill, so on short notice Eden Espinosa took on the role; one ex-Elphaba stepping in for another ex-Elphaba!  Finally with a rhythmically complex and tuneful score, Benny & Joon met the demands of taking the successful movie starring Johnny Depp and transforming it into a musical.  The creative team, Mindi Dickstein, Nolan Gasser and Kristen Guenther, after introducing their excerpt sat down in front of me to watch the presentation and it was so sweet to see the delight they took in watching their creation come to life.  I left New World Stages glad that there were so many uniquely talented writers and composers out there creating theatrically and musically diverse new work and grateful that New Alliance for Musical Theater was nurturing them from creation to production.