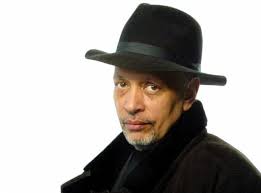 Lift, written by acclaimed novelist Walter Mosley and directed by Marshall Jones, III, takes place in the confines of the elevator cart that hangs by a thread after an explosion.  This culturally relevant and suspenseful play presented by the Tony Award-winning Crossroads Theatre Company is now playing at 59E59.  We spoke to Mosley about inspiration, race, and his own definition of freedom.
What was your inspiration to write Lift?
Inspiration really isn't in my dictionary, someone must have left it out. I don't have inspiration.  Why did I write the play...  I'm not really sure.  I'm always nervous in elevators, they make me nervous because I'm worried about getting stuck with a group of people or by myself, so I think that's where it came from originally.  I'm still figuring out what it was I was writing about.  Interesting thing about artists and non-artists, someone would come up to me and say, "I want to write a novel but I just can't figure out how," and I say to them, "Just write it."  But then they say, "When I read War in Peace or One Hundred Years of Solitude, the ideas were so well worked out"; and I say to them: "They weren't so worked out when they started writing it."  They were writing and re-writing and keep putting those ideas together until the pieces come together and make sense.  This play is like that for me, most of my work is like that.  I didn't realize the subject of the play was love until we actually started doing some re-writing and re-working in New York.  I thought it was more political, but in the end the politics are meaningless.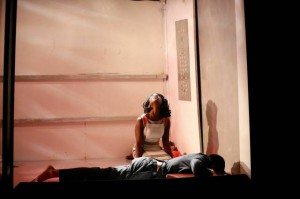 What are you hoping to expose/clarify about race and culture in Lift?
The play is about giving up the notion of being black.  I don't believe in white people, I don't believe they exist.  The idea that I'm a white man from white land -- there is no white land.  If someone was white you would think they were a zombie.  There are tan people, olive people, yellow people, pasty people but there are no white people -- as a term it doesn't make sense.
Our issues are the issues people have.  The father that abused me, the mother that abused that father.  The fact that she has dementia and I feel guilt.  I get into the best college but impoverish my parents, so I do things they would never accept, in order to keep them from going completely broke, and even after they die from natural causes.  These are all things we experience.  [The character] Southmore is thinking race has to do with things, but Tina, she's from Africa, she doesn't think about herself as being black.  That conversation between the two of them brings them to a moment where it's just them and falling in love -- not because of anything romantic, but because they can explain to each other who they are when they've never been able to before.  Anyone from any race would understand.
Another character, Resterly, talks about having a class of people who, like Atlas in Greek mythology, lift others up. Do you think this is true in the world outside of the play?

I think all you have to do is look at a little child looking up at their mother and reaching up and whining a little bit because they need to be picked up -- and the truth is right then, they might just need the feeling of being picked up.  But indeed we all need to carried at some point in our lives, be in when we are sick, old or young.  We all need caring.  There are all kinds of needs for an Atlas.  What Resterly says is "we need a slave class to hold up the rest of the world while others make profit"; but what Southmore says to Tina, "I'm going to save you," which is what she wanted and what he needed -- they are both being saved by that.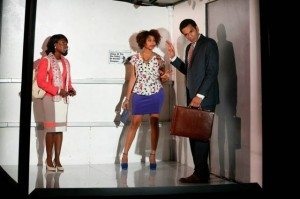 What has your journey from Crossroads to 59E59 been like?
It's really very wonderful.  I'm 62 now, and one of the things about getting older is I've learned to accept who I am and what I am in those moments.  It was great being at Crossroads.  I wrote a play, got these great actors, it was performed, it was wonderful.  Now it's going to come to New York. That's even better.  I wasn't worried about coming to New York then, I could be worried about the reviews, and whether or not it's good or bad it's wonderful to have the experience.... It's really important to pay attention to your every day, every moment, every experience, and I'm just really happy.
Theodore "Big Time" Southmore has a secret -- he calls it freedom.  What's your freedom?
The secret is living right now.  In Buddhist circles, not that I belong to any, but they call it mindfulness.  The great Sufi character is a guy named Nasruddin, a trickster.  He talks about a guy in a garden walking around and he sees a tiger and he thinks 'I got to get out of here'; so he jumps over the side of a cliff and starts climbing down because he doesn't think the tiger can do that.  He's about halfway down and he looks and below him is another tiger looking up.  A tiger above and a tiger below.  And he's holding on to this plant, his weight is slowly pulling the roots out and he turns and sees a little strawberry growing and he picks it and eats it and goes: 'Wow, that's a good strawberry.'  That in the best of my days is my freedom.
For more information and tickets, visit https://www.59e59.org/