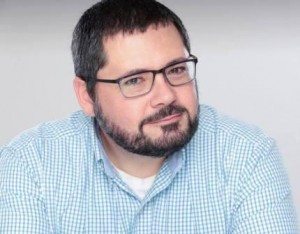 What do you get when you blend Shakespeare's poetry and film? The Sonnet Project!
Developed by New York Shakespeare Exchange (NYSX), a theater company that offers innovative theatrical experiences with the purpose of "exploring what happens when contemporary culture is infused with Shakespearean poetry and themes in unexpected ways," The Sonnet Project was conceived and developed with the goal of filming each of Shakespeare's 154 Sonnets in 154 different New York City locations with 154 actors and putting them online for free public consumption. The result is an astounding collection of shorts that bring to life some of the most glorious, sensuous, amusing and touching poetry in the English language.
I recently had a chance to interview Ross Williams, the founder of New York Shakespeare Exchange, about the project.
What inspired The Sonnet Project?
The Sonnet Project is about delivering short, digestible bits of Shakespeare directly to audiences and sharing our passion for the work with as many people as we can. Our mission is to get Shakespeare into people's lives. We want everyone on the planet to know that Shakespeare was writing about issues that are still relevant and his works are still full of passion. Since we are limited as to how many people we can reach with our live performances, we are delivering our work to a global audience online.
You have been filming in some wonderful locations, incorporating all five boroughs of New York. Was that a particular mission for the project?
We like to think about The Sonnet Project as a marriage of the poetry of NYC with the poetry of Shakespeare. We are exploring a uniquely North American expression of Shakespeare's works, and what better place to do that than in New York City? The locations are chosen because, just like Shakespeare, they have roots in history, but branches and leaves in contemporary culture. The Sonnet Project bridges the gap between Elizabethan England and today's North American experience. The specific connection to each sonnet varies. Sometimes the themes of the sonnet are expressed in the location, sometimes it's a question of related imagery, or sometimes it's a more personal connection for one of our team members. But, no matter what the connection is, we hope the location becomes an intimate expression of the sonnet that can illuminate something new for our audiences.
Each sonnet is a short film. Can you tell us a bit about your production process?
Each film has its own production story. The director and the actor bring a very specific voice to each film, which is what keeps the project so full of life. Each director works with our team to develop a schedule and a concept, and we do provide some guidance on some of the more difficult textual nuances of the poems, but ultimately, the artists creating the work are on their own to bring their version of Shakespeare to the project.

I can imagine many wonderful education possibilities associated with The Sonnet Project. What are some of the ways you hope that it will change how Shakespeare is taught and considered both in and out of the classroom?
The project is already being used informally in schools all over the US, and even in India. We've heard from those teachers that they really like the tie-ins with mobile technology. They like that Shakespeare can exist on a platform that their students can relate to. The Sonnet Project educational components will combine our existing films with downloadable lesson plans and short educational films about the basics of Shakespearean language. We want to give teachers an easy and exciting way to show students that Shakespeare is not as difficult or out of reach as it's often perceived to be. Currently, we are on the hunt for funding that will allow us to create these supplemental materials. The goal is to make them available by the time we release our final film.
The Sonnet Project has a wonderful app what prompted you to develop it?
Phones and tablets are the most direct line into people's lives. A once-a-week push notification that says, "Hey, here's a little Shakespeare for you!" serves our mission perfectly.
NYSX recently partnered with Shakespeare's Globe and the Globe Player. How does this change the game for you?
Shakespeare's Globe is such an incredible organization! This partnership will expand our audience exponentially, especially with such a well-respected company on our side. Shakespeare's Globe will inevitably connect us with audiences that might not have us on their radar, yet. And the seal of approval from one of the biggest and most successful companies in the world, our work gets a huge boost.
When do you anticipate the entire collection of sonnets will be released?

We have released 85 films so far. At any given time we have about 25 films in various stages of production. It's a huge project, and each individual film brings its own challenges and opportunities. Right now, we have an actor and a location assigned to just about every sonnet, but schedules change and we are constantly solving for surprises and contingencies. Imagine juggling 154 balls at the same time...it's a bit like that! We anticipate that we will be finished with filming early next year, with a final release of our last film, and thus the whole collection, toward the end of 2015.
NYSX started as a "work/life balance initiative at American Express"; can you explain what that is and how that allowed you to create this if it did?
Before we even knew that New York Shakespeare Exchange would become a full-fledged theater company, we were a group of artists working the compulsory "day-job." It occurred to us that the people we were working with may love the arts, but are often so busy that they don't have the time or energy to go see a play. We decided to see if there was a hunger for an internal presentation of A Comedy of Errors. And there was. Our very first project was presented in the corporate auditorium, to employees at American Express. The show was a success and it solidified for us that the world is full of other audiences who may not normally seek out Shakespearean work. That's where we found the basis of our mission as a company. Since we moved outside the walls of Corporate America, we have not had the time to revisit that experience, but we'd love to find our way back there, eventually.
What new projects are on the NYSX horizon?
Our production of Titus Andronicus will run from Jan 22 to Feb 8, 2015 at HERE Arts in SoHo. It's one of Shakespeare's tragedies that often gets swept under the rug because it can be seen as simply a bloody gore-fest. But we are looking at the play for its political implications and for the incredible characters that Shakespeare created. It's going to be a fantastic show!
And on December 6 we will present our final ShakesBEER Pub Crawl of 2014 on the Upper East Side. The pub-crawls are a great way to bring Shakespeare into your life with a more celebratory atmosphere. We visit four bars and in each one, a scene from one of Shakespeare's plays pops up into the middle of the party. It's a completely different way to experience the Bard.
All the info for these events can be found on our website: https://www.ShakespeareExchange.org