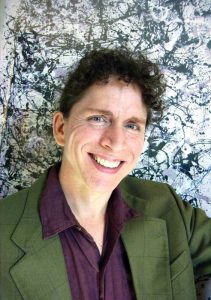 Conversations with My Molester, a spiritual autobiographical play written and performed by Michael Mack, broaches a subject some would rather slip under a rug.  Part of the 15th Annual Midtown International Festival, this prize-winning solo show written by Mack and directed by Daniel Gidron presents a complex look at the journey of spirituality.  Says Mack: "The church really meant a lot to me as a little boy and that part never left me and returning to the church and doing this play was a way for me to reclaim what was mine and what I loved as a little boy."
We caught up with Mack to talk about spirituality and sexuality, audience reactions to Conversations, and how writers can use their gifts to heal others and themselves.
StageBuddy: Can you tell me about your one-man show?
Michael Mack: It begins with my wanting to be a priest when I was a little boy, raised by a Catholic family.  The real turning point at the beginning is when the pastor of my church in North Carolina invites me to the rectory where he lived to help him make some costumes and it turns out to be not that at all.  It begins with this life-long journey of mine trying to make sense of this, trying to make sense of sexuality and spirituality.  It had a profound effect on me and I began to imagine that if I could just talk with him as an 11 year old, he would explain everything because he disappeared soon after and I never lost that idea.  Now as an adult it would probably be a lot more complicated as an adult but I never lost the idea.  It seemed natural to tell this story as a journey of faith because the last thing I expected was for it to bring me back to the catholic church.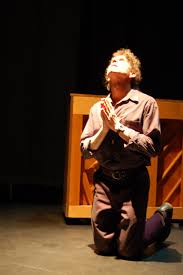 SB: What kind of conversations have you had with audience members after viewing this show?
MM: One of the most remarkable experiences I had was after a talk back.  After 40 minutes everyone felt like it was time to go home and there was a young man who was sort of lingering and he left but he came back and he told me something that happened to him that he had never told to anyone before and the next thing I know the guy is sobbing in my arms because he's been carrying this secret for so long. Because the play goes in deep and opens a topic many folks have not explored, people reveal stuff they've never shared before and I feel at great privilege to be witness to that.
SB: How do sexuality and spirituality go hand in hand? Or do they?
MM: I could spend days talking about that, but if I had to sum it up, there is a profound and intimate relationship between sexuality and spirituality and when that relationship is breached or crossed in a way that is not as profoundly respectful then it can do serious damage. One of the things I had to learn over the years as a life long spiritual seeker: sexuality is sacred just as spirituality is sacred.
SB: If you had to give advice to writers seeking to heal themselves through their work, what advice would you give? 
MM: Tell the truth.  Tell the truth of your lives.  In the core of my being I believe the closest we can get to telling the truth is to tell the truth of our own lives because we've lived it, been there, born witness to it, we see it.  As writers it is our sacred trust whether through nonfiction or fiction to tell the truth about being a human being; it's a life-long process of going deeper and deeper.