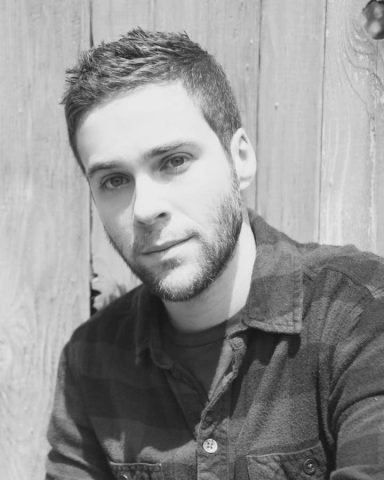 The National Alliance for Musical Theatre will hold its 29th annual Festival of New Musicals on October 19 and 20 at New World Stages. Darling Grenadine, by Daniel Zaitchik, is one of eight new musicals this year.
Tell us about your show!
Darling Grenadine is a seriocomic musical about Harry, a fanciful jingle composer, and his precarious relationships with his girlfriend Louise, his brother Paul, and his Labrador Retriever (...also named Paul).  Told with a rich contemporary score and a wink to the classic MGM musical style, Darling Grenadine explores the friction between romance and reality, bitter and sweet, serving something magical, moving, and boldly new.
Describe the sound of your musical; it's like _____ meets _____:
Gershwin meets Rufus Wainwright.
What was the first musical that made you want to make musicals?
Hm, I'm not sure there was a particular musical.  But I bet watching films like Fantasia and various Muppet movies as a kid must have gotten musical storytelling into my system at a very early age.
Who is your favorite classic musical theater composer/writer?
Leonard Bernstein.
What's one thing you would change about the current state of musical theater?
More places to develop new musicals on their feet and with sufficient time.
Why is it important to bring your show to NAMT?
It's an excellent opportunity to keep up the momentum with the work, meet new people, and hopefully have some helpful conversations.
What's next for the show?
Darling Grenadine was recently given a developmental production at Goodspeed, and who can say what's next...
For more information on NAMT visit: http://www.namt.org/
DARLING GRENADINE book, music & lyrics by Daniel Zaitchik
Director: Kristin Hanggi (Broadway: Rock of Ages, Tony Nomination)
Music Director: David Gardos (Assoc. Conducted: Falsettos, Finding Neverland)
Cast includes: Melody Betts (National Tour: The Sound of Music), Adam Chanler-Berat (Broadway: Next to Normal, Peter and the Starcatcher, Amélie), Laura Dadap (NY/ National Tour: Voca People), Nikko Kimzin (National Tour: West Side Story), Mike Nappi (Regional: The Wildest, Chicago), Ben Mayne (NY: The View Upstairs), Emily Walton (Broadway: Peter and the Starcatcher, August: Osage County) and Kevin Zak (NY: Clinton The Musical)