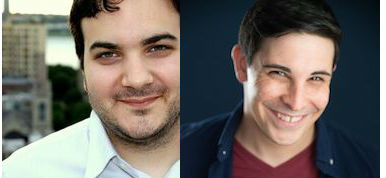 The National Alliance for Musical Theatre will hold its 29th annual Festival of New Musicals on October 19 and 20 at New World Stages. Persephone, by Marcus Stevens (book/lyrics) and Oran Eldor (music), is one of eight new musicals this year.
Tell us about your show!
In Persephone, a myth is raised from the dead, the gods are celebrities hounded by the paparazzi, and their saga is set to a pop/rock score. Teenage Persephone longs for independence from her mother Demeter, but her wish gets distorted when she finds herself trapped in the Underworld by Greece's perennial bad boy, Hades. What follows is an off-beat, emotionally-charged coming-of-age story for ancient and modern times.
Describe the sound of your musical; it's like _____ meets _____:
The score for Persephone is inspired by contemporary pop/rock artists ranging from Green Day to Katy Perry, with a dash of musical theater thrown in!
Who is your favorite classic musical theater composer/writer? And your favorite composer/writer working today?
As collaborators, we first bonded over our love of classic writers Kander and Ebb and the work of Howard Ashman and Alan Menken. When it comes today's writers, both of us are huge fans of Sara Bareilles, who has managed to bridge the gap between pop and musical theater.
Why is it important to bring your show to NAMT?
We feel that Persephone is funny, fresh, and has a universal story about the struggle to find oneself while navigating a parent's expectations. NAMT is a fantastic opportunity to share that story with respected industry professionals who can help to bring it to a wider audience.
For more information on NAMT visit: http://www.namt.org/
PERSEPHONE, book & lyrics by Marcus Stevens, music by Oran Eldor
Director: Andy Sandberg (NY: Straight, Application Pending)
Music Director: Ian Axness (NY: Clown Bar)
Cast includes: Brennan James Caldwell (NY: Money Talks, Baghdaddy), Rachel De Benedet (Broadway: Catch Me if You Can), Emily Jenda (National Tour: The Bodyguard), Andrew Kober (Broadway: Sunday in the Park with George), Eric William Morris (Broadway: Coram Boy, Mamma Mia), Hannah Shankman (Broadway: Side Show, Wicked), Jenna Ushkowitz (TV: "Glee". Broadway: Waitress), and Akron Watson (Broadway: The Play That Goes Wrong, The Color Purple)