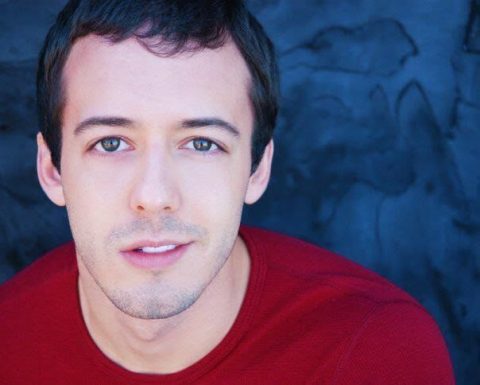 The National Alliance for Musical Theatre will hold its 29th annual Festival of New Musicals on October 19 and 20 at New World Stages. Sam's Room, by Trey Coates-Mitchell (book), Dale Sampson (book/music/lyrics), Caitlin Marie Bell (music/lyrics), and Marc Campbell (music/lyrics), is one of eight new musicals this year.
Tell us about your show!
This pop concert dramedy follows Sam, a teenager in 1998 with nonverbal special needs, on his path to find a way to communicate. Shifting between cruel reality and pop star fantasy, Sam's Room powerfully reveals the universal struggle with communication by giving a voice to someone who's never had one.
Describe the sound of your musical, it's like _____ meets ______:
It's like 90's Mixtape meets Sold-Out Arena Tour.
What was the first musical that made you want to make musicals?
Passing Strange.
Who is your favorite classic musical theater composer/writer?
Jule Styne.
And your favorite composer/writer working today?
Max Vernon.
What's one thing you would change about the current state of musical theater?
First off, there are so many things we simply adore about the current state of musical theater. But I suppose one observation is that many new shows are based on feature films, a popular artist's musical catalog, reimagined folklore or familiar fairytale.  It would definitely be exciting to see a revived mass interest in musicals featuring new untold stories.
Why is it important to bring your show to NAMT?
Today, what if you only had five words to express your deepest feelings?  Would your words hold more importance?  Would you think carefully about the five words you choose? Our story centers around Sam, a nonverbal high school senior with special needs, who feels trapped in his own body without a way to communicate. Sam is struggling to express his inner voice. In parallel, Sam's Room explores the human condition, exposing the difficulties of communication with one another. In this modern world, we can instantly speak our minds with the click of a button, but we seem to suffer a mass disability when expressing feelings and ideas in a healthy and productive manner. We hope Sam's journey to communicate will inspire us all to reexamine the true power of the human voice.
What's next for the show?
We are constantly striving to immerse ourselves creatively in the specific subdivisions of the show.  Currently, we are focused on workshops to further develop various segments of the project.  These intensives include choreography, backup vocals and musical stylization, continued script development, staging of forensics-inspired concepts, and most importantly, a commitment to research. The team is serious about ongoing growth and discovery through field research in augmentative alternative communication.  We hope that by working with teachers, families, and experts in the field, we will not only be able to accurately tell Sam's story, but will also educate ourselves and others with continued conversation on the subject of specials needs education.
For more information on NAMT visit: http://www.namt.org/
SAM'S ROOM book by Dale Sampson with Trey Coates-Mitchell,
music & lyrics by Caitlin Marie Bell, Marc Campbell & Dale Sampson
Director: Jaki Bradley (Regional:  Row. Good Men Wanted. NY: Playing Hot, I've Been to Sea Before)
Cast includes: Lincoln Clauss (Regional: Burn All Night)