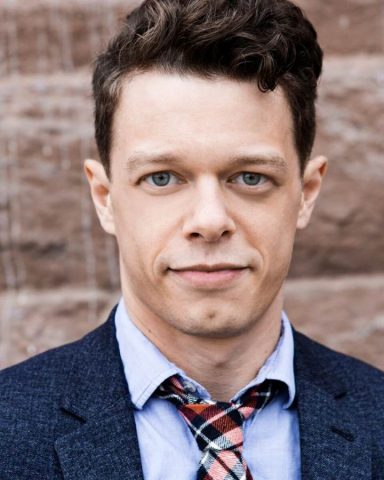 The National Alliance for Musical Theatre will hold its 29th annual Festival of New Musicals on October 19 and 20 at New World Stages. The Passage, by David Darrow, is one of eight new musicals this year.
Tell us about your show!
Albert, a sixth grader, has a monster living in his basement. When it captures his father, he enlists his brave new friend, Cassie, and together they embark on an epic journey to save his Dad and his family. The Passage is a coming-of-age story about two imaginative children confronting a reality stranger than anything they could imagine.
Describe the sound of your musical; it's like _____ meets _____:
The sound of The Passage is sort of hard to define. It's sort of like if Sondheim had written Once, but it had been about a haunted house. There are elements of ambient music as well. The whole show is very dream-like and weird ambient music as well. The whole show is very dream-like and weird.
Who is your favorite classic musical theater composer/writer? And your favorite composer/writer working today?
Well, I came to musical theater as an actor -- I think many writers do -- so there are lots of productions I remember that pulled me into the theater as a young person. Papermill's production of Ragtime, Mary Martin's Peter Pan.... The first musical that made me want to make musicals was actually Hadestown, the Anais Mitchell musical about Orpheus and Eurydice. I had written one show that wasn't very good -- I was imitating everyone and didn't trust my own voice. A friend gave me a copy of the original recording with Justin Vernon and Ani DiFranco and Greg Brown. It sounded like the non-theater music I was making on my own. It kind of blew my mind that this music could accompany a musical.
My favorite classical musical theater composer is Stephen Sondheim. Great writers have the ability to make you think, at the same time, "God, I never would have thought of that," and "That is how I've felt my entire life." I think Shakespeare and Sondheim are the best at it.
Sondheim is certainly someone I'd consider still working, but in terms of someone of a younger generation, I love Dave Malloy's work. I saw Natasha, Pierre, and the Great Comet of 1812 when it was Off-Broadway in a tent and I'd never heard anything like it. His songs are like avalanches -- they're ferocious. And of course no one writes lyrics like Lin-Manuel Miranda. He's a wizard.
Why is it important to bring your show to NAMT?
I think musical theater has changed in huge and fantastic ways just in the last ten years. There are a ton of writers challenging what the musical can be and do. We tend to focus on pushing things bigger and brighter and I'd like to see how intimate musical theater can be. The Passage is incredibly intimate. The world is tiny -- sometimes no bigger than a tent or a closet. There's a different attention to detail that is required in those little spaces that we often don't ask of musicals because we accept large, broad gestures. I'd like to see musicals move toward being more careful, more thoughtfully observed.
NAMT is a huge opportunity for me especially -- I've lived in New York about a month. It's thrilling to be in a community of other writers who are interested in pushing the boundaries of the art form, and the support that the festival offers in terms of future collaborators and opportunities is incredible. It's also important for us to come see what's new every year. As grateful as I am to show my work at New World Stages, I am equally excited to see the other seven shows and be inspired by these other young writers.
What's next for the show?
I'd love to see The Passage produced in New York City. It ran for three sold-out weeks at The Guthrie last year and I think audiences here will love it just as much.
For more information on NAMT visit: http://www.namt.org/
THE PASSAGE book, music & lyrics by David Darrow
Director: Sarna Lapine (Broadway: Sunday in the Park with George)
Music Director: Mark Hartman (NY: The Dead, 1904, Pageant- The Musical)
Cast includes: Cat Brindisi (Regional: South Pacific), Erin Mackey (Broadway: Wicked, In Transit), John Rubinstein (Broadway: Charlie and the Chocolate Factory, Pippin), Isabella Russo (Broadway: The School of Rock-The Musical), Ian Saraceni (Broadway: The King and I), George Salazar (Broadway: Godspell. NY: The Lightning Thief, Drama Desk nom), and Jennifer Sanchez (Broadway: Sunday in the Park with George)