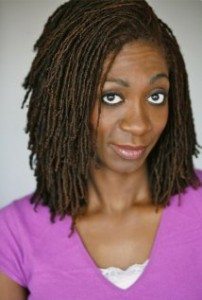 Keisha Zollar is an improviser and actress who is making waves in the comedy scene.  She performs weekly on the Lloyd team 'Astronomy Club' at UCB East, and you may also have seen her on Orange is the New Black, featured in October's issue of Glamour, or as a movie talk panelist on NBC's Weekend Today. Despite all of her accomplishments she is down to earth and always a pleasure to be around.
Keisha will be performing her solo show, AFRICA: America's Favorite Country...#TotalJoke, at SOLOCOM on November 16. We caught up with her to find out more.
How long have you been doing comedy and what was your journey into it up until now?
[I] started doing comedy in college, mainly plays. I performed with a lot of sketch and improv all stars and rockstars...Tanisha Long, Selena Coppock, Nicole Byer, Sasheer Zamata, Abbi Crutchfield, and so many awesome people. I started doing comedy shows in a room above a drag restaurant in the East Village. I was the Artistic Director of a company that performed improv at Gotham Comedy Club...
What is your show at SOLOCOM about and what makes it unique?
This show is about a character who I've been living with for over four years. Nia Mumbatu the Yakov Smirnoff of Africa is literally one of my favorite characters to do onstage. Nia is a hopeful person who has jokes that spark tense laughter.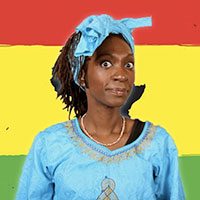 How did you come up with this character?
After reading about America's ignorance around Africa and a character class at the PIT, I found the beginnings of Nia, who has transformed over time into a personality of her own.
Who is your favorite female comedian and why?
My favorite female comedienne is probably still Whoopi! She created awesome theatrical pieces and she's dynamic as hell. She has range for days. Every few years I rewatch her Broadway specials for a good laugh, a teary eye and inspiration to work on being better.
Don't miss Keisha and other great comics at The PIT's SOLOCOM, November 14-16.