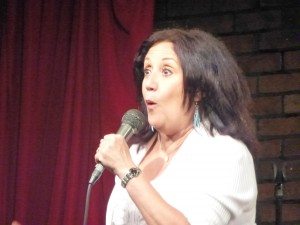 SOLOCOM, The PIT's annual solo show festival, begins in just a few days, so I decided to get to know some of the performers a little more. First we have Nancy Lombardo, a comedian who always steps outside the box with her dialogue, jokes and song parodies. In her many years of performing she has been on The Colin Quinn Show, Saturday Night Live, All My Children, House of Buggin', Comedy Tonight, Nickelodeon and the Comedy Channel. She also has her own TV show on local NY channel 56 called The Nancy Lombardo Show and hosts Comedy Concepts on Blog Talk Radio.
How long have you been doing comedy?
I've been acting and doing live comedy performing for over 20 years… and you're not getting my age either. Haha!
Where are you from?
New York. I'm Puerto Rican and Italian but like to pretend I'm French because I'm crazy.
Besides your weekly show (The Nancy Lombardo Show), where do you usually perform?
I have performed live coast to coast, clubs, theaters, colleges, cutting edge and avant garde performance art spaces, etc.  And a lot of living rooms...lots of living rooms.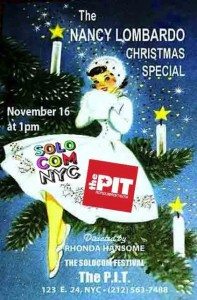 What was it like improvising with Robin Williams back in the day?
Performing with Robin Williams was as exhilarating and it was challenging. We all feed off of each others energy, talents and enthusiasm for improvisation. There was nothing the audience could throw at us, that we couldn't enhance and slam back. It was an endless comedy tennis match that went on for hours. I am proud I was up to the task.
What makes this show unique to the others?
Its a cornucopia of irreverent holiday comedy, music and more, with a splash of performance art-like qualities. I love what I do and enjoy incorporating the audience in on my mischievous nature and material. I want them to be a part of the experience not just spectators.
What else would you like viewers to know?
This show is about having fun with the holidays.... [It] is directed by award-winning director Rhonda Hansome.
Don't miss Nancy Lombardo's Christmas Special, 11/16 at the PIT.  And be sure to check out our guide to must-see SOLOCOM shows here.