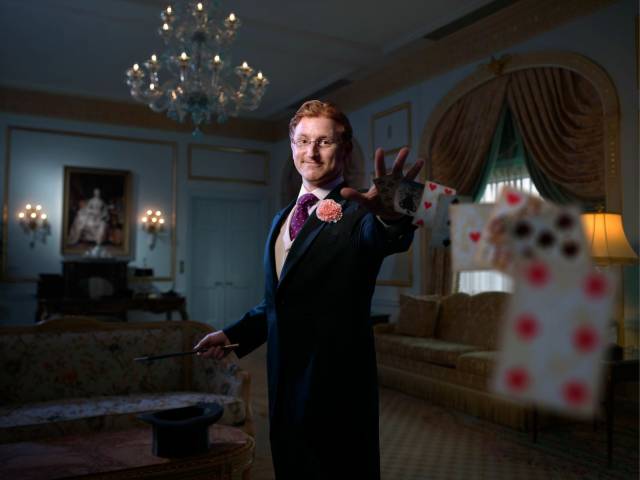 There was a time in which stage magic was larger than life and could only be seen in person. If one wanted to experience the art of illusion one had to go where its practitioners worked their wonders. And if one wanted to see some of the greatest magicians in history, this meant gaining access to posh hotel suites in cities such as New York, Paris and Vienna in which such legendary masters such as Max Malini and Johann Hofzinser performed miracles for very exclusive audiences, and always, mere inches from their eyes.
It is with this golden age of magic in mind that Steve Cohen, today's heir to Malini and Hofzinser, created his unique salon magic show. Cohen performs for small audiences, attracted only by word-of-mouth, in an elegant suite at the Waldorf Astoria Hotel in Manhattan. Those who have witnessed his unusual performances, including Woody Allen and William Goldman, have called Mr. Cohen one of the best magicians in the world. I have seen most of the famous names in magic over several decades, and now, after seeing Mr. Cohen's performance myself, I have to agree.
The show actually begins in the lobby of the famed luxury hotel when the concierge steps forward and announces that Mr. Cohen is ready to receive his guests. Right away there is an atmosphere of elegance and sophistication, added to no doubt by the cocktail attire in which members of the audience are expected to dress. The group is taken up in a private elevator to the floor of the presidential suite and directed to an elegantly appointed room reserved for the performance. They are invited to sit down in comfortable chairs while chamber music plays for them. And within a few minutes, the master magician appears and immediately begins his performance.
Mr. Cohen performs what he calls chamber magic. It is essentially closeup magic that is performed while the magician is standing, and with items large enough to be seen by the entire group. Card magic opens the show, and it is magnificent. Mr. Cohen seems to name cards merely thought of by audience members. He then recreates a legendary trick done by Max Malini, one that to me, anyway, never seemed all that interesting until I actually saw Mr. Cohen do it. It involves a hat, a silver dollar, and something quite unexpected that appears out of nowhere. It's a marvel.
After a few more astonishing tricks Mr. Cohen moves on to an illusion that has helped create his legend, "Think A Drink". I had heard of this long before I saw the show and was intrigued to say the least. The idea is that Mr. Cohen can supposedly pour any drink requested from a modest-looking teapot. What were the drinks that were named that afternoon? You'd be surprised. Various cocktails, Gatorade (blue, by request), and even Yoo-Hoo were among them, and yes, Mr, Cohen produced all of them without fail. The audience, having witnessed a lot of amazing magic already, was utterly stunned. And of course, each drink was handed out and consumed by audience members to verify that they were, each of them, the genuine article.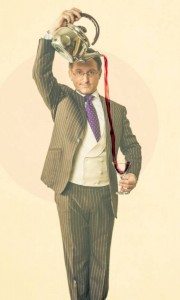 In addition to his skill as a sleight-of-hand artist, Mr. Cohen is a master at controlling his audience's perceptions. True, that is what a magician is supposed to do, but simply put, Cohen is the greatest I have ever seen at this aspect of the art. When he had a (slightly) difficult audience member up to assist him with a card trick that would have been amazing anyway, Cohen effortlessly took advantage of the man's eagle-eyed skepticism and thorniness to make the magical climax seem even more impossible. It was a bravura moment of audience control, and it was hardly the only one that took place that afternoon.
Cohen calls himself the Millionaires' Magician. He travels the world, performing in luxury hotels and in the private homes of the rich and famous. So the ticket price for his hour-long show is not inexpensive. But if entertainment value can be ascribed a monetary value, it is well worth it. An act like this is a rarity. Magic, in its commonest form, has been devalued to something even less interesting than the jokes of a mediocre comic or the antics of a birthday party clown. But Cohen takes his small audiences back in time and into a luxurious setting for some of the finest magic that is being done in the world today. And he reminds us that it still can be an art form, when it is created by the hands of an artist.
For more information and tickets, visit https://www.chambermagic.com/