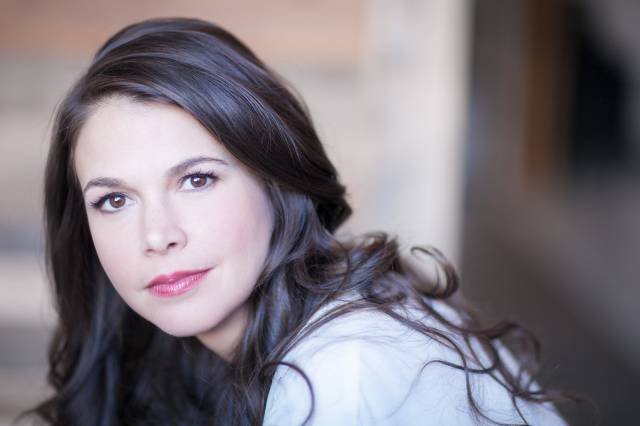 Two-time Tony Award winner Sutton Foster will be headlining her first solo show at Carnegie Hall on March 13. The show, titled One Night Only: Sutton Foster, will feature the New York Pops under the conduction of Steven Reineke and will see Ms. Foster reunite onstage with her Violet co-star Joshua Henry, as well as Megan McGinnis. A celebration of her career so far, the show comes at just the right moment as Ms. Foster is about to debut a new television show called Younger, in which she plays Liza, a single mother forced to pretend she's 25 in order to find a job. The show, created by Darren Starr, sees the actress at her very best, as she turns in a playful, sexy performance combined with the adorability that has made us theatre fans fall head over heels for her.
Ms. Foster took a moment out of her schedule to talk to us about Younger, her exciting Carnegie Hall show, turning 40 and what's in store for her next. Needless to say so, she was an absolute delight to speak with.
Was a show at Carnegie Hall something you had been looking forward to?
I guess yeah, I'm still wrapping my head around it. When the offer came in last year I was like "what?", and now it's a week away and I'm second guessing everything, I'm nervous, so I'm trying to get to a more calm place about it all. I'm very excited and very honored, it's very overwhelming, but I'm excited and proud to be able to share what we've been working on.
What's the theme of the show?
My music director, Michael Rafter, and I have been working together for fifteen years, going all the way to Thoroughly Modern Millie when it was out of town, and doing concerts and albums together. I brought some friends along to the Carnegie Hall show as well, so I know it sounds strange, but the show is not about me, the big theme of the show is collaboration and all of the people onstage, The New York Pops, Steven Reineke, my friends and everyone who has come together to put on the show. So yes, my name is on the poster but it's about all of us coming together and celebrating shows that I've been a part of, as well as parts of my childhood as I'm heading into the future. The show is on the cusp of my fortieth birthday, so it sort of has that feel to it in a weird way…
It sounds like you'll be hosting the greatest birthday party of the year!
Yeah, right, maybe. (laughs) I hope it'll be a great evening.
Most importantly, will you bring your Ho Cups from Café Carlyle to Carnegie Hall?
(Laughs) The cups will not be coming, they've been retired. They're safely on a shelf in Los Angeles.
I'm sure you'll be doing some sort of epic Jeanine Tesori medley as well…
I know right? We definitely have an ode to Jeanine. I can't have an evening without her, she's pretty essential to my career.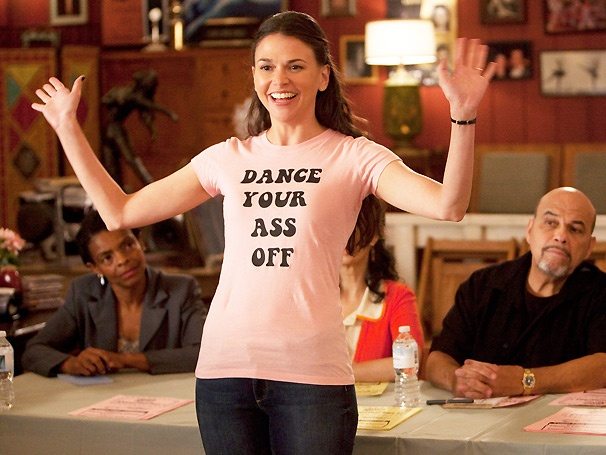 I really have to ask a few questions about Bunheads because I'm obsessed with it.
Oh yay!
You were a big Gilmore Girls fan so working with Amy Sherman-Palladino was a no-brainer for you, would you say there's anything about Bunheads that made you a better performer?
Absolutely, I think Bunheads challenged me in a huge way. Working so quickly and with that amount of dialogue and material made every day a challenge. Amy has become one of my really good friends and she challenged me in a way no one had done before. Working on TV in that capacity, you have no time for fear or ego, or doubt or anything. You have to just leap, make wild choices and dive in headfirst. You need to be spontaneous and I think that taught me a lot; we had no time to waste, because we were doing this Herculean task of shooting like 13 pages a day, and we had to go, go, go. It was invaluable, it taught me to be prepared, and now I've been able to carry that on in Younger, so that I could walk in and be ready to go, as opposed to not knowing my lines. That whole show as just an awesome experience, it was so creative, so collaborative, so different, it was wild and out there. I loved every moment of it.
Bunheads was essentially a continuation of your stage musical work, since you got to sing and dance in it as well. Was that something you helped develop?
I definitely think the writers begin to tailor and create things as it goes, and once I came along they brought in more of the musicality you mention. They tailored the character to my strengths and what I can do.
You started doing theatre from a very early age and there's a scene in Bunheads where you're helping Bailey Buntain audition for "Bells Are Ringing" in school, and you teach her to act. Did you relish the idea of working with those young girls and teaching them anything important about performing while young?
I teach as well, I work at Ball State University in Indiana, and I love working with young people and young performers, so when I first read the Bunheads script I thought "oh my god, this has everything in it that I love", it's about dance, performing and teaching. I feel so passionate about giving back, and the character of Michelle, in helping these girls is helping herself, it helps her heal herself, so I feel that's something I do myself. I learn so much from being a teacher, and that's healed and helped me, as a performer and as a human being.
I imagine you as having been a very hyperactive child…
(Laughs) Yeah, I had a lot of energy!
What outlets did you find for this energy? Would you go around the house putting on shows with your brother?
I think that's why my parents put me in dance classes, I played a lot by myself, I would create these imaginary worlds. I became involved in dance and community theatre, and then in middle school and high school I did more theatre.
The Palladinos went on to help fund Violet which was directed by Leigh Silverman who will next direct you in The Wild Party. Are all of these coincidences or do you find yourself often seeking to collaborate with people you've loved working with?
It's about working with people that you love, I've created such an incredible relationship with Amy and Dan, the Violet thing was wild! They came and saw Violet, they believed in it and wanted to produce it and be involved in it. Leigh is one of my favorite directors I've ever worked with, so when Violet happened it seemed like a no-brainer that she would be who I'd want to work with. I've had the opportunity to work with amazing people, and you search for great projects, but for me a lot of times it'll be because I wanna work with a certain person who inspires me, or who excites me. That's how I feel about Amy, Dan, Leigh and Jeanine, they make me a better performer, they're just very exciting to be around.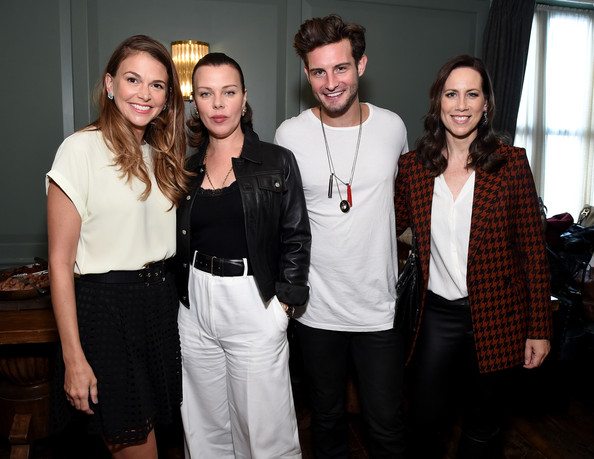 Did something similar happen with Darren Starr in Younger? Were you a big Melrose Place or Sex and the City fan?
I grew up watching 90210 which was like my jam, and Sex and the City, somehow I didn't watch it when it first came out, so I'm watching it now and it's hilarious! I really admire Darren and what he's created. When we met before I auditioned for Younger it was clear to me he's incredibly smart, he creates these incredible worlds and characters and really knows how to entertain an audience.
I know you've said before you have a very laid back, California girl style, but I'm sure you must be thrilled to be working with costume designer Patricia Field.
She's so amazing! I'm in awe of her, my clothes and everything I get to wear on the show is so much fun and such a departure from what I wear in real life and who I am. It's really wild! They put me in all these things and I always think they're fantastic. I have no reference of clothes and all this stuff, so everything they put me in I love. She has an incredible eye, I hope we keep working together cause she's so cool.
I liked how the show touches on ageism, particularly when it comes to women. I feel that movies and television can be more ageist than theatre, would you agree with that?
Yeah, I would say that, it's interesting. I'm on the cusp of 40 and I'm now beginning to feel I haven't experienced this yet and I'm starting to experience it. I have many feelings about all of it, I think theatre is more forgiving and there's more imagination. In Violet I was supposed to be 25 and I was 39, but no one ever questioned it or thought about it, but if that had been onscreen that would've been more of an issue. There is this quest for holding on to your youth and it's interesting to sort of navigate. I want to be Diane Keaton, I want to navigate through all the ages, she never tried to be any age other than the one she is.
I love how diverse the cast of Younger is, there's Debi Mazar, Miriam Shor and Hilary Duff, all of whom in some way or another are icons of girl power. Miriam with her work on Hedwig, Hilary went from being a child star to an adult performer...it must be so much fun to be around these women.
They're incredible, we're all so different and we all get along, it's been really fun. Also, we're all super strong, independent women and the three of them are also moms, Miriam and Debi have daughters and Hilary has a son, and the way they can navigate their careers and their motherhood is incredibly inspiring and I just think the world of them.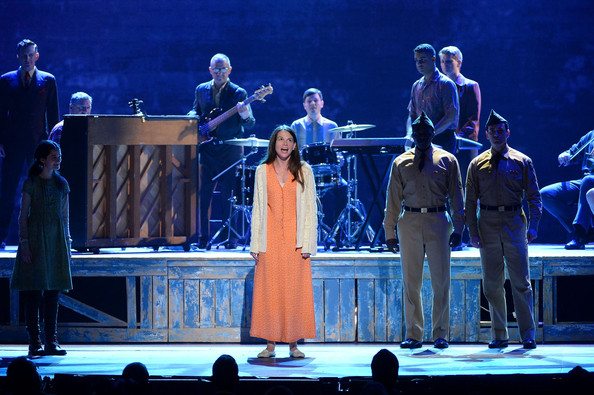 You've worked with many female directors onstage, is directing something that's in the cards for you?
Oh, I don't know. I really love working with college students and I've directed on that level, I think if I were to get more into directing it would be on a more collegiate level. That's where I see it beginning, because I love working in education.
Any chance of you doing a play then?
I would love it! That would be awesome. I'd love to play anything that would be challenging.
In musicals, you've said that in the future you'd like to play Mama Rose…
Yeah! Someday...
Any other iconic characters you'd love to play?
I think I'm just a big fan of new works and new musicals, so maybe the part hasn't been written yet. I'm excited to see what's coming.
Perhaps making a movie out of the parts you've already done onstage.
Oh gosh, honestly the character I would love to play in a movie version would be Violet, so that would be the role I wanna do.
For other actors who read this, what kind of advice do you give them to keep improving themselves? Any sort of magic formula they can use?
(Laughs) You know, I think for me one of my favorite quotes is "I love a challenge". I hope to keep getting better, to always keep learning and I hope to keep making my life outside of my career as full as possible, cause I feel that influences my work. I just want to keep moving forward, hopefully I will just keep growing as a performer and keep feeling more alive as an actress. It's all about moving forward.
The New York Pops presents One Night Only: Sutton Foster on March 13. Click here for tickets.
Younger premieres March 31 on TV Land.