The Old Man and The Old Moon – An Interview with PigPen Theater Co.
PigPen Theatre Co. returns to New York City this Fall to open the New Victory 2014-15 season with their acclaimed production of The Old Man and the Old Moon, an original, epic tale about a man who must abandon his duties of filling up the moon with liquid light so he can cross the seas in search of his missing wife. The show had its world premier at the Gym at Judson in New York City in the fall of 2012 and recently played the Williamstown Theatre Festival. PigPen Theater Co. has scaled up its luminously lo-fi spectacle to fill the New Victory's proscenium stage and now features new puppetry sequences and script changes for a fast-paced single act play with music.
Stagebuddy recently had the opportunity to interview members of the PigPen Theater Co. about the creation of their imaginative theatrical piece.
PigPen Theater Co. works in so many media but always with a strong bond to story. Can you tell us a bit about your creative process as it relates to your theatrical work?
Whenever we write a new story together, we read fables, fairy tales, and folklore from a particular region of the world - then write a story of our own using it all as inspiration. So in short: the story is completely original, but filled with characters and legends that may feel familiar!
The design elements of The Old Man and The Old Moon are as striking and beautiful as they are inviting and accessible. What were your inspirations?
At first all the design elements in the shows consisted of things we found lying around our dorms: bed sheets, flashlights, cardboard, and musical instruments. Over the years we started collaborating with our longtime friends (and designers) Lydia Fine and Bart Cortright who were able to elevate our simple ideas to a whole new level. Inspiration comes from everywhere - with a focus on hand drawn animation and old photography.
You are so much more than just a theater company. How would you describe the artistic vision and goals of the company?
We realized at an early stage that many of our favorite artists crossed over into new mediums later in life. We wanted to build a company or a band, from the ground up that told stories on stage and in film through both written word and music.
What is next on tap for PigPen Theatre Co.?
Right now our rehearsals consist of the seven of us writing two new plays, our first children's book, and recording our sophomore album. As soon as the album is done, we're excited to get back on the road and tour the country some more as a band! Live music is an amazing way of connecting with new friends and fans, without having to transport a huge set and all our puppets around.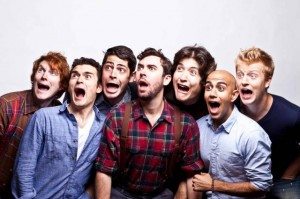 The Old Man and the Old Moon is written, directed, produced by and stars the seven members of the PigPen Theatre Co.: Alex Falberg, Ben Ferguson, Curtis Gillen, Ryan Melia, Matt Nuernberger, Arya Shahi and Dan Weschler. The production's creative team includes Stuart Carden (Direction), Lydia Fine (Design and Puppetry), Bart Cortright (Design), Mikhail Fiksel (Sound Design) and the PigPen Theatre Co. (Direction and Puppetry). The group tours extensively both as a band and theater company and just completed their busiest concert touring schedule to date. After a successful two-month residency at Schubas Tavern in Chicago, they hit the road headlining folk rock concerts in over 30 cities across the United States with their debut album, Bremen, and follow up EP, The Way I'm Running. Notable stops included The Echo, Lincoln Hall, The Ann Arbor Music Hall of Williamsburg, The Sinclair and at SXSW.
The Old Man and the Old Moon will play 15 performances only Friday 9/26 - Monday 10/13. For tickets and further information visit The New Victory website