Trav S.D. on Bringing the Marx Bros. Back to Life: "A magician never divulges!"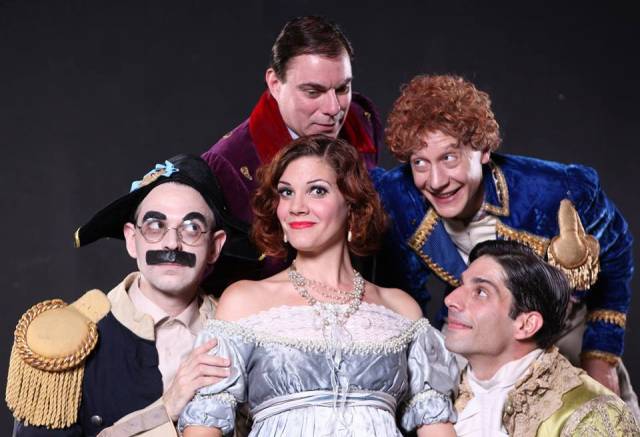 Renaissance man Trav S.D. truly does it all; as actor, author, comedian, cartoonist, producer, playwright and renowned vaudevillian, he has continuously helped promote independent theater, which is why it was no surprise to see him create pure stage magic as the director of I'll Say She Is, a Fringe Festival revival of a Marx Brothers' show last seen onstage in 1924! (Read our review here) We caught up with the director to discuss the future of the show, talk about his favorite Marx brother and more.
I was sorry not to see your show included among the Fringe Encore entries, I hope this just means you have greater things in store..
As far as not being included in the Encore series goes, we had a most unusual problem. It turns out we were too large for the venue! The stage (and backstage) of the Soho Playhouse can't contain our company of two dozen, plus all of our costumes and props. C'est le guerre.
The Marx Brothers each had distinctive personalities that made them different kinds of actors, because they would perform, while already being in character. How did you approach this challenge with your actors? They were actors playing the Marx Bros. playing characters.
The Marx Brothers were vaudevillians who always played the same clown characters no matter what their names were in the story, so there are actually fewer levels to it than you would imagine. There is only one film in which the Marx Brothers added yet another layer of characterization to what they already did as their usual stage and screen personae. It's the 1938 film Room Service and it's really terrible. So for I'll Say She Is the guys just had to be the Marx Brothers, and fortunately, the more comical of the three had all been preparing for that for a long time. Noah Diamond, the script adapter, and prime mover of the project has been playing Groucho since he was a teenager, and has been doing so professionally for almost as long. Seth Shelden was sort of the opposite -- he hadn't played Harpo on stage before, but had wanted to do so for a long time, and so had been storing up a lifetime of ideas about how to do so, so it was equally personal in his case. Robert Pinnock has been a collaborator of mine for over two decades so I already knew his Chico impression, and the fact that he could sort of internalize Chico's thought processes (or lack of them). Aristotle Stamat is an old movie buff -- as Zeppo, he just had to portray an earnest young man.
Comedy is all about the timing and sometimes audience reactions can complicate keeping up with the script. What were your contingency plans in case something went different or a joke fell flat? Were the actors allowed to go out of script, and if so, did you rehearse possible alternatives?
A magician never divulges! But the short answer is yes, we did plan for certain contingencies (and the script itself - -the original 1924 script - -actually has self-reflexive lines built in to cover for the weaker jokes.). But you can't plan for every contingency, and so on occasions too numerous to count, Noah Diamond in particular startled me, his co-workers and the audience, with the quickness of his responses and  ripostes. Just as cool as a cucumber, just as though he were Groucho himself. Seth, Robert and some of the others also improvised business when the occasion warranted it, usually to good effect.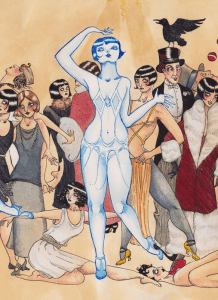 At the end of the show you ask for donations to build sets. Do you have a vision of how you want this show to look if you had the budget? If so, is it very different from what we saw at Fringe?
We had gorgeous plans for the Fringe production. We were going to project slides designed by the brilliant illustrator Carolyn Raship (who happens to be my girlfriend). They were absolutely beautiful, but we learned at the last minute that the venue would not allow the Fringe show to use its slide projector, and it was down to the wire, and we didn't have funds to rent one of our own. We had to scramble, and that aspect of the show suffered. So, in reality, that would remain my preferred vision -- to restore Carolyn's backdrops.
 Were you a big fan of the Marx Brothers. growing up?
I discovered the Marx Brothers through a girlfriend, who was a fan, when I was a sophomore in high school. I was probably around 16 when I first read about I'll Say She Is, and so I jumped at the chance to be involved the instant Noah gave me the opportunity.
Who was your favorite Marx?
Groucho is, was and ever shall be my favorite Marx Brother. I've worn greasepaint in emulation of him as my Trav S.D. character since 1995 or before. But I often jokingly say that Chico is my favorite, just to be provocative. Chico was the more conventional vaudevillian, and I just love his character's capacity for generating jokes. And of late, I have begun to appreciate Harpo's original genius  a lot more. Hard to pick a favorite! I know that it's not Zeppo, though!
What are your plans with the show next? Where do you want to take it?
There are plans being hatched, though we can't divulge them yet. But the words "bigger" and "better" can be used without being misleading, I think! Among the elements I personally would like to add is a full pit band of perhaps 4 or 5 pieces. But it is all tbd and tba. Noah's show deserves ultimately to go all the way to Broadway. If it does, that's probably a step or two beyond where it goes next.
Is part of your mission with the show re-introducing the Marx Brothers to new generations?
Absolutely. In fact, it's downright necessary. I keep encountering young people who've never heard of them, and we can't have that!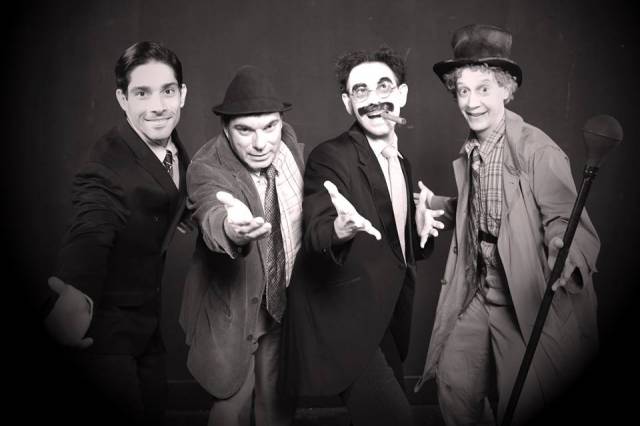 Has anyone ever contemplated creating completely new pieces with the brothers as protagonists?
Oh yes, many, many people. In fact, my very first play (written in around 1984) was a vehicle for the Marx Brothers (and I have written others).  And there's a famous one that was on Broadway, A Day in Hollywood, a Night in the Ukraine. And just this past may, at Marxfest burlesque impresario Jonny Porkpie presented an original show called The Pinch Brothers in the Bawdy House which was essentially an original Marx Brothers vehicle. There's probably thousands of them out there in people's desk drawers. The brothers have such distinctive voices (even Harpo) that it's alluring to try to supply them with new lines.
You can see Trav S.D.'s ranking of all the Marx Brother films here. For more information on I'll Say She Is visit their website.